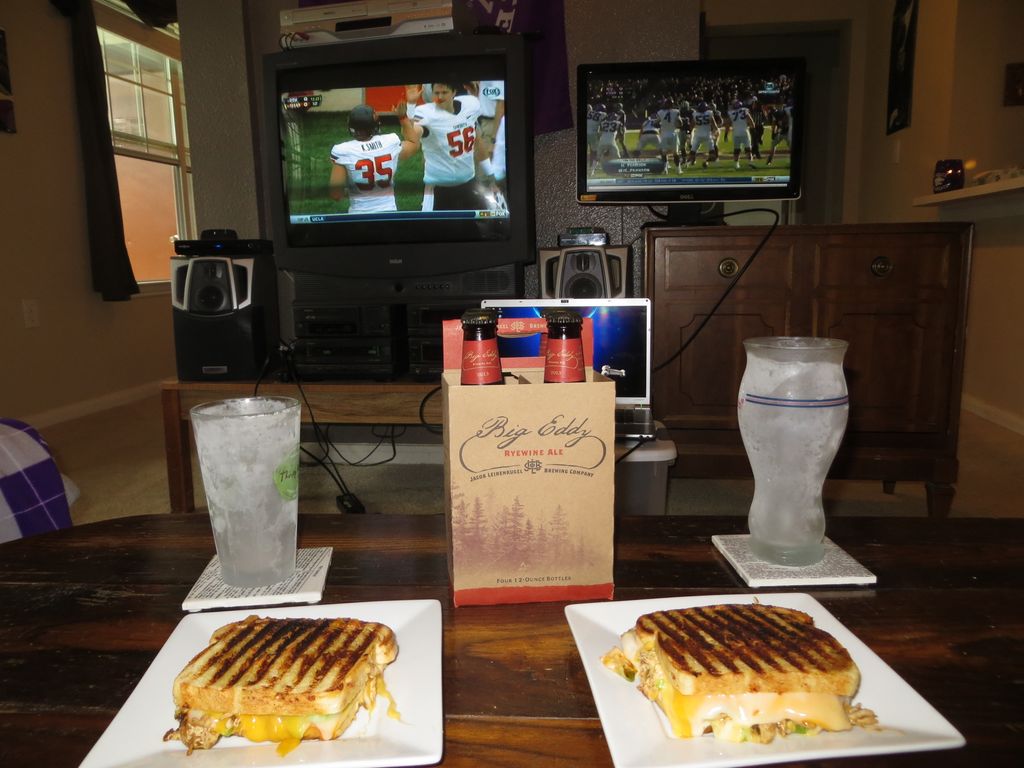 We are getting close to the end of the season and it's time to really cull upon the gods of tailgating and beer drinking.  I gave my sacrifice and the reward was this week's football feedings.  It's a bit of new with a bit of old this time. The new being a grilled cheese sandwich variety and the old being a jerk chicken recipe left over from a kick ass wing job last year.  Yup, new meets old and we are kicking it in the nuts.  Grab a drink and get ready to nom, it's all for real now.
Jamacain Jerk Sauce
Allspice
Habenero Pepper
Hatch Pepper
cloves
cinnamon
nutmeg
thyme
garlic
salt
sesame oil
6 tablespoons unsalted butter or margarine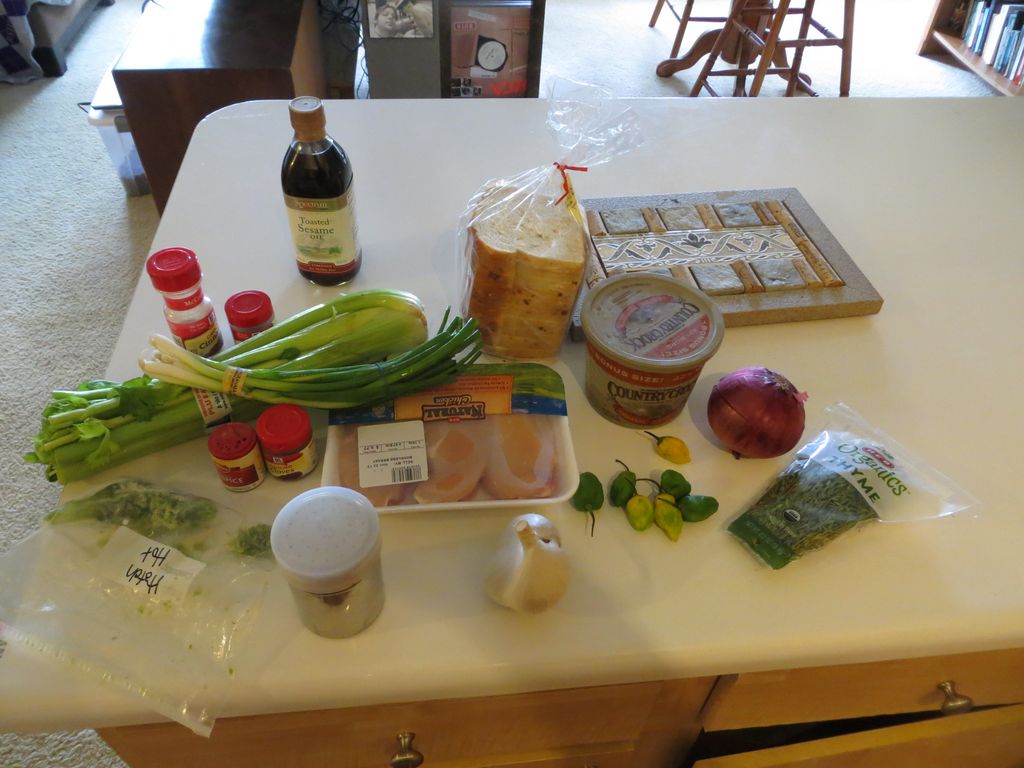 Grilled Cheese Fixings
2 big ole chicken breasts
1/2 cup chopped celery
1/2 cup diced red onion
1/2 cup chopped green onions
A couple of slices of jalapeno cheese bread
Chedder cheese slices
Muenster cheese slices
American cheese slices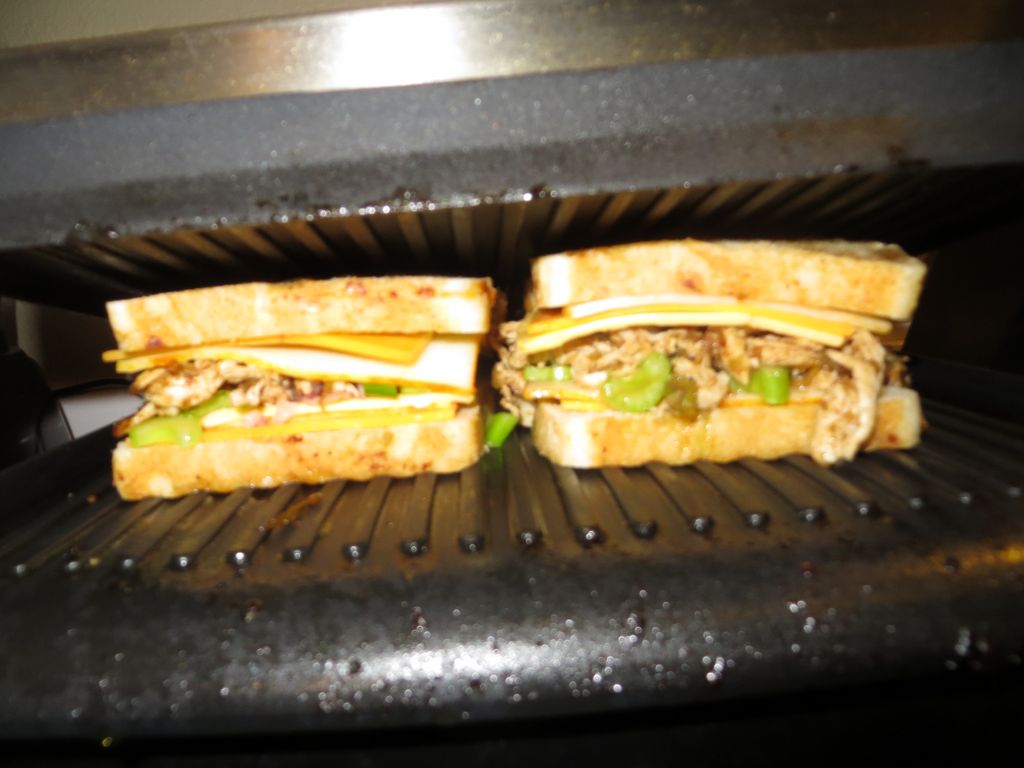 Cooking Instructions
Boil that chicken until it's cooked
Shred that chicken when it's done
For the Jamaican Jerk Sauce, chop the Habenero and Hatch pepper very fine and add to a bowl.  Sprinkle on the other dry ingredients to taste.  Usually about 1/4 teaspoon each.  Dump the mix into a sauce pan and put in about 1 tablespoon of butter. Saute the pepper and spices together for about 5 minutes.  Scoop in the rest of the butter and wet ingredients.  Be sure to make this to taste because I'm not sure what voodoo is in there.
Toss the chicken in with the jerk sauce
Cook it for about 5 minutes
Butter your outside breads
Slap on the 3 different slices on one bread
Drop the onions and celery on it
Drop the jerk chicken mixture on it
Slap the 3 different cheese slices
Add the last bread slice and butter the top
Cook the sandwich on a grill or panini press until the cheese is melted and serve
Ho man let me tell you.  I rocked the Deep Eddy Ryewine with this tasty sandwich and it was all worth it.  The middle of the sandwich gave me a harsher taste than the edges.  Although the edges rocked eloquently because of all of the cheese melted all over it.  The hops and grain with the Ryewine mixed perfectly with this tastiest of grilled cheese sandwiches.   What put it over the top more was the fact that the beer came from a Wisconsin locale much like the cheese I used to produce this bad boy.
And that's about it really.  There's nothing much else to say.  I used the jerk chicken sauce from last year and applied it to a kick ass cheese sandwich this year.  I'm not sure I can top the many flavors that exploded in my mouth while I ate this sandwich, but I can say that it's worth every one of your souls curiosity of eating it.  Grill up and drink up because you won't forget this one.