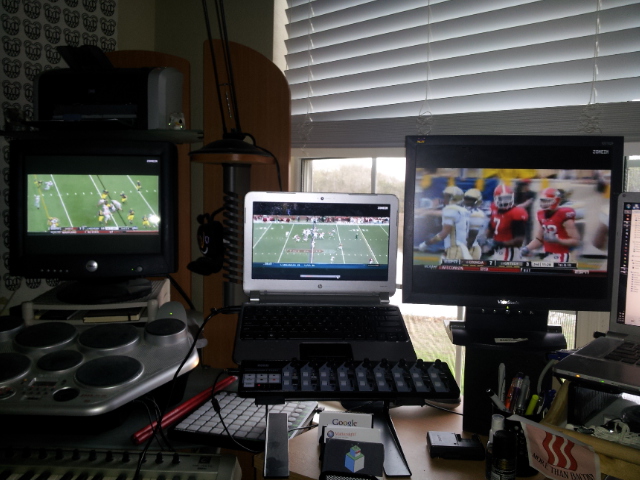 Man I"m chilling here in the ole home office watching some old episodes of Doctor Who and reflecting on the long holiday weekend that was in college football.  I didn't go anywhere and opted to be completely lazy.  Turkey day was a smash and I ended up falling asleep pretty fast on the couch.  The NFL games were exciting for once.  But there were two full days of college football that I had to watch.  I'm not sure I remember much so I'll be short and sweet on this.
You know, I didn't watch Texas vs Texas A&M.  It was the last Lonestar Showdown and I was passed out for turkey overload.  I'm sad I missed it.  It took a last second field goal by Texas to send the Aggies off to the SEC with a loss.  What's funny is that the same Texas fans who complained about the refs when Kansas State beat them were quiet when the Aggie fans complained of the same kind of officiating.  What goes around comes around I guess.
In an unusual slate of full football for Friday, the big match up was LSU vs Arkansas.  Snooze city.  LSU will go to the BCS National Championship Game regardless what happens in the SEC Championship Game.  The other interesting game of not for me was the Nebraska vs Iowa.  They will eventually be a natural rival mainly because people from both states are a little nutty.  Nebraska went out on top but I foresee some great back and forth between the two.
Saturday's line up had way more a Big 12 feel.  Unfortunately Iowa State couldn't play spoiler against Oklahoma, setting up Bedlam for big stakes for idle Oklahoma State.  Iowa State, in the meantime, closes out the year with Farmageddon at Kansas State.  Baylor lost RG3 to a head injury but ended up hanging a bajillion points on Texas Tech, making the Red Raiders bowl ineligible since forever.  The Border Was was the one I watched from end to end.  Missouri got the last laugh as they sent Kansas back home from Arrowhead with a big fat goose egg in the conference win column for the year.  Methinks basketball means more than football between these two teams.
Lastly, I want to talk about Auburn vs Alabama.  The Crimson Tide rolled the Tigers in the Iron Bowl and now we are stuck with the potential of a BCS National Championship Game being a rematch.  Or at least that's what the sports media is barking at me.  It would make sense to me that if Oklahoma State beats Oklahoma, they should have a shot at the title.  Maybe even an undefeated Houston.  But my guess the sports media wants the rematch to blow up the BCS.  Once the absurdity of a rematch sinks in, people will revolt against the BCS and all of the sudden chants of a playoff will ring louder.  It's a clever ruse and one I fear will work.
I hope the college football gods right this wrong but that kind of religion went away when the century long rivalries went away this year.  I'm not sure when the coin will flip, but until then I'm going to appreciate what we have now.  What I had last weekend was a majorly lazy weekend of overeating, cocktails, and football.  I can't complain too much about that.  It was mission accomplished for me.