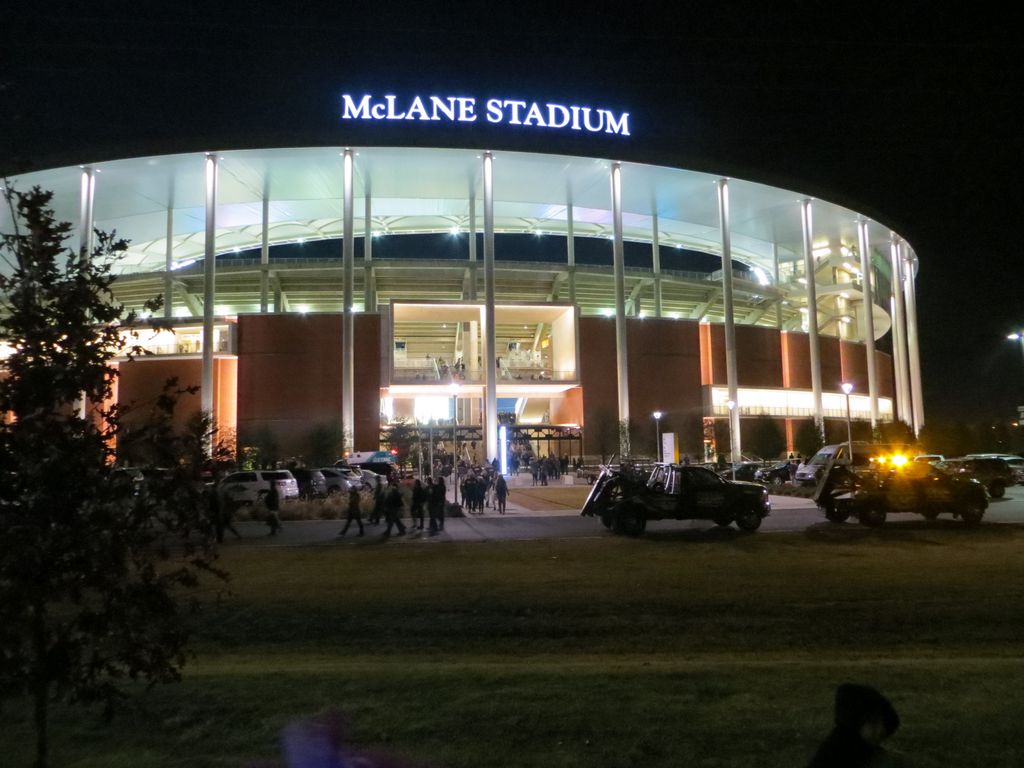 I kinda feel like everything I did on this blog led up to the weekend I had last weekend.  From grilling to barhopping to going to a game, last weekend had everything I wised for.  Except a win.  Yup, I was in Waco for the sorta Big 12 Championship when Kansas State played Baylor.
Since I lived so far away in Austin, it made sense to wake up early and drive on into town.  The drive was actually rather pleasant as it was the only time of the day where I-35 wasn't a pain in the ass.  We made our way into Waco and looped around a bit before landing on a parking lot downtown to tailgate.  It was free parking at the convention center and was relatively easy to get to.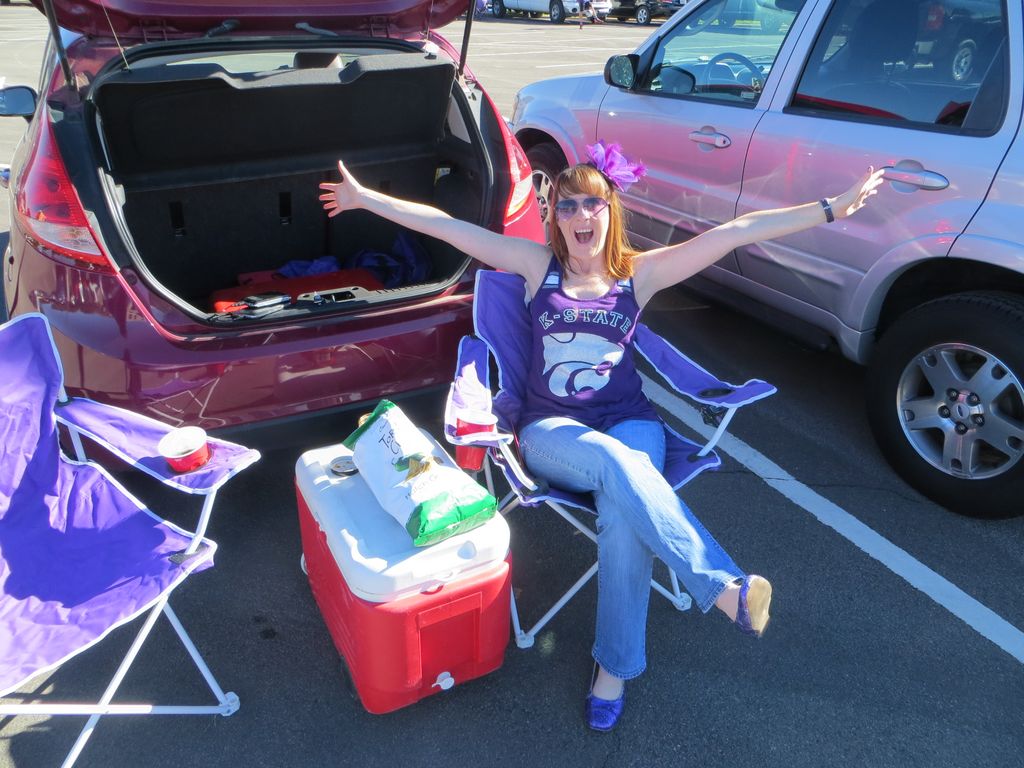 Believe it or not I'm somewhat new to the tailgate scene.  Well, at least new in terms of equipment and setup.  I can grill and drink.  I decided to keep it lightweight for the trip and just pop a cooler and a Coleman camping grill.  We opted for some Opa's Jalapeno and Cheese Sausage with some chips and dip.  It cooked super fast and went great with the Wild2 Lips of Faith by New Belgium.
The tailgate also played host to the player's parents.  I had a great chat with Tyson Nemechek's dad.  Apparently they drive to each road game for the Wildcats, except West Virginia of course.  I never really thought how parents treat games and what they do to support their kids.  I learned that they are about as tight as a group as the players are a team.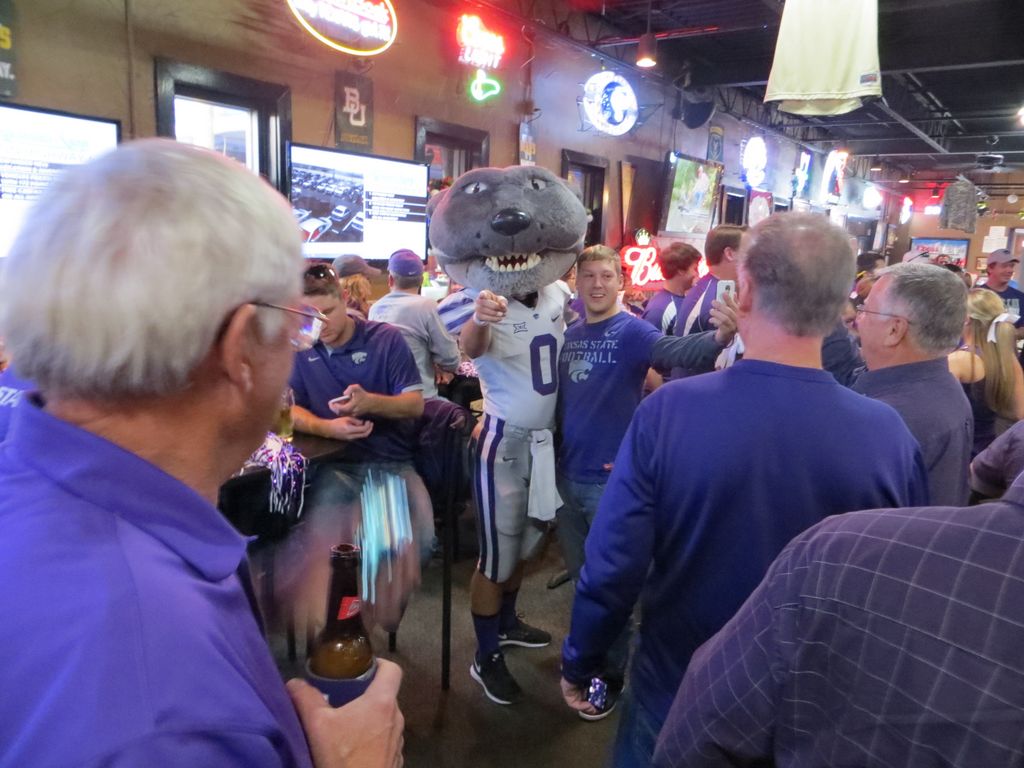 Uber was around by then to shuttle us to the pre-game party at The Salty Dog.  It was a 15 minute heft but the kid was great and the bar was even better.  Televisions everwhere, a fireplace outside, multiple bars, and even some games filled up this joint.  I can't remember much because it was purple party time but they did have purple margaritas.  That and my wife got a picture with Willie the Wildcat.
As fun as the bar was, it was time to Uber back to the tailgate and find our way to the game.  I believe with took a van with some parents but I really don't remember.  We got to the stadium with about an hour to go before the show.  The fact that it's on the Brazos and remodeled made it quite the sight to see.  Everything was so green!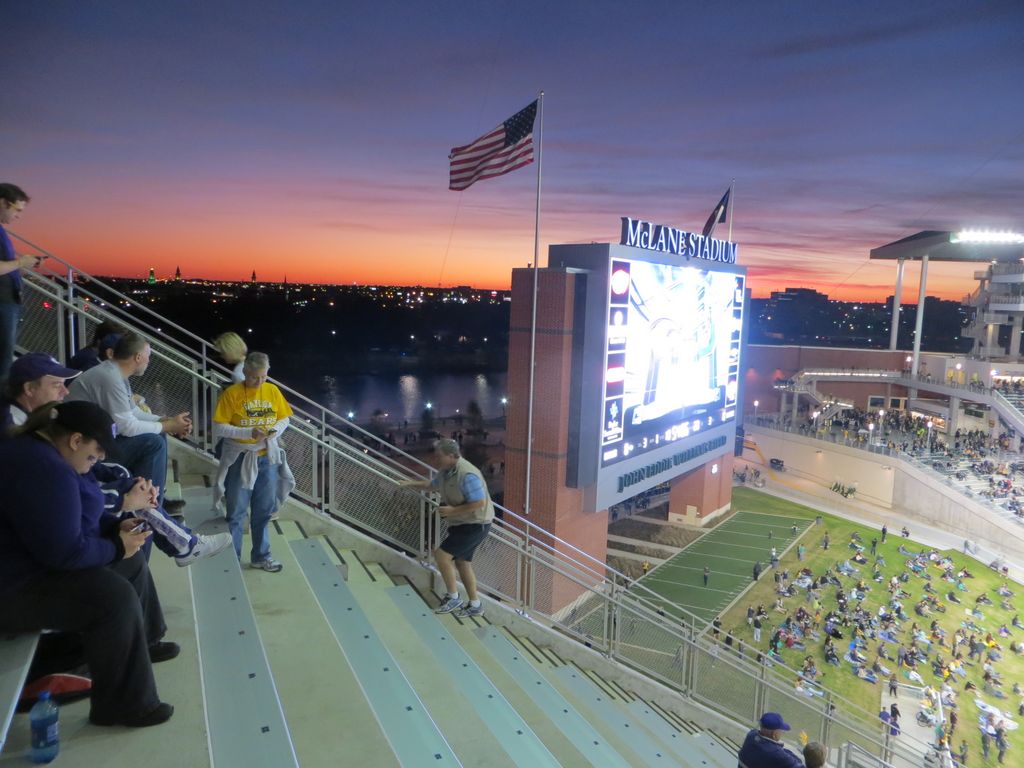 Now we didn't get anything to eat at the The Salty Dog so the first order of business was to get some food.  I nabbed some pulled pork sandwiches and kettle chips with some churro bites.  The pulled pork was serviceable and you can't mess up kettle chips.  The churro bites were awesome though.  I went back for more, however, and they were sold out by the time I did.  So word to the wise, get a couple of orders of churro bites when you get to the stadium.
I guess I can say that the game ran out of time for Kansas State like I ran out of churro bites.  Never once did the Wildcats have an upper hand throughout the game.  They were playing catch up from the get go, but there was also some disappointing playcalls on the purple side that had me just a tad bit frustrated.   The biggest one for me was the Wildcat formation.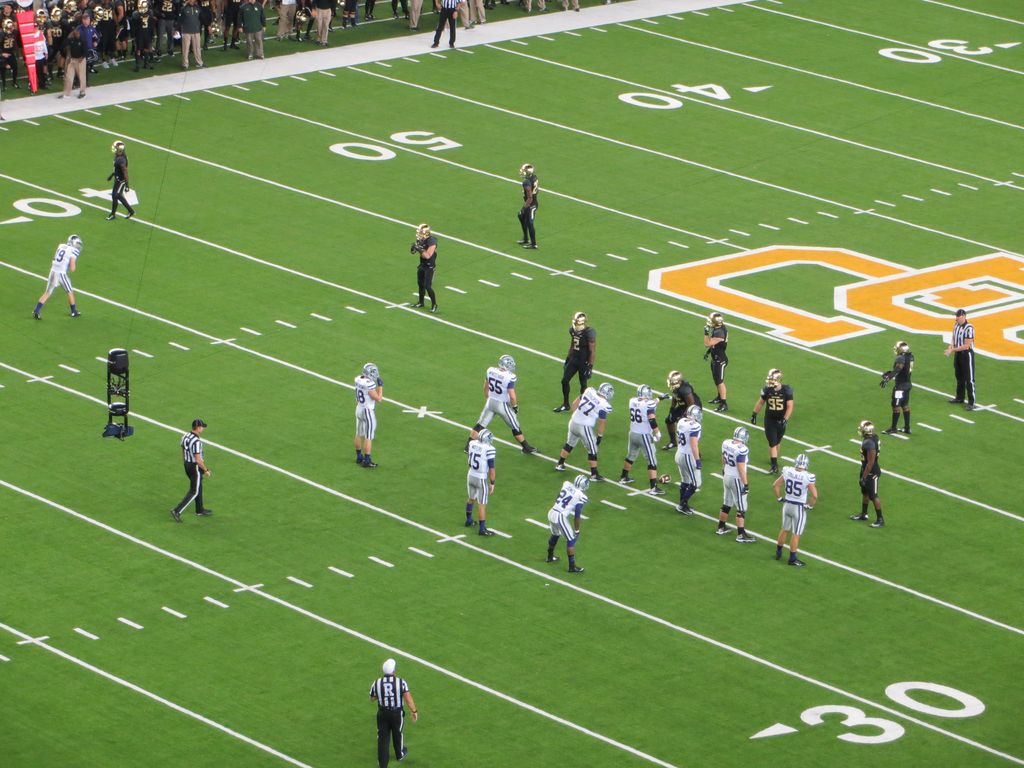 I think they may have tried to do throw the ball once, but it didn't matter.  Every time the Wildcat formation came up, you knew it was a run.  When you do it three times on the goal line, you are not going score.  Especially if they stuff you twice and have the play schemed out.  So we ate a field instead of putting up a touchdown.  Frustrating.
Hats off to Baylor, though, they got their marquee win even though it wasn't enough.  They looked like they could top just about anybody that night and it's a shame we won't get to see them do it in the playoff.  Let's just hope the Big 12 doesn't overreact to what happened.  It's easy to pull out whatever argument against a team you don't want in and easy non-conference schedule was the one against the Bears.  I like how people say 'schedule tougher teams'  when it's set 3-4 years in the future.  Sports media jockeys, bringing the mediocre since day one.
This slideshow requires JavaScript.
Our day was over.   It a took awhile to get to the car but that was more because of the shuttle the dumped everyone off downtown.  I appreciated it, even though it would've taken the same amount of time to walk.  The drive home was tiresome but not like the kind of tired from not getting enough sleep, but the kind after a hard workout and you still feel pretty good.  It was a day full of all the things that make up KC College GameDay and it was totally worth it.