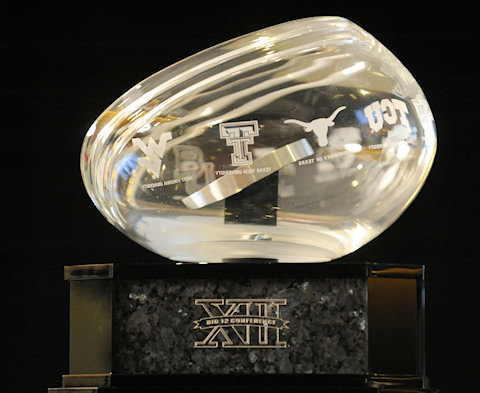 After a turkey induced coma, I'm back!  It's the last big week of the season.  Yup, it's championship weekend!  Except for the Big 12.  They have a kinda, sorta, championship weekend.  I'll be personally overseeing this as well to make sure it's kinda, sorta, awesome.  But until I make that trip to Waco, I'm going to run down how I think things will shake out.
So for those of you who don't know, the College Football Playoff committee has been doling out updated rankings each week to tickle the ears of prognosticators all around the world.  This next to last ranking has everyone russlin' their jimmies.  So Alabama is one, Oregon is two, TCU is three, and Florida State is four.  I guess the big deal is that Baylor is sitting on the outside at six when they beat TCU head to head.  More on that later.
Let's talk games, starting with the Pac 12 Championship Game.  Oregon is looking to avenge itself against Arizona, the only team that beat them so far this year.  I think they do, it's time for them to choke on a whole new level and the first College Football Playoff is the right place to do it.
The Big 10 Championship Game sees Ohio State looking to get into the playoff party by trying to fend off Wisconsin.  It's going to be hard to do what with J. T. Barrett being knocked out for the game.  I have to go with the Badgers on this one.  Melvin Gore is just too much and I don't think a Buckeye back up on this big of stage will play up to the competition.
The ACC Championship Game gives us the undefeated Florida State Seminoles against the Georgia Tech Yellow Jackets.  Everyone and their mother is picking the Yellow Jackets for some reason because the run game is a tough match up for the Seminoles.  Everyone wants to see Florida State lose but I just don't see.  They keep winning so I will pick them until they lose.
The SEC Championship Game has scrappy (and reapeated) East champions Missouri trying to tackle the giant elephant this Alabama.  I'm going with Missouri.  I can't help it.  If anyone is ripe for upset, it's Alabama.  Plus I think it's Missouri's time to shine.  It's a long shot but hey, they've never won anything and I'd rather see them win and SEC get shut out.
So we sorta have a championship going with the Big 12.  TCU has to roll over Iowa State to lay claim to their number three spot as well as the title.  Baylor will have to host a feisty Kansas State before they can make any claim to anything.  The cool thing is, Kansas State will also have a shot at a claim for the title if they beat Baylor.
Who's gonna win?  Well, I am making the trip from Austin to Waco to witness this one in person.  The big issue in this game is the status of Baylor quarterback Bryce Petty.  He got a concussion and now he's going through the protocol.  Seems like a turn of the coin where Collin Klein had a dinger as well while they were number one in the country in 2012.  I want Kansas State to return the favor.
Kansas State needs to be able to run the ball.  I don't think they will, but I don't think they have to if Petty is not playing.  And even if he is, maybe Ryan Meuller can get in there and give Bryce some Peyton Manning feet.  It's going to be a tough climb for the Wildcats but I'm all in for revenge.
Where that revenge takes them is another thing.  If they win they will get claim to the Big 12 Championship.  But they will more than likely not make the playoff.  Hey, that's something I can live with.  But what makes college football fun is that anything can happen.  Kansas State has a legit shot as well as everybody in the top 10 if the cards play out right.  I'll be in Waco Saturday hoping to see it live.