Welllllll, lookie here!  It's an actual Barspotting!  I gave up the game many moons ago but luck feel into place this last week.  Yup Kansas State played West Virginia on a Thursday and I was having other things going on.  That meant some time out and some time to review a bar.  Sad to say no Football Feedings this week but I think y'all will enjoy what I saw last Thursday.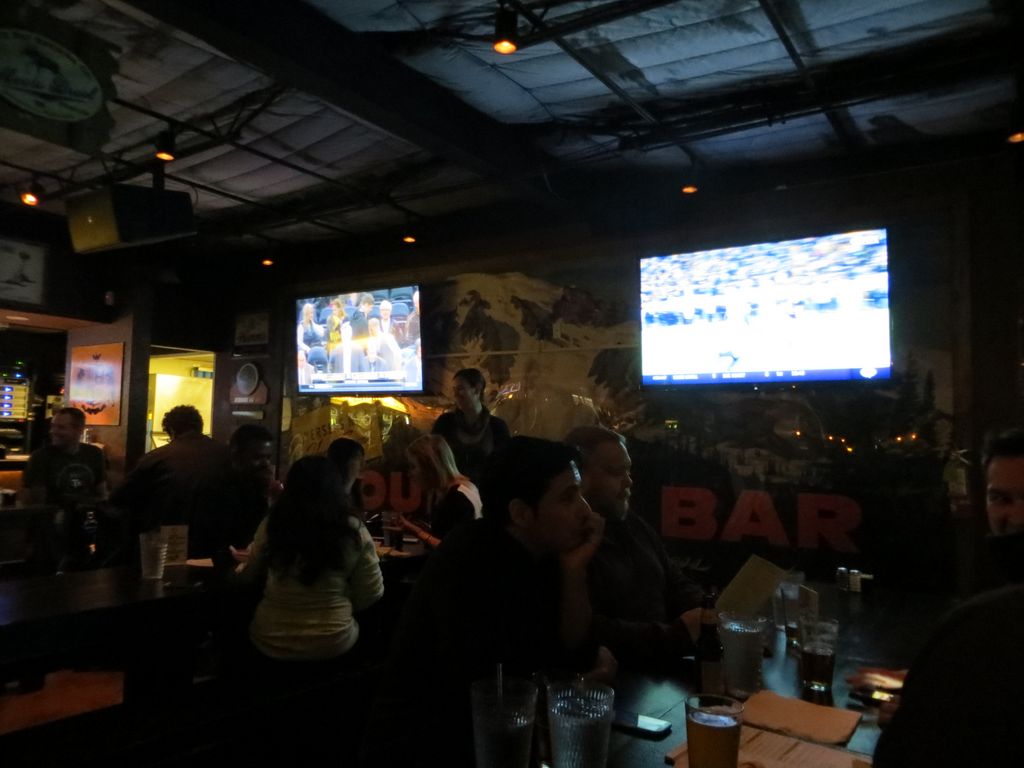 Okay time to dust of some cobwebs here.  Walking up to the Black Sheep Lodge, I could see a couple of motorcycles hanging out up front.  Not exactly what you'd expect at a sports bar.  Walking in, however, made it feel like I was at home.  There were big screens all over.  The patio even had televisions.  The side room had pool tables, Buck Hunter Pro, and Golden Tee.  The main room had darts and shuffleboard.  You can watch games and play games at the same time.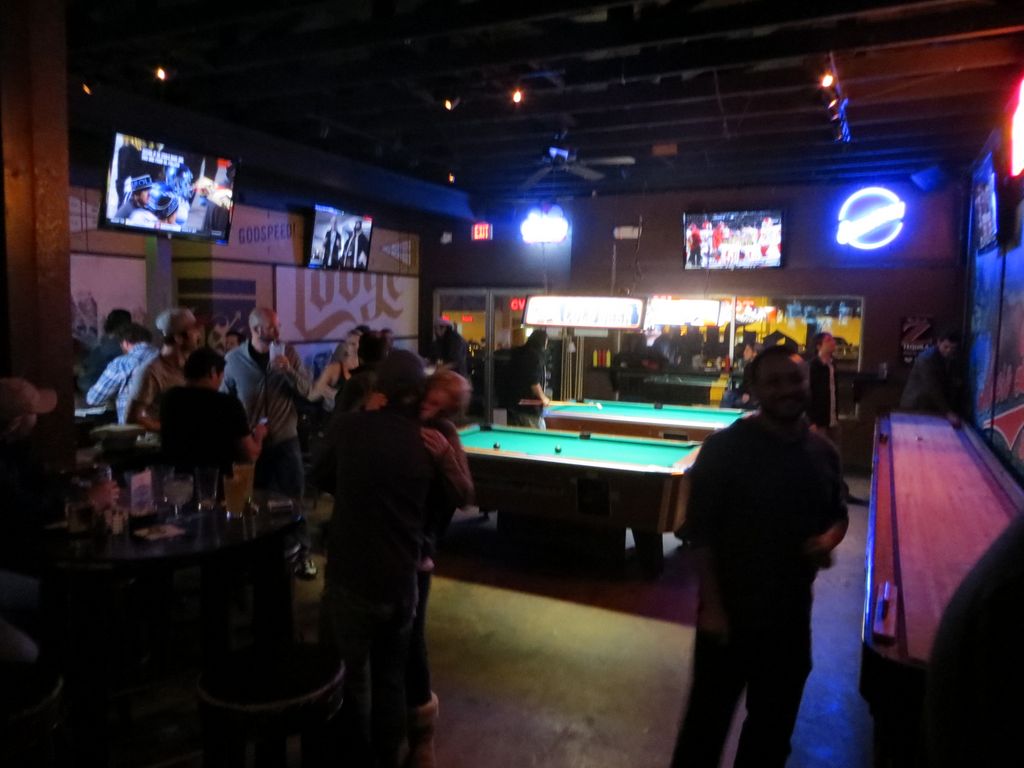 So let's talk about the service.  The waitresses there are really cute so that's a plus.  But for some reason they were a little slow when we got there.  In fact it was slow the whole night.  Plus I had to correct them twice when requesting the Kansas State game on the big screen.  There was also some people handing out free cider drinks but we couldn't tell if it was legit because they weren't wearing the typical free drink girl garb.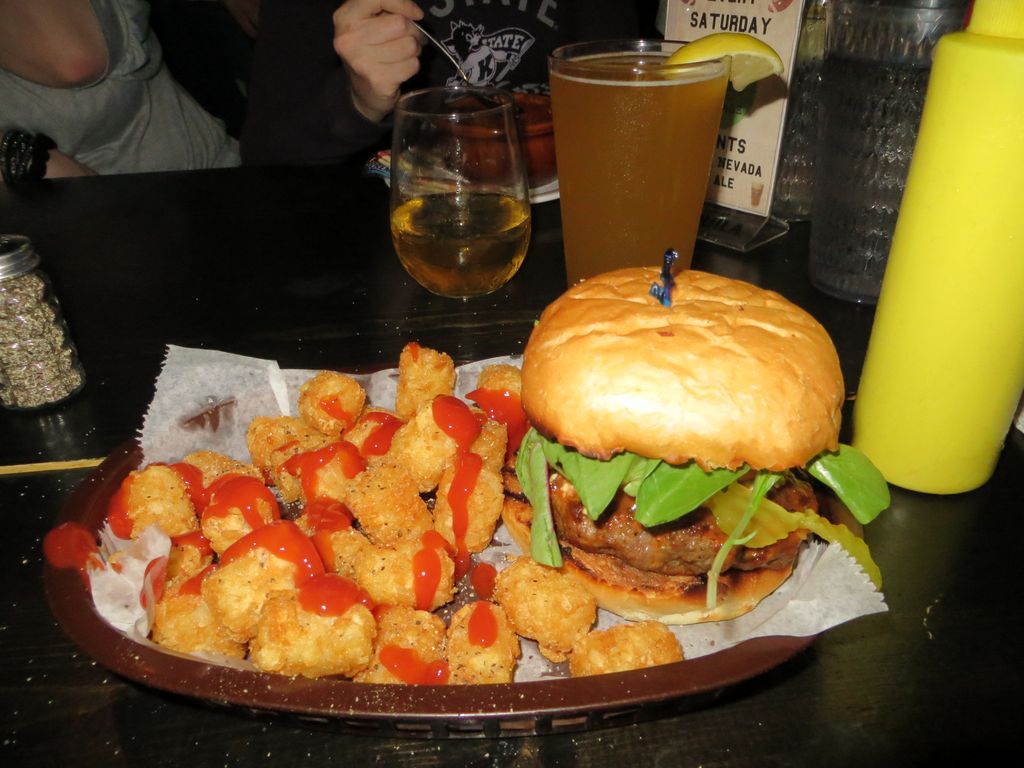 The food was worth the wait.  Because I couldn't combine the deep fried cheese curds with my meal I had to order it separate.  That's fine they were tasty but there could've been more in the basket.  The Black Sheep Lodge has a popular burger in the Black Bison Burger and I can now vouch for it.  The blue cheese puts it over the top.  Also, kudos to having tater tots as a side.  The special for the night helped wash it down with 2 buck margaritas and a dollar off draft beers.
Speaking of special, last Thursday was truly a special night.  I had an engagement to go to afterward (Found Footage Festival) and was lucky enough to watch the Kansas State game against West Virginia while also watching the Kansas Chiefs take on Oakland.  I believe it was the first time ever that Kansas City and Kansas State played football at the same time.  I was able to watch both but I'm only talking college football here (plus the Chiefs lost and that sucked).
That West Virginia were scrappy and fought back.  Kansas State couldn't run the damn ball. The Wildcats survived a push from a backup quarterback to stay alive in the Big 12.  Those are the main points from the game.  Kansas State took advantage of Clint Trickett early but due to some injury or something Clint was benched for a one Skylar Howard.  He looked great and almost pulled the Mountaineers to victory.
Kansas State held on and I have to say I'm a little worried about the team moving forward.  Jake Waters does what he does best and leads the team however is needed but the fact that Kansas State only got one yard rushing sucks.  They are going to need a better balance not only for Baylor in a couple of weeks, but also for in state rival Kansas.
Yup, I'm worried about that one too.  Oklahoma frosh Samaje Perine just broke a NCAA rushing record against Kansas this week.  The Jayhawks are weak to the run and play the pass tough.  Just look at their performance against TCU.  The Horned Frogs won, but are feeling the brunt of Jayhawk team keeping it close.  It's Hate Week and I gotta wonder if Kansas was looking ahead to the Sunflower Showdown.
This slideshow requires JavaScript.
At any rate, that's a thought I can contemplate further when I'm passed out from turkey Thursday and  start getting ready for the match up this Saturday.  For now, Kansas State won and I had a great time at the Black Sheep Lodge.  All your sports bar bases are covered here and they have a little bit of flare going on with the bikes and the craft beer menu.  Any place that serves deep fried cheese curds usually delivers.