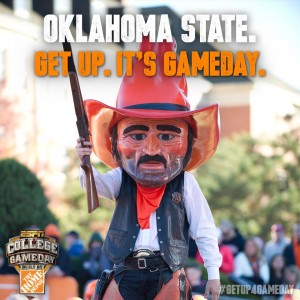 It took up until the last remaining weeks of the season but ESPN finally felt it worthy to grace their college football presence in Big 12 country.  All it took was a still undefeated Baylor and a one loss Oklahoma State to do it.  And boy that will be a shootout.  Kapwing!  We also have a couple of tasty Top 25 match ups and a HUGE game for Alabama as they take on Chattanooga.  Let's get the show started.Top 25 wise we have Arizona State heading to UCLA.  I'll go with Sun Devils on this one.  After the Pac 12 went nuclear last week, I'll take anything that muddies their water even more.  Texas A&M heads to LSU in what may be a survival match for the Aggies.  Survival for what?  Well if Alabama happens to lose to Chattanooga, then you could see the winner of this game in the mix for national title glory, unfortunately.  I'll go with JFF this week because why not.
The Big 12 is on the national stage this week.  Fresh off it's first victory in forever, Kansas heads to Iowa State in what should be a massive barn burner.  Okay maybe not, but the way that ground game is working for Kansas, I'd expect them to run over an Iowa State team that is just having a terrible year.  ESPN College GameDay will be in Stillwater to watch the cream of the league face each other in Baylor versus Oklahoma State.  I think Baylor has too much for Oklahoma State.  It will be close, but the backups are growing into their own for the Bears and that defense is nasty.
So Oklahoma is heading to Kansas State this Saturday as well.  The Wildcats eked by TCU last week and will look to keep their winning streak going.  Oklahoma is looking to stay relevant in the Big 12 race with a very slim chance of doing another fake title celebration at the end of the year.  Oh, they are also looking for revenge from last year's loss.  Who will win?
Both of the teams have the same kind of story on the offensive side of things.  It's an official two quarterback system for Wildcats and a forced two quarterback system for the Sooners.  I think people are more unhappy with the production for Oklahoma than what they are with Kansas State at this point in the season.  That said, the Sooners only have two losses and Kansas State has four.  I'm going with the Wildcats again but this one will be super close as well.  That game last week scared me but I believe more in Kansas State's two quarterbacks than Oklahoma's.
So that's this weekend's picks.  I will be out and about in Dallas doing a Doctor Who thang so I may try to catch some games at a bar afterward.  I will more than likely listen to Kansas State on my kick ass satellite radio.  I won't be watching or listening to ESPN College GameDay that's for sure.  But kudos to the suits at ESPN for finally making the trip to this part of the country.  I'm not sure we'll see them again this year, but at least they won't be at Florida State again.