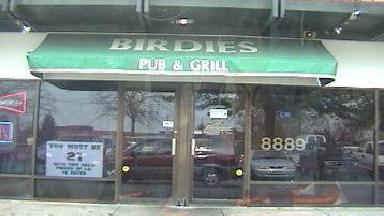 This week's barspot brings a suburban locale.   Usually in suburbs around this time, you smell the freshly mown lawns and the first scents of fall.  You even hear the birds chirping.  In that spirit, we will watch the action at Birdie's Pub.  Um let's see here.   Another way to think of this place is that we are going to a golf players fantasy sports bar.  So while we see the golf season wind down, we can see the college football season pick up.  Okay, now we're just blabbing on.  We really don't know what's in this place because we've never been there before.  Hopefully, the local crowd won't chirp to much while watching the games.  We also hope that Birdie's does better than par for the barspotting course.  Now bring on the beer cart babes.
When: Saturday, September 19 2009
Time: 1:00 pm ish
Where: Birdie's Pub, 8889 W. 75th Street, Overland Park, KS 66204, 913.648.4011
Games:
Notes:  Alrighty some of the better games are happening tonight and tomorrow.  The Georgia Tech and Miami game should be good but we're not sure if a fight will break out or not.  We know the Battle for the Milk Can can be rough and it's up to Fresno State to spoil Boise States frothy pour toward BCS busting run.  The Governor's Cup is up for grabs when Louisville heads to Kentucky.  Too bad both programs are a little blah right now.  Kansas will handle Duke better than the basketball contest.  The O-Rourke-McFadden Trophy (a leather helmet) is what Boston College and Clemson will be shooting for Saturday.  The Trophy first showed up just last year.  Missouri will roll.  Florida will take out its frustrations on Lane Kiffin's smack talk against his Tennessee team.  In what will be the game of the week, we will see two great defenses pound on each other with Nebraska going to Blacksburg to take on Virginia Tech.  Due to a scheduling difference, Texas Tech agreed to play Texas this weekend.  For us it means an early treat and a revenge game for the Longhorns' Colt McCoy.  UTEP and New Mexico State ride the Battle of I-10 to vie for the Silver Spade.  Finally we get Kansas State heading to UCLA.  So the starting QB is out with a broken jaw and 4 other players are suspended from UCLA for this game.  I still think this game has home victory written all over it.
Once again here are the facebook pool results: