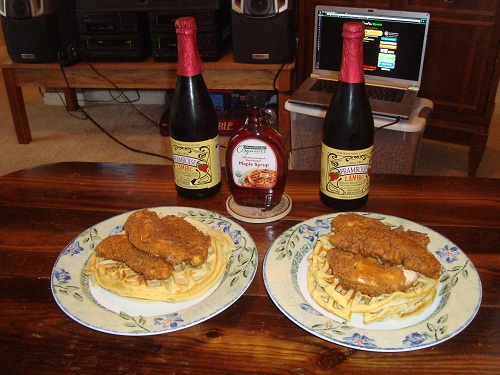 Okay back again after a short hiatus for some football feedings and boy do I have a treat for you.  You know, tailgating and the like happens early about 1/3 of the time for you footballers out there so I figured this week I would treat you to some tasty breakfeast (sp intentional).  We're doing an Austin staple of chicken and waffles but this time with a twist.  We'll be tossing in some apples and jalapenos.  Mix that bad boy with some real maple syrup and some Framboise Lambic (mix as in syrup on food, drink in mouth) and we got ourselves a great Saturday morning munch fest.  So let's check out how we made this early morning feast.
Spicy Apple Waffles
Ingredients:
2 cups cake flour
2 teaspoons baking powder
1/2 teaspoon salt
4 large eggs, separated
2 tablespoons sugar
1/2 teaspoon vanilla extract
4 tablespoons unsalted butter, melted
2 cups milk
non-stick cooking spray
1/2 cup apple chunks
1/2 cup jalapenos chopped
Cooking Instructions:
Preheat the waffle iron according to the manufacturer's instructions. In 1 medium bowl sift together flour, baking powder, and salt. Set aside. In a second bowl use the wooden spoon to beat together the egg yolks and sugar until sugar is completely dissolved and eggs have turned a pale yellow. Add the vanilla extract, melted butter, and milk to the eggs and whisk to combine. Combine the egg-milk mixture with the flour mixture and whisk just until blended. Do not over mix. In third bowl, beat the egg whites with an electric mixer until soft peaks form, about 1 minute. Using the rubber spatula, gently fold the egg whites, apple chunks, and chopped jalapenos into the waffle batter. Do not overmix! Coat the waffle iron with non-stick cooking spray and pour enough batter in iron to just cover waffle grid. Close and cook as per manufacturer's instructions until golden brown, about 2 to 3 minutes.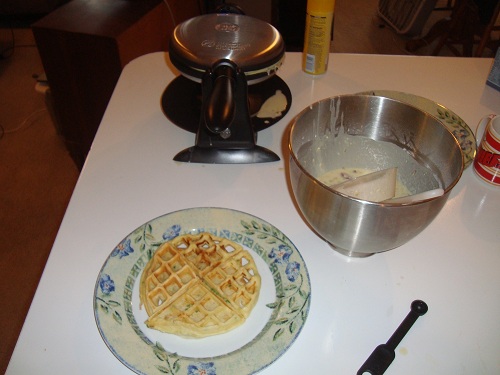 Chicken
Chicken Breast:
Ingredients:
4  large boneless chicken breasts
Directions:
Place the chicken breasts between 2 sheets of plastic wrap and using a meat mallet, pound the meat to an even 1/2 inch thickness. Alternatively, you can slice the breasts by placing them flat on a cutting board and using a very sharp knife to slice them into halves horizontally.
Breading:
Ingredients:
2 cup flour
4 tsp salt
4 tsp black pepper
3 tbsp ground ginger
2 tbsp ground nutmeg
2 tsp ground thyme
2 tsp ground sage
2 tbsp paprika
1 tsp cayenne pepper
Directions:
Sift together the breading ingredients in a bowl large enough for the chicken breasts.
Egg Wash
Ingredients:
Directions:
Whisk together in a separate bowl large enough for the chicken breasts.
Cooking Instructions:
Season the chicken breasts with salt and pepper, then dip the meat in the flour and spice mixture. Dip the breast into the eggwash and then a final time into the flour and spice mix, pressing the mix into the meat to get good contact.
Heat a skillet on the stove with about a half inch of canola oil covering the bottom. You will want to carefully regulate the temperature here so that the chicken does not brown too quickly. The thinness of the breast meat practically guarantees that it will be fully cooked by the time the outside is browned. I find just below medium heat works well. I use a burner setting of about 4 1/2 out of 10 on the dial and fry them gently for about 4 or 5 minutes per side until golden brown and crispy.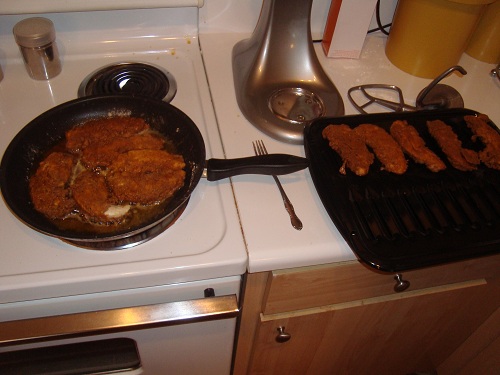 Ah yes, the beast of a meal to prepare.  It's a good thing I had a fresh cup of coffee and a couple of helping hands to make up the chicken.  So after the labor and the use of a cheap waffle iron from Wal-Mart, we had ourselves some Chicken and Spicy Apple Waffles.  Ho boy, was it awesome.  Usually when I get some sort of fruit or pepper in a breaded item, it's been cooked and set in for awhile.  Never have I had so fresh apples and peppers in anything.  It really jumped out of the waffle.  The breading for the chicken was a good mediator between the waffle and the juicy chicken.  I think the same approach between spicy and sweet is what did it for me for the chicken.  And of course, the real maple syrup was the glue that held it together and also made sure the jalapenos weren't too spicy.
I had the pleasure of washing it all down with some Framboise Lambic.  It's essentially raspberry beer.  Yeah I attacked the spicy from all sides.  The Framboise is good anytime of day, but especially for a breakfast meal.  It's like an alcoholic juice.  I have to admit, though, that it was just a tad too bitter and strong for my liking alone.  Combined with the meal, it's tartness kept all of the sweetness in check.  It really was a full on taste attack on my mouth.  I think next time I will halve the recipe because I was gnawing on leftovers all weekend.  Not that I'm complaining, it was awesome, but you should only have awesome in moderated amounts.