So it's the game of the century this weekend and I decided to kick it up a notch by cooking something that both Texas A&M and Alabama can share.  Well, also it's a victory lap for Kansas State's win over Louisiana-Lafayette.  Yup, I'm cooking some cast iron Godzilla Gumbo.   Maybe next week it will be some clam chowder for the Wildcats win over Umass.  Who knows?   What I do know is that the saison from South Austin Brewing Company made gumbo so sweet.  On to the ingredients.
Godzilla Gumbo
Cast Iron Required

7 Quart Dutch
Cast Iron Skillet
Ingredients
1 cup medium brown roux
1 three lb. chicken, boiled in 2 1/2 quarts of water and deboned (save stock for gumbo).
1 lb. andouille or smoked sausage, cut in 1/2 inch slices
2 tablespoons water
2 tablespoons oil
2 celery ribs, chopped
4 cloves garlic, minced
2 medium onions, chopped
1/4 cup fresh parsley, chopped
1/4 cup green onions, minced
1 teaspoon Worcestershire sauce
3 tablespoons browning sauce
2 teaspoons corn starch
salt and red pepper to taste
filé powder.
3 chipotle peppers chopped
Your favorite hot sauce added to taste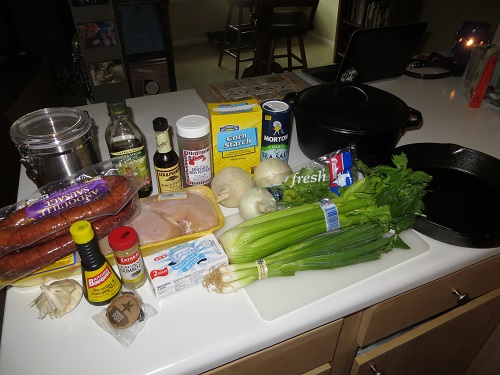 I followed the recipe found at the cast iron cooking blog so follow along there.  The only difference would be to add some chipotle peppers when you add everything and douse some hot sauce to taste.  I also made my own brown roux so let's talk about that.  You basically melt two or three sticks of unsalted butter in a sauce pan, whisk out the foam on top, pour out the butter without the milk artifacts at the bottom, bring up the sauce to bubble, sprinkle in about 1 3/4 cups of flour, and stir constantly for 45 minutes for a nut brown looking sauce.  It took awhile to cook the whole thing but it was worth it.
The gumbo for me needed some extra kick so I added some hot sauce right to the point where it just started to make my nose run.  The South Austin Brewing Company's Belgian Style Saison provided just enough rich flavor to match the gumbo.  Now you can't get it but at some local joints here in Austin so if you are thinking of tackling this gumbo, you will need to scope out something similar.  Boulevard has a tasty one in their Smokestack series called the Saison-Brett.
The whole experience for me was not only eating the tasty food and drinking the delicious drink, but it was full on cast iron cooking.  I actually ran out to get a dutch oven for this weekend.  Seasoning the guy and then using it as the vessel for this gregarious gumbo put the exclamation point on.  I had a cast iron skillet already on hand and it provided the crackling sausage sound I was so looking forward to hearing.  You do not need cast irons for gumbo but if you want to prefect it, while expanding your culinary horizons, then get the skillet and dutch oven.  It's worth it on so many levels.
So if I had to do anything different, I would add more kick in the beginning.  I would also favor the sausage more than the chicken.  It was heavy on the chicken and I wanted more balance.  Also the andouille I got was a little less spicy.  I really wanted a kick and had to manually add one.  That said, the brown roux and chicken stock made for a filling soup base.  This week was super tasty and I can only hope that I get to use the cast iron set again.