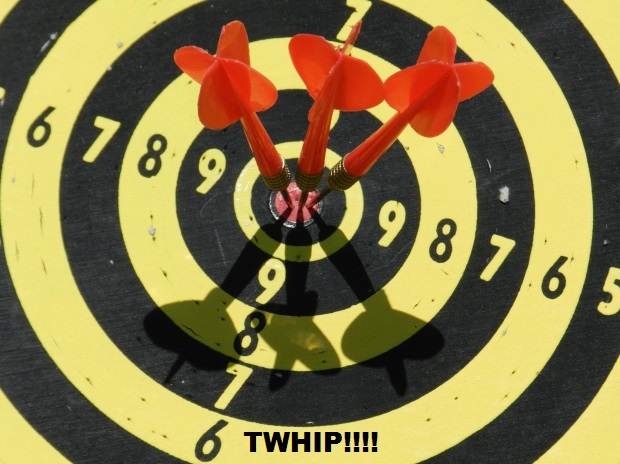 Hey guess what?  I'm back!  No Purple Yeti Roar, no previews (yet), and not much fanfare.  Let's be real here, I'm distracted by the the Kansas City Royals actually being in a pennant race.  But also I'm tired of the vlogging business.  Plus the picks and the feedings felt a bit tired.  But I'm back regardless with some tasty predictions.
Read more.  That's what I want you to do.  So before I get to darts, let me lay out what's going on with the blog.  I'll be posting when I feel like it basically.  When I gots somethin to say you will hears it.  I may post about food, I might pontificate about picks, but I'll do it fresh and I'll do it right.  No ruts here.  I may even be convinced to do a Google Hangout or Youtube vlog.  Who knows.  Now on to the darts:
Glad I didn't pick Texas A&M over South Carolina, as that game already happened.  I will say that only one team from the SEC will go to the new 4 team playoff.
Because only one team from the SEC will get into the playoff, ESPN will lead the charge to expand out to 8 teams.  Mid-major and fat TV executives rejoice.
Bo Pelini, in the midst of a 2 game losing streak, will start bringing his cat to the games and go on a winning streak.  They lose in the bowl, however, when the cat pukes on a ref.  9 win Pelini lives on.
Charlie Weiss sleeps through half of the football season and will get canned, taking all of the money to the bank.
USC gets back to form in winning as well as off the field troubles.
Brent Musburger dies on air but it's on the SEC network so that's okay.
The Big 10 Networks comes to New York and nobody watches.  Jim Delany pats Rutgers on the back and says it's okay.
Missouri will win some games and lose some others.  They finish a tad bit over .500 and people will forget about them.
Ohio State marches to the Big 10 Championship anyway but loses to Michigan State.
Oregon will win as many games as uniform combinations this.  I'm not sure what the means but they will be in the hunt for the Pac 12 title.
Alabama has a down year again with only 2 losses, Alabama sees Ferguson like riots because of it.
Texas, on the other hand, lands back in a bowl with no conference title, but head coach Charlie Strong gets a parade because of all of the money made off the Stronghorns merchandising.
Kansas State will magically get close to a Big 12 title but looses when Bill Snyder has to call AOL tech support to get his playbook back on his Dell.
Nick Marshall will win the Heisman.  He smokes a bowl in celebration.
Here's my final four:  Auburn, Baylor, Stanford, Florida State.
Here's what will happen: Auburn looses again this year but this time it's to Stanford.
Final prediction:  I will not get as blackout D but I will fill my belly with food and football and good times.