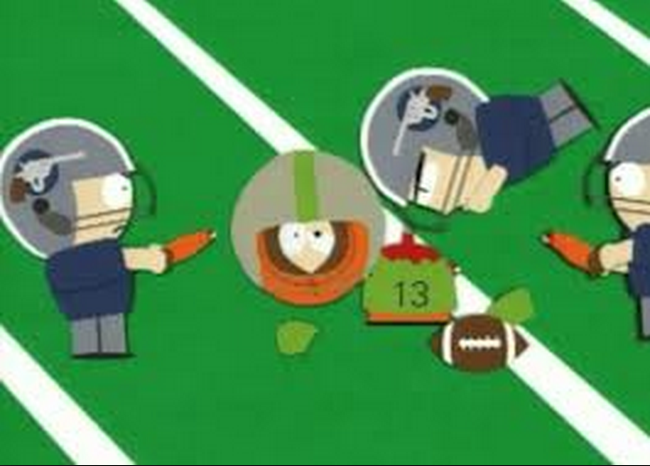 It's an easy method to take advantage of.  Yesterday in my Dart Picks for the year, I explained that I was too busy/lazy to get anything together.  That helped me avoid the blowout out by (shudders) Kenny Football and Texas A&M over South Carolina.  I'm already up on the year!  Let's see what that cache will garnish me here for the rest of the kickoff weekend.
First things first:  there is no Yahoo! Fantasy League this year.  Y'All got about as busy/lazy as I did and didn't participate.  So with that weight off my shoulders, I'll just blast whatever I feel like in this here column.  I don't like busy/lazy, for example, so I'm going to start calling it blazy.  It looks right.  It FEELS right.
So speaking of blazy, Charlie Weiss and Kansas will look to start out the season will be taking the first week off to prepare for Southeast Missouri State lacking their top 2 running backs.  It will be a close game but they will win.  And that's all I'll talk about Kansas for a good month or two.
What other games that are actually interesting are going on this first week o' college football?  Welp I like the West Virginia against Alabama game.  Sure Clint Trickett first kissed Nick Saban's daughter (or is that the other way around?) but will he kiss his first victory as a Mountaineer against the Tide?  Probably not, but I'm so rooting him on.
Oklahoma State will take on Florida State in a wacky kick off game.  I'm at the same state with this one as the previous one.  It's kind of obvious that the Seminoles will roll over the Cowboys.  But it's Cowboys vs Indians and last I checked my U.S. history books, the Cowboys won.  Also, with last night's game being a HUGE UPSET, we know that anything can happen.  I will go out on a limb and say that Oklahoma State will win because why not.  YEEE HAWWWW!
Okay so Kansas State will be online for their game Saturday night, as will I.  They are taking on the venerable Stephen F. Austin.  Should be a walkover right?  Welp, if you don't remember last year, they choked out a loss against North Dakota State.  Sure it was still a two quarterback system then (which was righted by the superb play of Jake Waters) but they still have that stigma coming in.   There's also this issue of Kansas State's schedule.
Usually Bill Snyder's teams do not schedule tough and front loaded, but here they got Iowa State and then Auburn the following weeks.  Why Kansas State lost last year was because they like to play vanilla to start out with.  This year the schedule is so front loaded that I feel like they have just this game to establish who's good and who's not.  So expect to see them open things up a bit…..in the second half.
It's an easy thing to do when you have Tyler Lockett.  Maybe the most vanilla thing for Kansas State to do is to drop bombs from Jake Waters to Tyler Lockett.  You'll see that tomorrow night.  You'll also probably see a committee of running backs fighting for the starting position.  Snyder won't have the figured out until Auburn.  But for this weekend, you should see everyone in purple rolling.  It just FEELS that way.
So I'm done with the FEELS for this week.  I'm stoked that this year's go around of college football snuck up on me and punched me in the face.  I seriously was too distracted by the Royals actually doing well.  Now I get to spend my Labor Day weekend with both college football and baseball. But we know what's going on the big screen.   Welcome back college football!