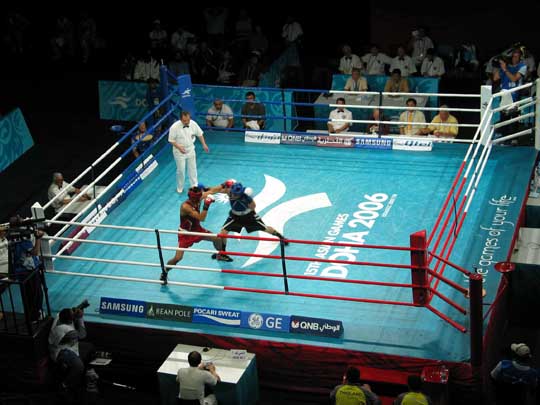 Okay I can't quote that exactly but I think you get the point.  This week we go from the backswing of the season to the full on, follow through punch to knock ourselves into the College Football Playoff.  Teams are teetering and are starting to fall (Ole Miss).  This weekend others will fall as room for error is no more.  We will find out who's Rocky and who's a tomata.  Ding. Ding.
Top 25 matchups are abound this week.  Notre Dame takes it's playoff hopes to the desert to face Arizona State.  I believe in the Irish (for now).  Alabama heads to LSU as the Tide look to stay in the conversation while LSU looks to spoil a season yet once again.  I think LSU will eat grass and that's a good thing.  Finally Ohio State tries to knock off Michigan State and knock the relevance down even further for the Big 10.  I think the fix is in and the Spartans win.
Big 12's ring has more of a complete card.  West Virginia will rebound against hapless Texas.  Red Bulls for everyone care of Dana Holgorson.  Iowa State heads to Kansas and man alive it's like Joe Glass against … Joe Glass.  The Glass from Iowa wins.  Baylor looks to keep the ball rolling against Oklahoma.  It's in Norman and I'm torn.  This will be Baylor in a decision.
Finally we get the MAIN EVENT with Kansas State heading to TCU.  The Horned Frogs just find ways to win (except Baylor) and will look to advance to the last 4 spot for the playoff.  Kansas State is coming off a complete knockout over Oklahoma State.  They take their technical skill to Ft. Worth for quite the battle.
I don't know who will win.  I think this one can go both ways.  I'm more scared of TCU's offense than I am their defense.  They, like Kansas State, take advantage of mistakes.   Kansas State doesn't make mistakes.  But they typically do not have the physical talent to match a super powered offense.  TCU somehow flipped from a petering offense to an Air Raid one.  It's going to come down to Kansas State stopping that and after last week's performance, they may just be able to scheme something.
I'm going with Kansas State.  I always do.  I won't be around for the fight, however, since I'm going to be a FunFunFun Fest, but I will own up to any missed shots on next week's post.  It's going to be all downhill from this weekend and that's what we trained for.  So let's get out there and watch our best.