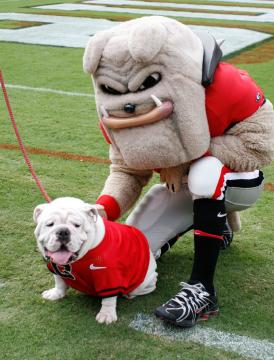 Over the weekend in professional land (NFL), they held the draft and Matthew Stafford gained the honor of being the number one pick for the Detroit Lions.  Stafford's recently former school is the Georgia Bulldogs so this episode of Mascot Monday will take a peek at the dynamic duo of Hairy Dawg and Uga.  Uga has a rich history and following.  Hairy Dawg is relatively new compared to Uga, but he's just now turning the corner of mascot-dom.  Whether these two will be the number one pick in a mascot draft, we're unsure of.  But word from Kiper tells us they could go top ten.
The Georgia Bulldogs athletic site tells us that the very first mascot actually was goat in 1892.  Fast forward two years to 1994 and we see the first appearance of a dog, but not a bulldog.  Trilly was a bull terrier brought onto campus by her owner, Charles H. Black, Sr.  There were many bulldogs after, but the Uga line of mascots didn't start until 1956.  It was then that one of the best live mascots in college football roamed the football field and continues to do so today.
Uga is an Engligh Bulldog who stomps the sideline in his traditional red jersey.  Most mascots can't wear jerseys and when they can, it adds the extra bite needed to rile the fans.  Apparently everyone loves Uga.  He's been featured on the the cover of Sports Illustrated.  Heck, Uga even has his own documentary.  This dog it tops for the live mascots.  If we see one better, we'll let you know.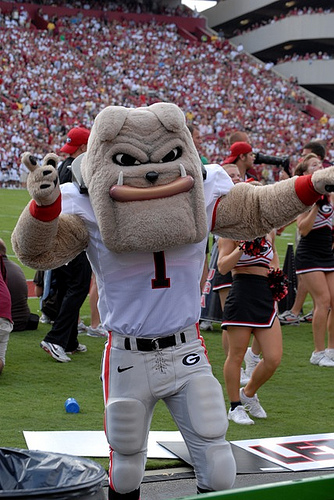 Hairy Dawg's history is much more recent.  He didn't show up until the Sugar Bowl in 1980.  After they lost to Alabama in that game, the first home game he showed up in was a victory over Tennessee.  Hairy Dawg's get up includes the furry friend type of mascot.  Complete with football shoulder pads and pants, the mascot wears fur from giant head to furry feet.  Thankfully they went the tough looking route for the face but didn't overkill it like the Detroit Tigers just did.  All in all it's a pretty tight costume.
It still must be tough to live in Uga's shadow however.  Years of tradition stack in Uga's favor and it's an uphill battle to match his popularity.  Hairy Dawg's doing all he can, getting nominated as a finalist to the Capital One Mascot of the Year in 2007.  He's starting to turn the corner and we think they can at least coexist nicely together.  There's no way he can be more popular.
Uga and Hairy Dawg shore up very nicely in the SEC and mascot-dom.  Uga's the king (at least outside of the Big 12) in hearts for live mascots.  Hairy Dawg also turns out to be a pretty cool mascot too.  Georgia as a program could use the extra spirit as they send off a number one drafted quarterback in Matt Stafford to the Detroit Lions.  Maybe next year the new quarterback can glance over and feel inspired to play a little harder for this dynamic duo.