The year of Kansas State wasn't so much of a year as it was an eternity.  There were mediocre hopes going into the season, despair running through the season, mania during the end of the season and into the offseason, then back to a numbed out mediocre hope of building a solid team.  There are still burn marks on my belly from the selt belt holding me in from the ride the Wildcats took me on in the last year.  Right now, they are known as the Mildcats.  They brought back an old legend to patch up the nuclear meltdown and now are looking to rebuild.  Let's take a look and see how they will stack up coming into the 2009 season.
Last year, I predicted an 7-5 season with a possible bowl appearance.  I also said that Ron Prince would have one more shot, as his seat would be warm going in.  I also questioned whether Josh Freeman was for real as the curly headed quarterback.   He showed promise and the whole world said he was ready to mature.  I also noted that the massive amount of junior college recruits Ron Prince signed could come back to bite.  Boy did it ever bite back hard.
The season was running at a decent pace until the Kansas game.  A couple of poor decisions and a fumble from wannabe Josh Freeman at the goal line left it close at the half.  The second half came around and Jake Sharp ran all over the Wildcat Defense.  Game over 51 -21.  Not soon after, Ron Prince was fired and exposed as a fraud.  The twist, however, was he had to coach through the rest of the season. After losses to Missouri and Nebraska, Prince somewhat redeemed himself by beating Iowa State in his last game as head coach.  The Kansas State Wildcats were 5-7 with no bowl appearance and no coach.
Then the circus really blew its tent.  During the press conference to explain Prince's firing,  athletic director Bob Krause seemed out of touch and very nervous.  The hiring of former alum and current TCU head coach Gary Patterson ran afowl when some knucklehead in the athletic department let the rumor out too early and scared Gary away.  Kansas State and Krause scrambled to bring back retired Wildcat legend Bill Snyder for a second run as Kansas State football head coach.  This was only the first of what soon became the major blunders of outgoing president Jon Wefald and Krause.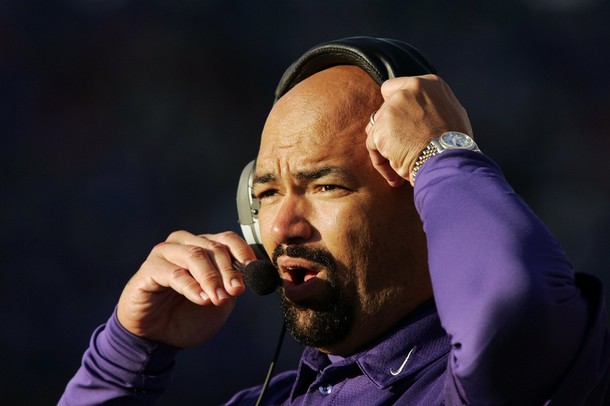 Earlier this year, we come to discover an out clause in Ron Prince's contract, that Bob Krause authorized, that paid him $3.2 million dollars if he was fired.  This contract, which Kansas State officials called a "secret pact,"  was part of a contract extension set up before the start of last year's season.  The circus didn't stop there.  Officials registered fake company names to get the money back, officials tried legal action, and Ron Prince counter-sued for another $3 million in punitive damages.  This turned into a major distraction and helped force out Bob Krause with retiring buddy Jon Wefald.
All the while, Bill Snyder was left to rebuild the team and the Wildcats were left to rebuild its athletic department.  The athletic department part was easy as they hired former Tennessee Associate Athletic Director John Currie.  Rebuilding the football team and its coaches is a task that, albeit hard, is not as hard as Snyder's first time around.  Even the the expectations are higher.  So what did Bill Snyder do?
First he called back most of his former coaches and even a former player, welcome home Joe Bob Clements (now tell us some KU secrets),  to saddle up for another ride.  All he had to do was fill in the void left by short comer Josh Freeman.  Carson Coffman was next in line, but just in case Snyder knocked out some transfers, like Grant Gregory from South Florida, to heat up the competition.   Not only that, he's also shuffling up the positions and putting the best he has to work with on the field at once.  Not to fear too much, they do have returning talent like Brandon Banks.
So how will this year shape up for Bill Snyder 2.0 and the Kansas State Wildcats?  In between all the 'old glory is back again' articles and 'legal crazy KSU vs Prince' articles, the rest of the world is writing off the Wildcats.  Super mega stat guy Phil Steele is the only one that thinks K-State will improve but it may just a case of drinking Snyder 2.0's purple kool-aid.   There is a giant challenge in rebuilding a JUCO full and senior quarterback-less team, but there are also a couple of factors that may help out.
First, we have the schedule.  Kansas State plays most of its games at home, or the Bill Snyder Family Stadium, this season.  Home field advantage is crucial.  Second, the south schedule is more favorable.  Texas, Oklahoma State, and Baylor all supposed to be improved and Kansas State doesn't play them.  Instead they have dud Texas A&M, rebuilding Texas Tech, and the only obvious loss in Oklahoma.  Third, okay I'm drinking the purple kool-aid, too. Bill Snyder is back and has more coaching talent in his left pinky than Ron Prince does in his whole body.  The Wildcats may not stack up in talent, but they will be way more fundamentally sound.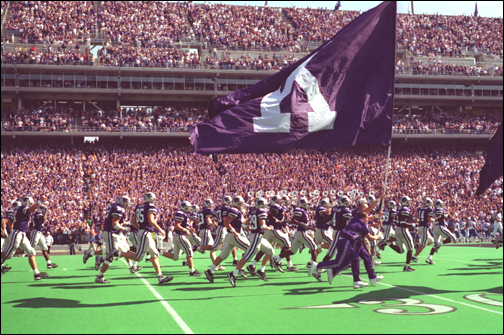 The Kansas State Wildcats will finish 5-7, again.  It's tough to call, but lets' run down the schedule.  The wins are Massachuesetts, Louisana-Lafayette, Tennessee Tech, Iowa State, and Texas A&M.  The losses will be UCLA, Texas Tech, Colorado, Oklahoma, Kansas, Missouri, and Nebraska.  There are some close sames in there, however.  I really believe that Kansas State will split the games between Kansas and Missouri as they both play them in Manhattan.  The other close games will come from Iowa State and Colorado.  Bill Snyder will coach up his team, but they are gonna have the same record as last year.
Really that's all you can expect from Kansas State this year.  The football program literally blew up last year and it's gonna take this year, and probably the next two years, to make the program respectable again.  Bill Snyder is back,  now all he needs to do is name one of those 'here is my super successor' so when he goes away again, Kansas State won't be left with a douche bag.  Until then, this Purple Yeti will deem the team the 'Mildcats' until they prove their worthiness.  Oh, I'll cheer them on hardcore, but they have tons of work to do.