Saturday was the big day.  We've been to a couple of chain restaurants before but this one was different.  This was Hooter's.  We knew everything they were pushing.  The place started with girls first, then everything trickled down from their cleavage.  Hooter's believes it also makes a great spot for a place to watch the game.  So last Saturday was the day to put it to to the test.  The test subjects included some great rivalry match ups, including the Red River Rivalry.  Let's see what Hooter's brought us.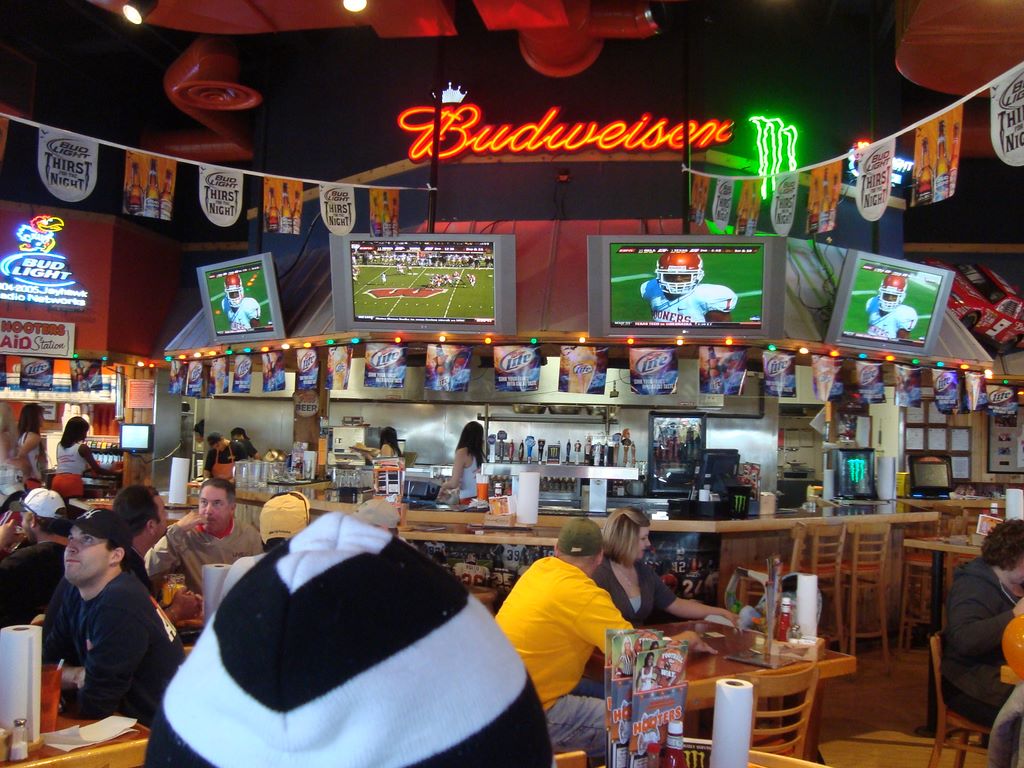 Walking in to Hooter's, we were greeted with the trademark, "HI! Welcome to Hooter's!"  After the nice lady in the track suit helped us find a primo spot, we scoped out the place.  There was a television hanging up wherever there was space.  Regular size tube screens, flat screens, and a couple of HD television fit snuggly between some memorabilia.   Even though some of the televisions were turned off,  Hooter's sported satellite television but we're fairly certain they did not have the Big 10 network.  After logging on and agreeing to some terms, you can surf the web for free at Hooter's.
We got our game on at Hooter's too.  After poking around the one big room, we found a side room that sported garage door windows and a couple of games.  On top a broken multi touch game,  they had Golden Tee and Buck Hunter Pro.  They also had a Hooter's branded version of NTN Buzztime Trivia.  We opted for a couple of rounds of Golden Tee and Buck Hunter, however.   It was hard to pay attention as the manager was training a new crop of girls in the side room while I was cocking my rifle.   Apparently, they need to be trained to be bubbly.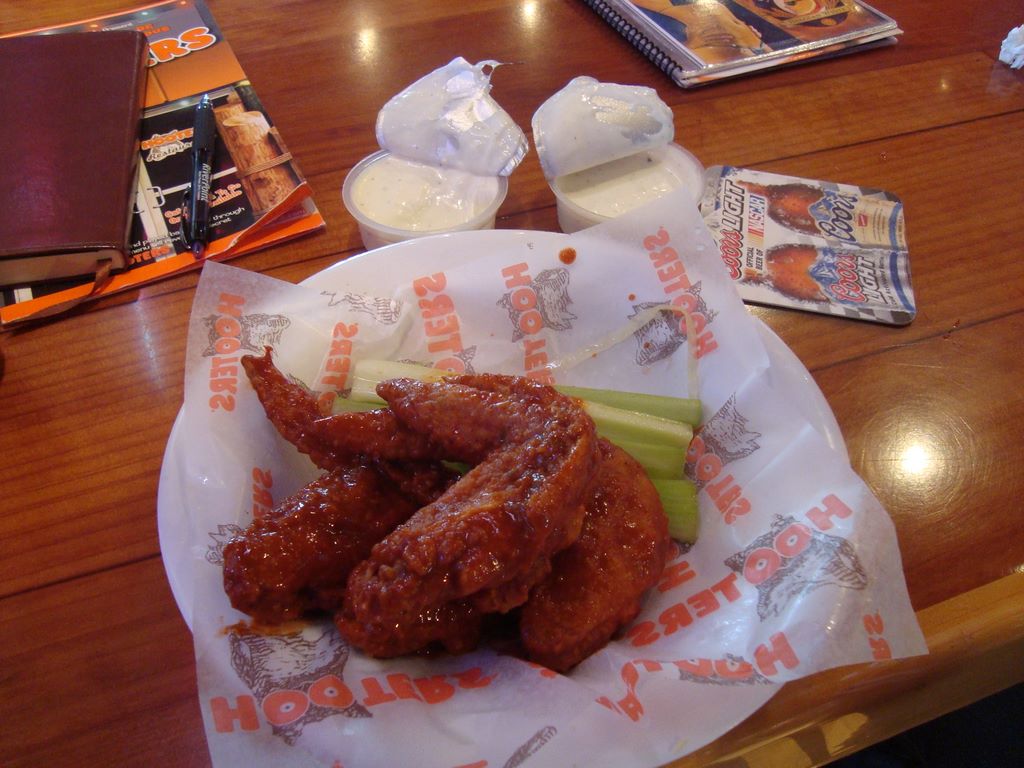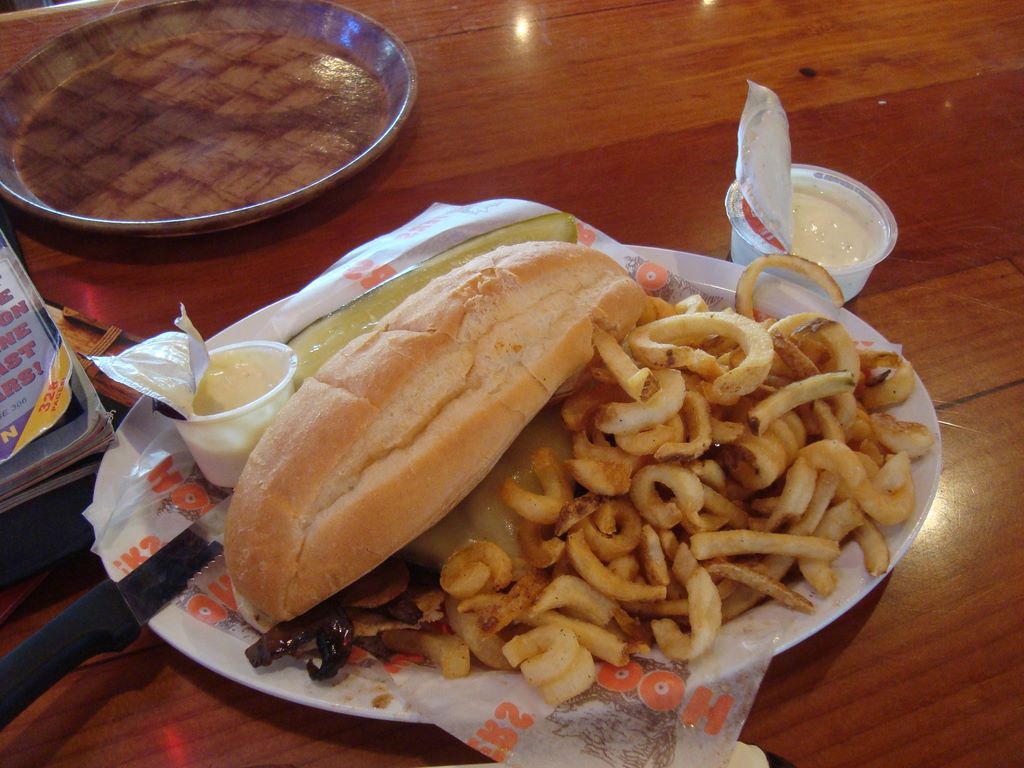 What percolated this soul was the food.  Everywhere you hear about Hooter's, you hard about how great their wings are (we already know about the breasts).  So it was time to put it to the test.  The girl told me the 911 wings were the hottest.  After trying them, all I needed was a drink of beer.  The sauce was lame.  The beer special for the day helped, though, as a $3.50 big beer of Miller Lite washed down nicely.  Awhile later I scarfed down the Prime Rib Hoagie, which was part of their football promotion, and was more than satisfied.  The meat was cut thick and the horseradish sauce, combined with provolone cheese and mushrooms, made it a hearty and juicy combo.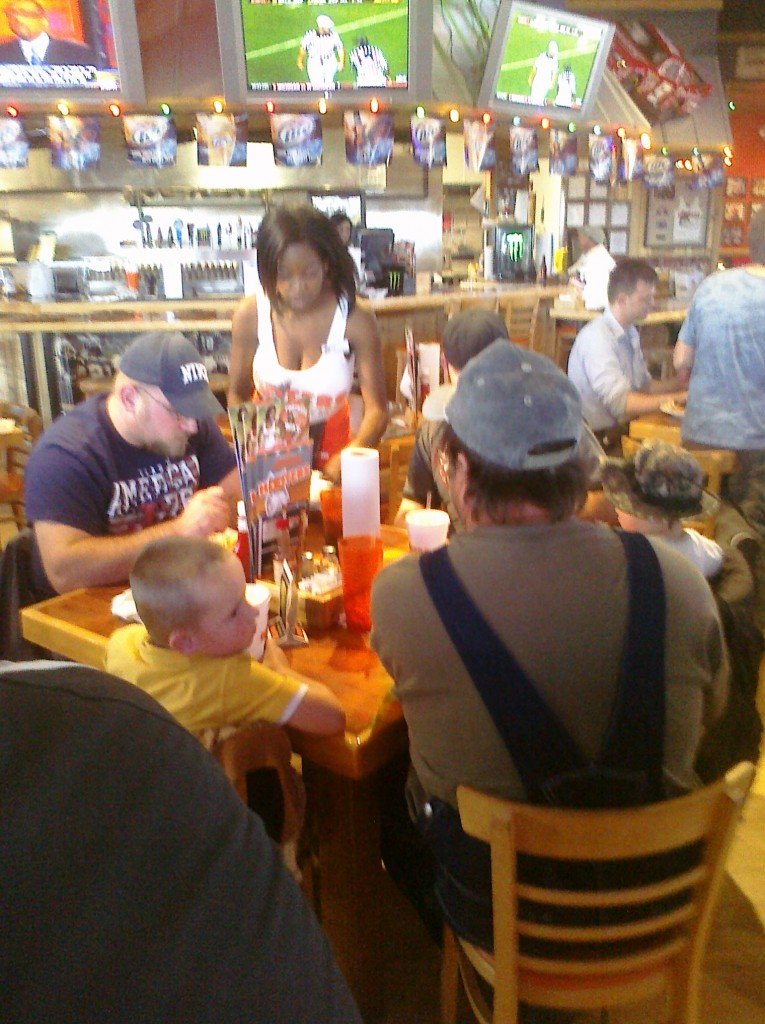 What got our juices flowing was the girls.   As advertised there were plenty of girls serving people at Hooter's.  They all wore the standard tight shirts and skimpy shorts.  All different types were represented there as well.  Tall girls, short girls, hearty girls, and sleek girls.  Our girl even sported some tattoos.  The emphasis was on service and there were some small things that made it both good and bad.  Our girl, and apparently all girls, open the tin foil for dipping sauces when serving.  But she also failed to tell us the specials and didn't point out the menus when we got there.  But, for some reason, the mistakes were overlooked.
So the girls looked great.  But Hooter's push up atmosphere on top of bras.  At one point, the creepy manager looking guy carted up two dudes who just happened to be celebrating their birthdays.  In all good and fun, a hula hoop contest kicked off to determine who would win the prized Hooter's T-Shirt for the birthday participant.  Now we all know the reason a hula hoop contest was picked and that settled fine with the crew.  But they did more.  They grabbed a couple of kids and plopped them up front for a chocolate cake eating contest.   A family taking a break from the Nebraska Furniture Mart, not the KC Beerfest, trotted out front while the creepy manager guy announced that it was their first time at Hooter's.  They really made everyone feel welcomed there and made sure they had a good time.
The good times were to be had, after some remote control wrangling, for football.  Because of the Purple Yeti's quest to beat Michael Phelps and the swimming lessons he had in the morning as a result of the quest, we showed up in the middle of the Red River Rivalry.  There were a couple of other games on including the Iowa vs Wisconsin game.  Instead of Canadian Football one or two tvs had the NFL Network on.  We had some major trouble during the whole day trying to get a good set of games that were going on at the same time on the televisions.  There was even horse racing on at some point.  But after we jiggled our way through that, by changing some of the channels ourselves, we got settled in a were ready to rock.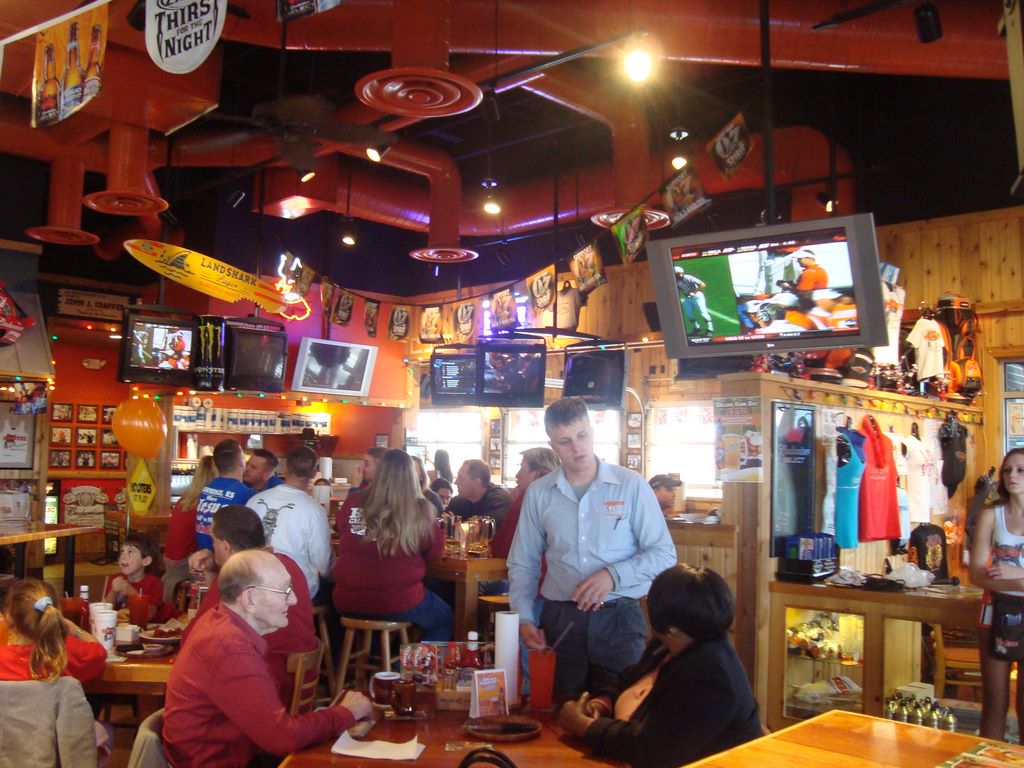 The Iowa vs Wisconsin game from when we started watching it looked to be fairly exciting.  The 2nd half opened up with Iowa down a touchdown but they turned it around and topped Wisconsin 20 -10.  The other big game non Big 12 wise was the battle for the Jewelled Shillelagh with USC heading to Notre Dame.  That by far was the most exciting game of the day.  The new Cardiac Kid in Jimmy Clausen couldn't pull through another comeback in the end as a caught ball in the endzone on the next to last play was just barely out.  The Purple Yeti bought a special Notre Dame had and has worn in twice this year.   Once during this game and once during the Michigan game.  The hat is cursed and will be locked away for a long, long time.  We wished we could've watched the exciting finish to the Arkansas and Florida game, but Hooter's didn't have it on!
What was going on Big 12 wise was the Red River Rivalry.  There were flashes of Texas Tech trouncing Nebraska, but we were easily distracted by some other Big 12's.  Meanwhile, the Texas and Oklahoma game proved to be one of the bigger rivalries out there.  Everyone was expecting a shootout, but it ended up being a defensive lockdown.  Turnover after turnover, field goal after field goal, this game had to be earned.  Oklahoma started out of the gate fast, but slow starting Texas filled the role again and came back.  It came down to a couple of 4th down stops by Texas and some tasty kicking for the Longhorns to come out victorious.  It's all Texas now as after this weekend, they are the Big 12's only shot to make it to the BCS Championship game.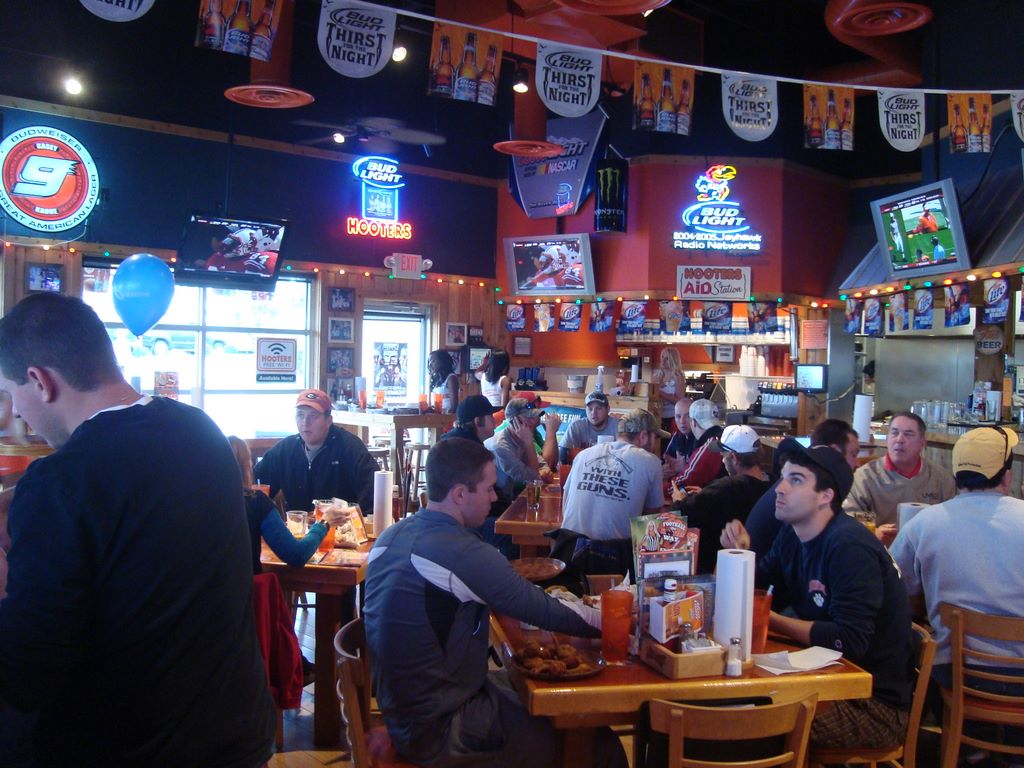 So that was us peeping some Hooter's.  They came through in terms of perkiness and service.  The food was good but not the best in bar food terms.  The television and sport watching could use alot of work but we're guessing they are getting away with because sports is an afterthought there.   The Red River Rivalry lived up to some hype but ended up fairly boring.  At least Hooter's wasn't.  It's not the best place to watch sports and it's what you can expect from a chain restaurant.  Still, if you want to walk away satisfied, you can feel up Hooter's.