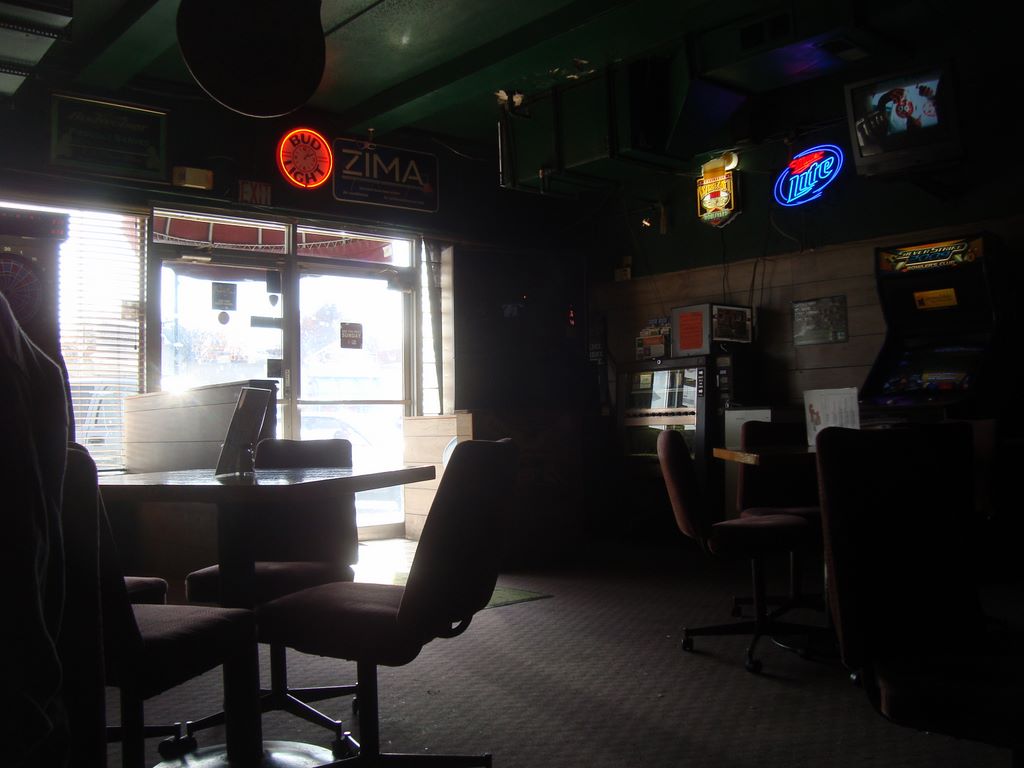 Alrighty, the second try to watch some football at my favorite local neighborhood hole in the wall, JJ's Other Place.  I've been there plenty at night and now I've been there during the day.  I'll stick with being there at  night.  I forgot a couple of important items as well as the fact there wasn't that much to watch that day.  It was a pretty good time nonetheless.   There were some upset a brewing as well as some traditional nachos brewing in my stomach. 
Walking into JJ's Other Place, the white light and bare seats made the place seem not to familiar.  I've been there at nights and typically JJ's sports a couple of people and some good tunes on jukebox.  Once I got used to the barren feeling of the bar, I took a quick tour of the joint.  They have half and half standard definition tv screens and high definition tv screens.  The big screen is a console based tube screen that looks better when it's dark.  They do have a smoking patio out back, but it's a couple of benches with a butt catcher.
For such a small place, JJ's Other Place, offers alot in gaming.  They have two pool tables and about six dart machines for folks to enjoy.  On top of that, they have SilverStrike Bowling, Golden Tee, and some Mega Touch action for the gamers.  The claim to fame for JJ's for me is the jukebox.  Out of all the internet ready jukeboxes, the one at JJ's has the best selection of both explicit and non-explicit songs.  I've shot a couple of games on the pool table and I can say that the sticks and the table need some work.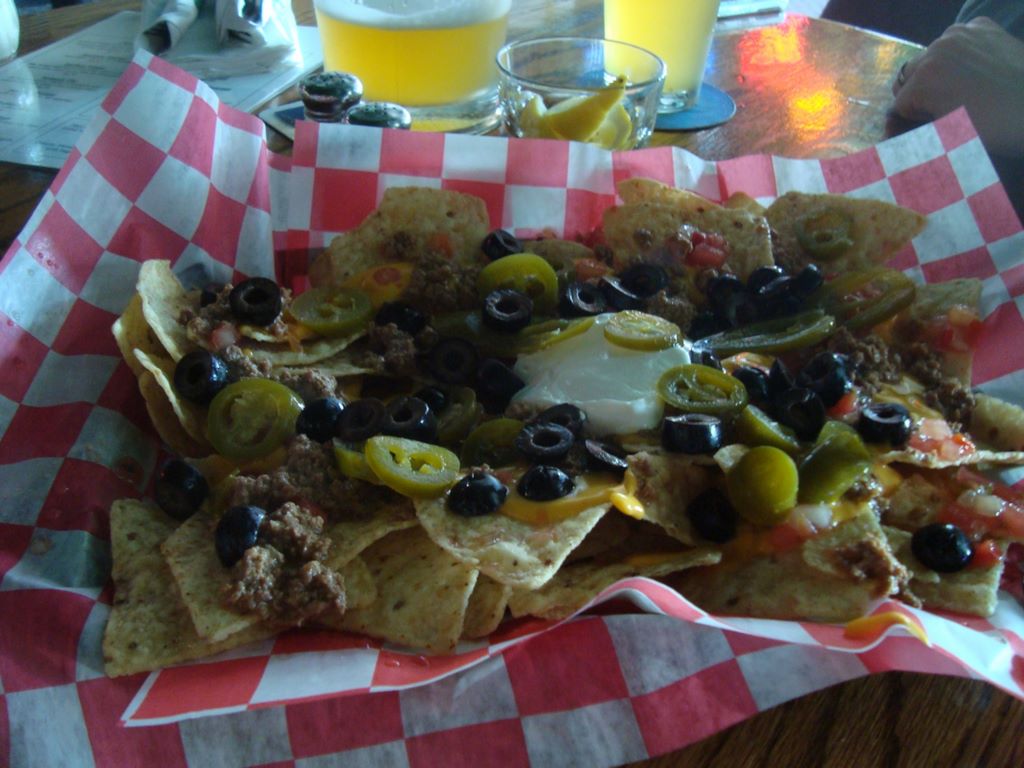 Let's talk about the service.  There was none, really.  But that's what I expected.   The owner of the place worked the day and they have one lady or dude working the nights.  So not hot waitresses here.  JJ's was so empty that we had great time from order to drink.  It's a blessing and a curse at the same time.  As for the pairing, I went with some Boulevard Wheat with a big ole basket of traditional stadium nachos.  The Wheat was great that day, as it was unusually warm outsides.  The nachos, however, were kind of bland, even though there were some black olives and jalepenos in there.
That's great and I all but I was there for the games.  Being the fully objective Kansas State fan that I am, I wanted to make it out to JJ's for the Kansas State vs Colorado game.  The only problem was that the game was not on television.  Doh!  No worry, the Oklahoma State at Kansas game was on and the Jayhawks were actually making a game of it.  Then the second half happened.  The Cowboys blew the game wide open in the 4th quarter and that was all she wrote.  The Jayhawks have pride on the line next week against Missouri while the Cowboys have the Big 12 South on the line against Oklahoma and the Bedlam series.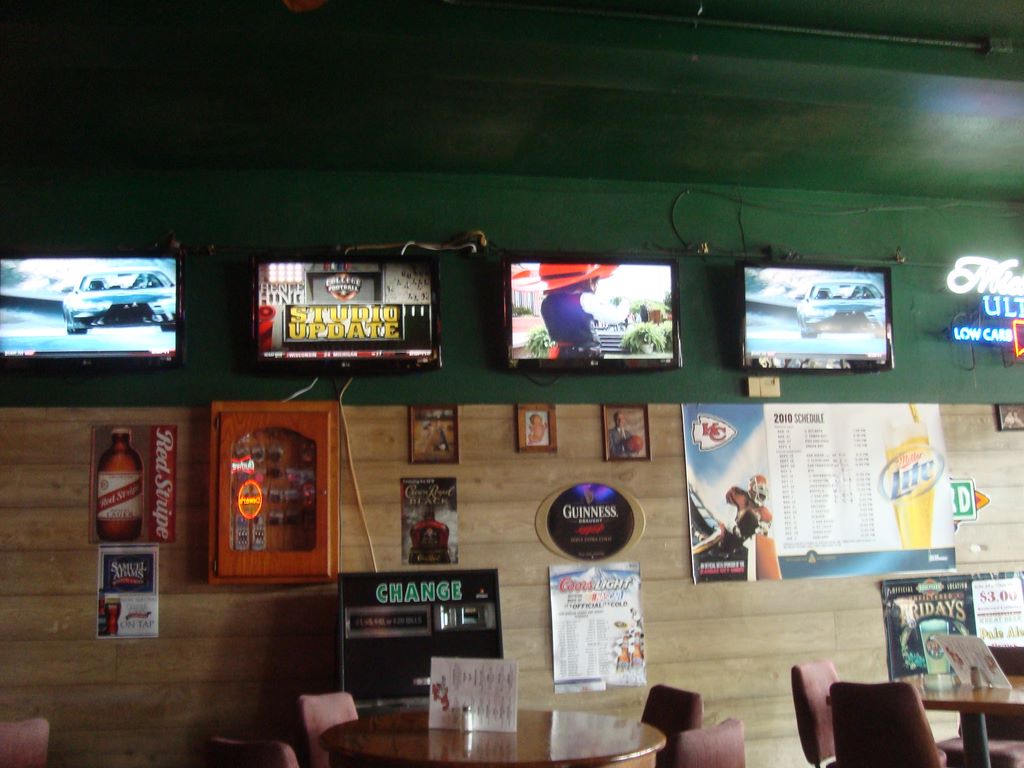 I only really got to watch a sprinkle of games after that.  Iowa and Ohio State played a great game that I only got to see a  half of.   I was out visiting an old friend while Texas A&M upset Nebraksa.  I think I saw LSU barely get by Ole Miss.  All in all, it was a quiet week of football minus the big Aggie upset.  As I said before, the Big 12 South is on the line next week but we also have an open Big 12 North.  If Nebraska loses to Colorado next week and Missouri beats Kansas in the Border War, then Missouri wins the Big 12 North.  I guess I was wrong last week.
You know, JJ's Other Place kinda sucked.   At night, it's alot of fun for me, but for college football it's not really worth it.  I hear that they get the NFL Sunday Ticket and my guess is the bar is alot more popular on Sundays than on Saturdays.  What also sucked was the fact that I forgot about the Wildcats not being on television.  Oh well, at least Nebraska lost.  So if you are out and about on Saturday and want to watch some college football,  I would skip out on JJ's Other Place.  If you want a cheap-o good time at night, then pop on by there.