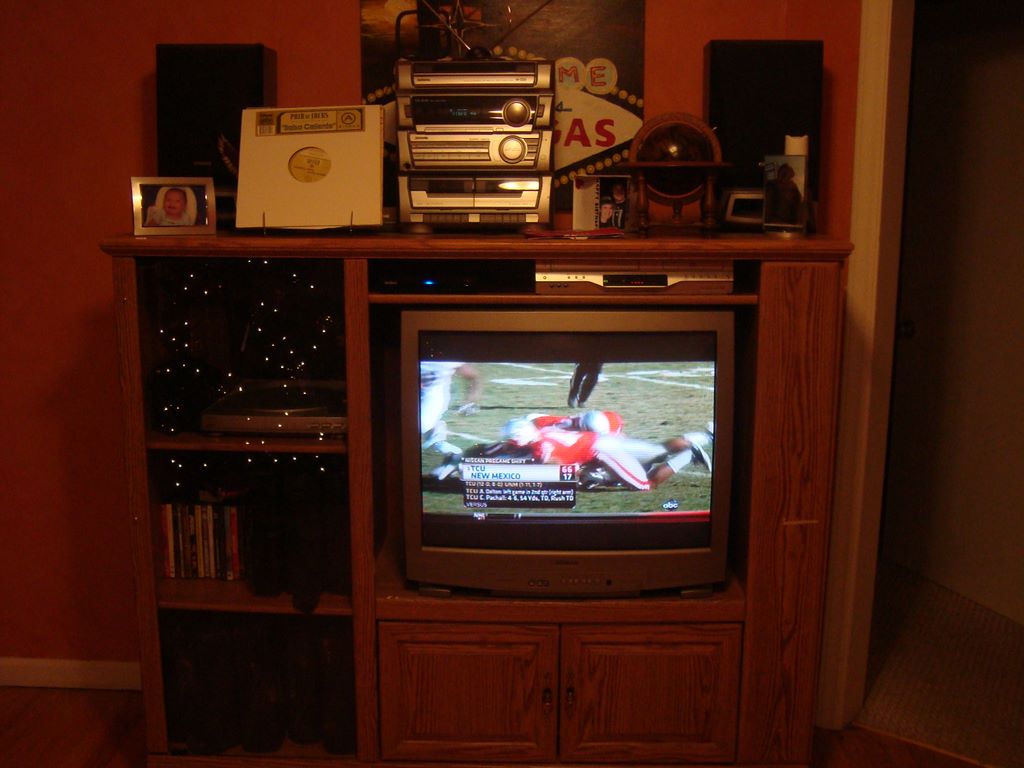 It's been a long, food filled holiday weekend and of all the times I've been out and about the last three years, I can say that being home for four days was the perfect change of pace.  There's plenty of bars out there for me to frequent, both old and new, but for this week's barspot I wanted to do something different.  Maybe it was celebrating being in a new home or maybe I was just too tired to try to marathon 3 straight days of football at a bar, but it was hight time to spent some home time.  So this week, I'll review my time at home and gives ome pointers on how to do it right.
Walking into my house is not unlike any other time I walk into my home.  I have a 1990's style entertainment center, which helps me shove off to a new bar each week for college football.  I have one big standard definition television complete with digital converter box and rabbit ears.  The stereo pumps out the sound good enough and when I want to jam out to my jukebox and stream it across from computer using my wireless internet.  There's plenty of seating at my house, even though the newly stacked Christmas tree eats into it a bit.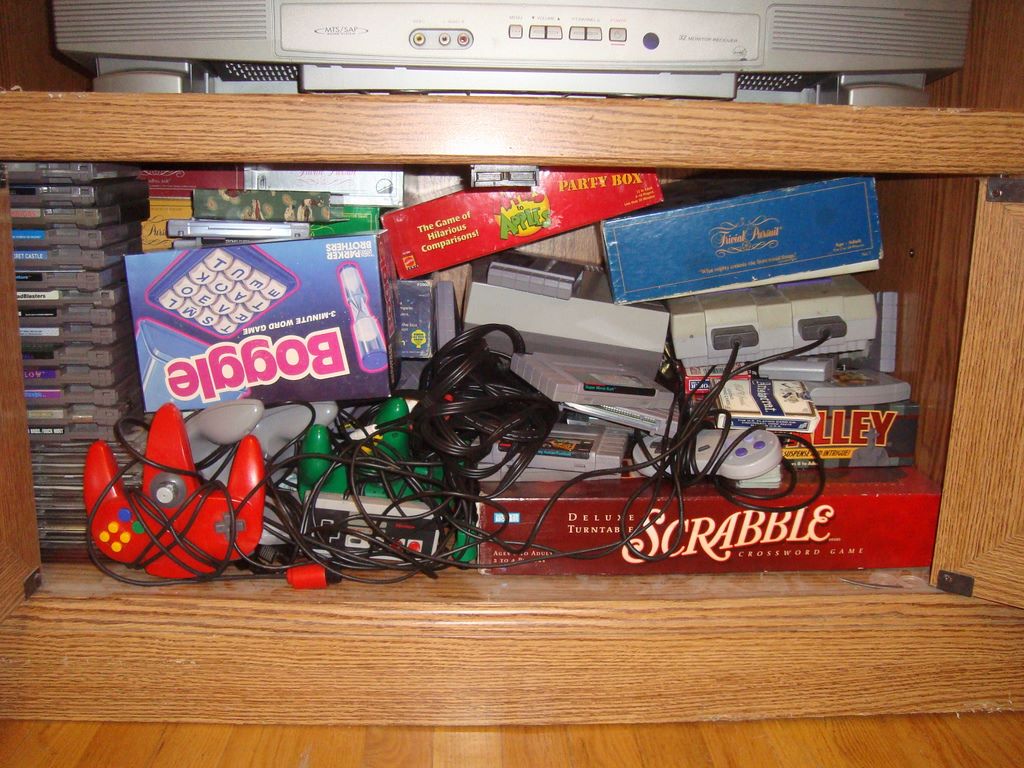 The games I have yet another blast from the past.  If hard hitting football is too much, then I have some Trivial Pursuit for peeps to work it out on the mental gridiron.  If you still want some action, I'm rocking the NES and Nintendo 64 complete with Wrestlemania 2000, Dr. Mario, and Pipe Dreams.   Yes, we are old school.  Fortunately for us, however, when the action gets to be too much and we need to take a break, a quick dip in the hot tub will fix things up.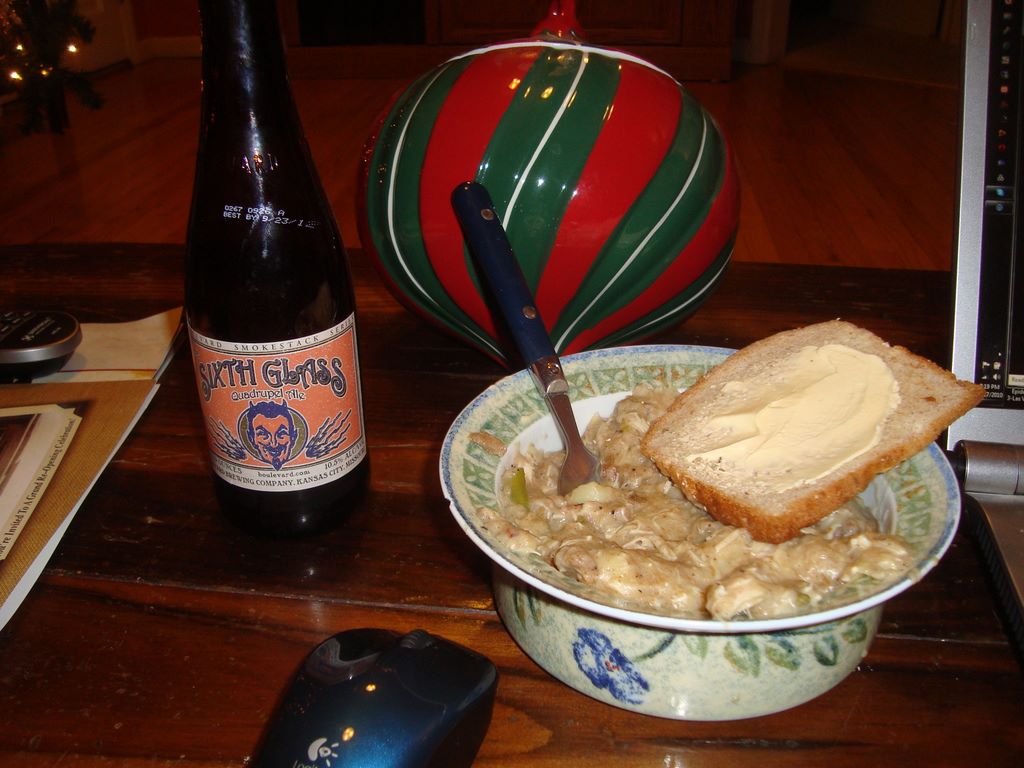 Speaking of fixings, the food was out of this world.  Leftovers leave this household with a tradition I'm sure all of you enjoy.  Turkey Goulash.  If you haven't had it, try it the next time you have turkey leftovers.  Basically, you dump in turkey and any other leftover food into a pan, mix it up, and heat it up.  You can do gravy, mashed potatoes, stuffing, etc.  I did all of that plus some leftover green bean casserole.  It tastes the same no matter what you toss into the pan.  I'm keeping the pairing tradition alive, too, with a big ole glass of Boulevard's Sixth Glass Quadruple.  This used to be a  part of the Smokestack Series in a massive bottle, but now they split them up into 4 packs.  It was the perfect punch to wash down the goulash.
In between the great leftovers and good brew was a constant stream of football.  I talked about Friday's action during the GameDay post.  Saturday came and I had to pop out to Lew's to watch the Border War.  Yeah I know, it's outside of the Homespot, but due to the lack of cable television, I had to leave and watch the game.  It stunk.  Missouri owned Kansas the whole time.  So did Ohio State over Michigan for The Game.  After that was over, I was back at home for the Bedlam series.  Now that game was exciting, even though Oklahoma had the upper hand most of the game.   So we now get a classic rivalry battle for the Big 12 Championship Game with Nebraska taking on Oklahoma.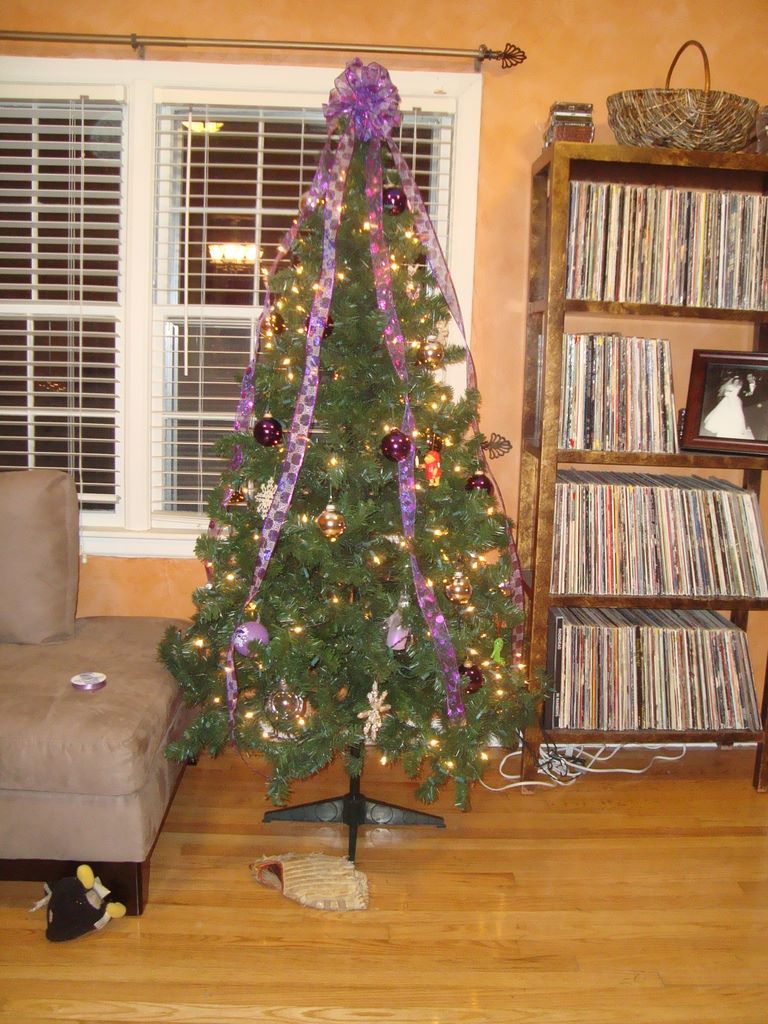 I could talk about the other games on Saturday's slate, but due to the lack of technology in my household, I couldn't really watch it.  So how does my place fare?  Welp, the food is great, the seating is cozy, and if I want to watch one game on broadcast television, my place will suffice.  Outside of that, it's bar time on the road.  The whole weekend left me sore from yard work, but happy that I have such a great place with a great lady by my side.  I hope you had the opportunity over the weekend to lay around and be lazy with your loved one as well.