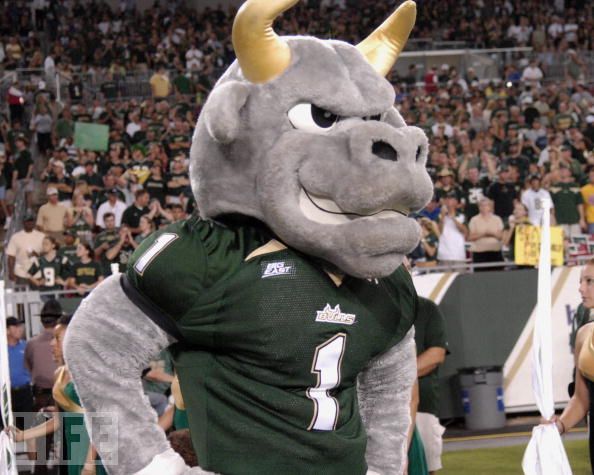 Another week of Mascot Monday is bearing down and I've got another costumed character to pass judgement over.  You know, it isn't as bad as it sounds and we'll prove it with this week's mascot.  A couple of weeks ago we featured a mascot by the name of Rocky and we are continuing that trend by looking at the University of South Florida's version, Rocky the Bull.  A school that's up and coming in football has the same feeling for this steed so let's check him out.
The University of South Florida is a young school, with its establishment in 1956.  The school didn't have an athletics program for awhile and it took a class ring salesmen to point out that they didn't have a mascot.  So the school voted and decided on 'Golden Brahmans' up until 1982 when they were renamed the Bulls.  You might think that the football program enjoyed a couple of seasons by then, but nope, they didn't play their first game until 1997.  They've been on an uphill path ever since,  enjoying 6 straight bowl appearances up to last season.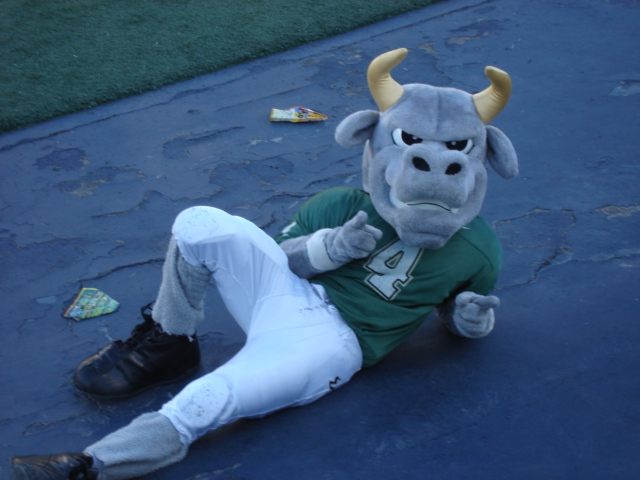 There's not much more on the history of Rocky the Bull, so let's go over the costume.  From first looks, I thought it was a dog costume and not a bull.  It took the golden horns to bring me back to my senses and realize that Rocky is in fact, a golden bull.  The cartoon look is all up in the head, but at least he's got a fierce look on his face.  The costume is another head to toe deal, but the legs are much baggier than what I like.  The giant boots help with that.  Like any mascot that wants to be for real, Rocky the Bull has the football pads and pants on and is ready to sub in.
Rocky's path is a lesson for other mascots out there, especially ones that have been around the block and are just phoning it in.   All it takes is some ingenuity and hard work to get back to a great looking mascot career.  Just watch Rocky doing the worm.  Every mascot has a chance to carve out their own niche and stand out above the rest.  Don't get this Rocky confused with the statue of one in Philadelphia, but do take note that they share some of the same qualities.  You mascots out there should think about punching some sides of beef.
So there you have it.  We went real young this week and turned up some interesting tid bits.  Rocky the Bull, along with the football program, works hard and early success is the fruit of that labor.  The University of South Florida should be around much longer sportswise because of that hard work.  Who knows?  Maybe one day the football team will have a chance to play in the BCS National Championship Game.  And maybe Rocky the Bull with have a shot at the Capital One Mascot of the Year.  It could happen sooner than you think.