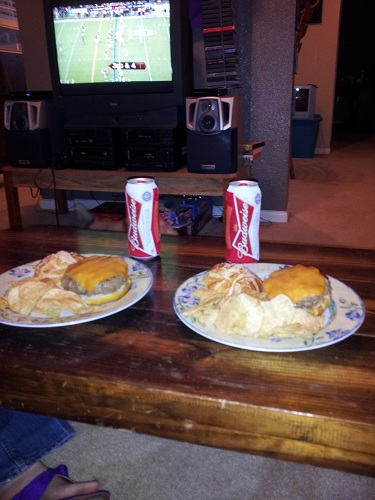 After a Fun Fun Fun Fest break, I'm back again for some tasty Football Feedings.  Yes, it's a little late, but I was too busy celebrating Kansas State's #1 BCS ranking.  I loved the pretzel buns so much that it was time for round 2 this week.  The next comprade in the bunned stuffing?  Well it's a Billy Burger!  Named after Bill Snyder of course.  It's consistently tasty and gets better every time I eat it.  Just like a well coached football team.  I'll be going back in style with some Budweiser tall boys to wash it down.  Let's get cooking.
Bread Ingredients
1 cup water (110-120 degrees)
2 ¼ tsp yeast
2 Tbsp room temperature milk
1 Tbsp dark brown sugar
3 Tbsp butter
1 tsp kosher salt
2 ½ – 3 cups bread flour
Wash Ingredients
4 quarts water
½ cup baking soda
Toppings Ingredients
Kosher salt to taste
2 Tbsp melted butter
Billy Burger Ingredients
 1 pound ground beef
 2 cloves garlic, minced
 2 tablespoons extra virgin olive oil
 1 1/2 teaspoons salt
 1 teaspoon freshly ground black pepper
 1/2 teaspoon dried basil leaves
Cooking Instructions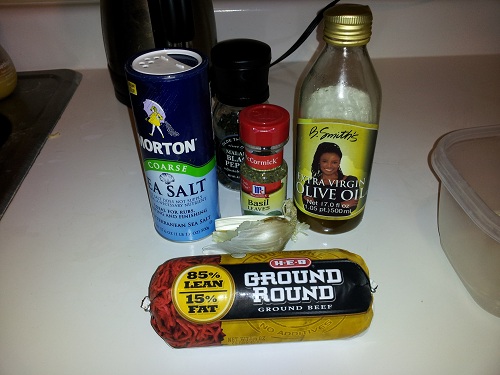 Add yeast, water, milk, brown sugar and butter into a large bowl, whisking until all ingredients are combined.  Let mixture rest for 10 minutes for yeast to activate.  Mix in kosher salt.  Start by adding two cups of the flour to the bowl, combining it with other ingredients.  Add more flour as it's needed, reserving just a bit for coating the dough mat later.
The dough should form a slightly tacky, but firm ball.  Oil the bowl, place the dough ball in the bowl, and cover with a damp towel for 30 minutes.  After 30 minutes, knead the dough by hand or machine for at least 5-10 minutes until the dough is elastic and satiny.  Place dough back in the bowl and recover for 1 hour.
Preheat oven to 400 degrees and bring the 4 quarts of water to a boil.  When the water is boiling, slowly add the baking soda.
Remove the dough from the bowl and gently degas it.  Form 6 separate bun shaped balls of dough.  Drop one of the smaller balls into the baking soda bath for no longer than 30 seconds, turning it once to guarantee both sides covered.  Drain the excess water from the dough and place it on an oiled baking sheet. Repeat with second ball of dough.
Sprinkle the kosher salt over the bread to your specific tastes, and make sure to use a knife to cut a small incision on the top of the bread so the dough has somewhere to expand.
Cook the bread for 22 minutes, rotating the baking sheet once.
Once removed from the oven, immediately brush the melted butter over the loaves to guarantee a soft crust.
Preheat an outdoor grill for high heat. Mix together the ground beef, garlic, olive oil, salt, pepper, and basil. Divide into four balls, and flatten into patties.
Cook the patties for about 3 to 5 minutes on each side, or to desired doneness. The internal temperature should be at least 160 degrees F (70 degrees C). Remove from grill and place onto hamburger buns. Top with desired toppings and condiments.
The pretzel buns again are a hit.  What helps out this time is the garlic/basil taste from the burger.  We cooked it thick and it fit perfectly on an usually oversized bun.  There's something about the spice combination of the the burger that makes me come back for more.  The salty outer shell of the pretzel bun complimented it perfectly.  Speaking of compliments, regular ole Budweiser matched that spice and salt with a smooth, almost sweet pilsner taste.  I think people tend to forget that the original Budwesier is especially tasty.  Everyone's too used to the water that is Bud Light.  Forget your asses and go for taste.
So that's the Football Feedings.  Most of the tailgate and sports bar food have been covered but we have a couple of more weeks left.  I'm not sure I'll be around next weekend, but Turkey might have something as well as the last regular season game at the beginning of December.  Burgers are always a staple at any football event, but if you mix in the right spices and produce your own buns, you will get a gourmet experience.  Even with Bud Heavy tall boys.