It's time for another year of Football Feedings!   Yup, I took off last week for some floating action and now I'm back conjuring up some very fine game day snackings.   This week, I visit dip land and pull out one of my favorite hot dip and one of my favorite cold dip.  Hot dip wise, it's a classic Velveeta ground chuck dip with a twist.  Cold wise, it's a strawberry mango dip with some hatch peppers in for spice.  How did it fare?  Well with the beer pairings from Adelbert's Brewery and Maredsous for the dips respectively, it kicked off this year will a resounding belch.
Strawberry Hatch Mango Salsa
3/4 Cup Strawberries, finely diced
3/4 Cup Mangos, finely diced
1/4 Cup Hatch Pepper, finely chopped
1/4 Cup Red Onion, finely chopped
6 Basil Leaves, finely chopped
1 TBSP Fresh Lemon Juice
1/4 tsp. Sea Salt
1/4 tsp. Black Pepper
1 bag of Cinnamon Sweet Potato chips
Combine all ingredients and allow to sit in the refrigerator for a few hours, covered.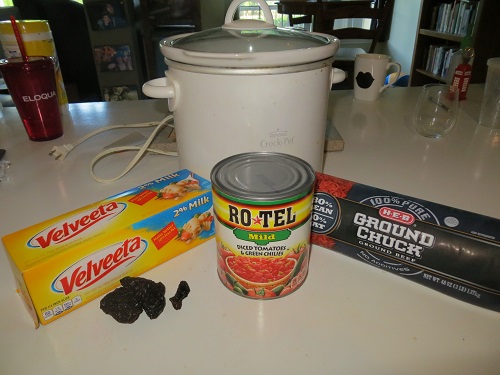 Chipotle Chuck Cheese Dip
1 (32 oz) box of Velveeta Cheese
1 (14 oz) can of Rotel Tomatoes
1 lb ground beef, browned and drained
3 Chipotle Peppers, finely chopped
1 bag of Tortilla chips
Cut the cheese up into cubes and place in slow cooker. Stir in tomatoes and beef. Cover and cook on HIGH for about 2 hours or until cheese is melted and hot. Serve with tortilla chips. Makes 24 servings.
Beer Pairing

Maredsous Abbaye-Abdij Blonde – Blond with the Strawberry Mango Salsa
Adelbert's Brewery Scratchin' Hippo Biere De Garde with the Chipotle Chuck Cheese Dip
Okay let's start with the strawberry mango dip.  The basil was home grown and little over powering, but the blonde ale mixed with that, the hatch, and mango  recouped and let the taste dance lightly in my mouth.  If you are hitting up something fruity, then you don't want anything to acidic or hoppy to beat out the fruity taste.  The blonde complimented well and stood its ground.  What helped put the dip over was the cinnamon sweet potato chips.  That kind of sweetness and crunchiness delivered the goods and made the salsa more like a desert than an appetizer.

So let's move on to the cheese dip.  I went with the standard Velveeta RoTel combo for the dip.  But I also added a twist with some freshly chopped chipotle peppers.  For some reason the peppers brought a more smokey flavor to the dip.  The tortilla scoops were the weapon of choice so it could handle the heavy payload from this dip.  Very beefy and very filling.  Ah, but the biggest hit of the week was the paring.  The amber ale Adelbert's produced brought out the smokey beef flavor times ten.  I don't know how it did it, but it felt like I was drinking a bbq smoke rib.  I'm guessing its the chipotle but it could very well be the beef too.  I highly recommend this combo and in fact both combos.  Very tasty!