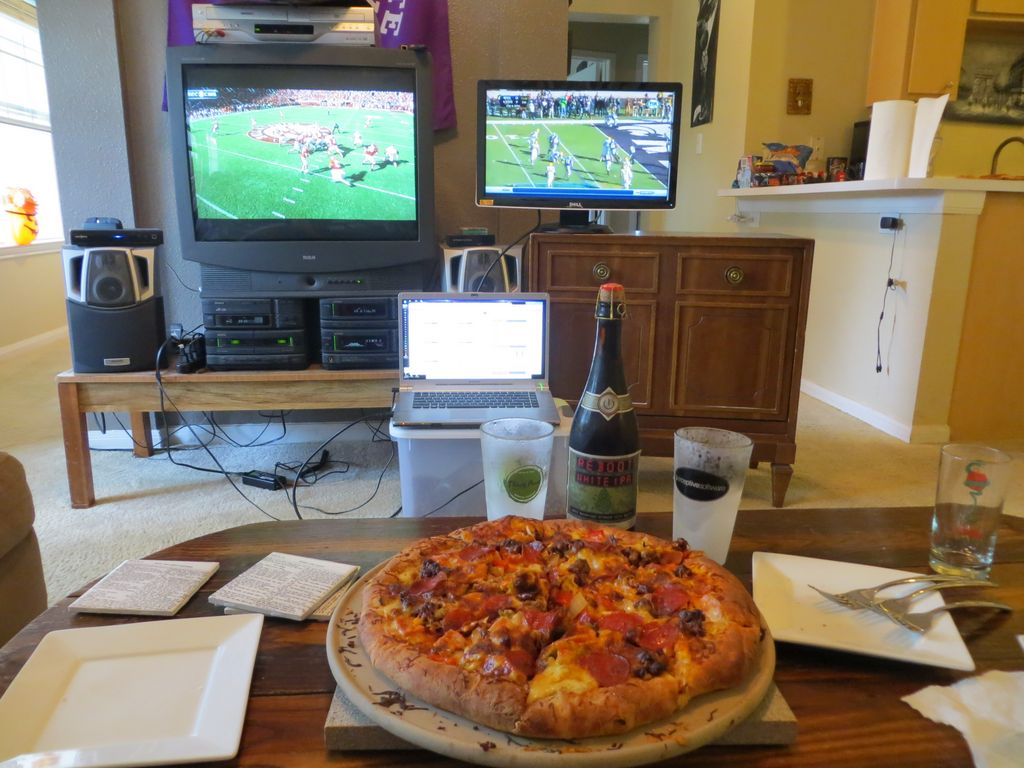 This week I was looking to rebound from the last month and what better way to do so than getting back t0 basics with some pizza.  Now last year I marveled y'all with the Mean Green Pizza, and this year I'm taking it to the next step.  In honor of Kansas State's hosting of West Virginia, I cooked up some Mountain Man and Woman Pizza.  Why two?  One for the mega man meat lover and the other for the more feminine meat lover.  We care about both genders here at the KCCGD HQ, as well as meat.  So I whipped up some exotic meats, bought some Boulevard Reboot White IPA, and somehow grew a beard all in the process.  Funny how that works.

Mountain Man and Woman Pizza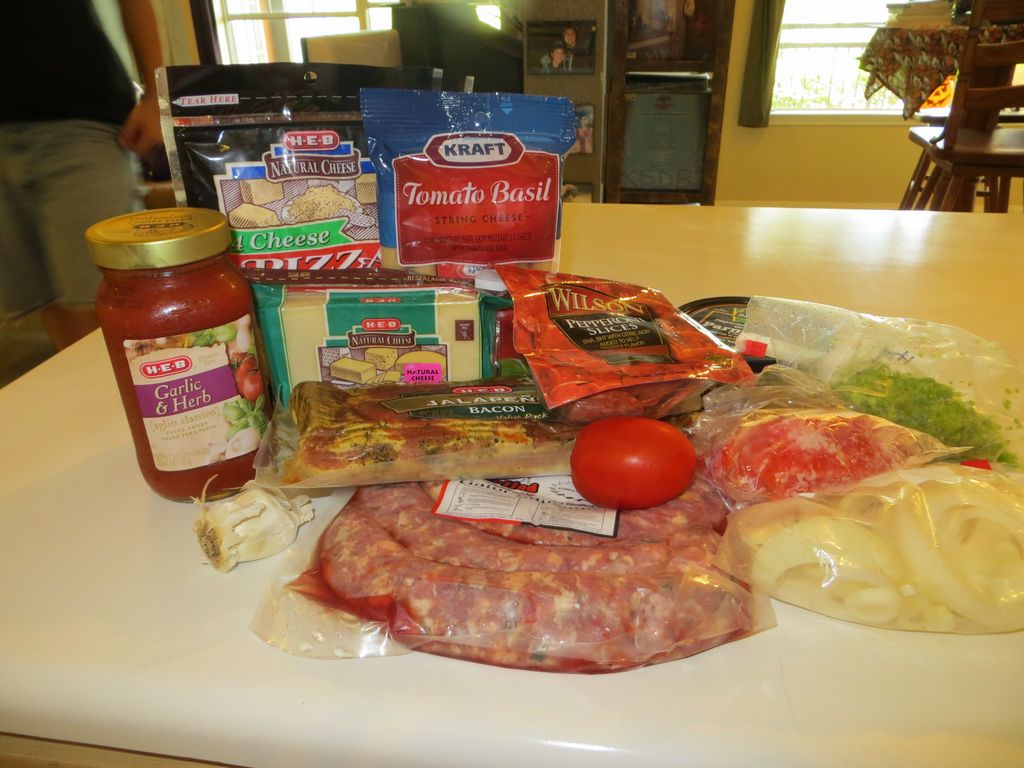 Ingredients
2 (.25 ounce) packages active dry yeast
2 cups warm water (110 degrees F/45 degrees C)
4 tablespoons white sugar
1/4 cup olive oil
1 tablespoon salt
2 tablespoon dried basil
2 tablespoon dried oregano
2 garlic cloves diced
1 cup grated Parmesan cheese
6 cups bread flour
6 slices HEB jalapeno bacon
12 pieces of string cheese, any type
1 jar HEB Garlic and Herb Pasta Sauce
Mozzarella cheese
Shredded HEB Pizza Cheese
Shredded HEB Chipotle cheddar cheese
Alligator sausage
Pepperoni, sliced
Diced ham slices
Diced turkey slices
1/2 cup onions diced
2 diced roma tomatos
1/2 cup hot hatch pepper
1/2 cup diced red pepper
1/2 lb ground chuck
1/2 cup bbq sauce
Cooking Instructions
Mix yeast, warm water, and white sugar together in a large bowl. Set aside for five minutes, or until mixture becomes foamy.
Stir olive oil, salt, herbs, garlic powder, onion powder, cheese, and 3 cups flour into the yeast mixture. Gradually mix in the next three cups of flour. Dough will be stiff.
Knead dough for 5 to 10 minutes, or until it is smooth and rubbery. Place in an oiled bowl, and turn to cover the surface of the dough with oil. Cover with a damp linen dish towel. Allow to rise for one hour, or until the dough has doubled in size.
Punch dough down to release all the air.  Allow to rise until doubled in size, about a 30 minutes.
Spread the dough on a pizza pan, with two inches of dough over the pan edge.
Place the string cheese around the edge of the pan, giving about an inch between each cheese..
Wrap the excess dough from the outside edge over the cheese, pinching down into the dough in the pan.
Spread the sauce on the dough.
Add a thin layer of cheese.
Add the all of the toppings except pepperoni, evenly spread out
Add a top layer of cheese
Add the pepperoni
Bake at 350 degrees F (175 degrees C) for 35 minutes. Remove loaves from pan(s), and let cool on wire racks for at least 15 minutes before slicing.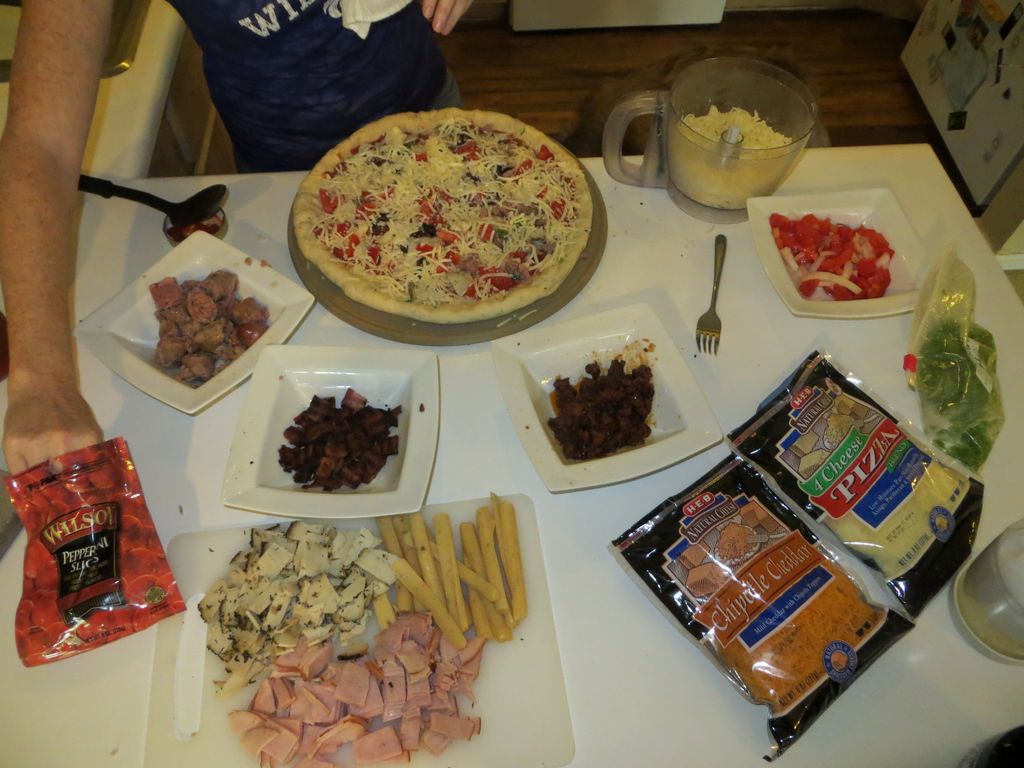 So this was pretty much the same cooking process as last year except we made two pizzas and cooked them just a tad longer to get the heat to the dough through all of the toppings.  A big help was a pizza cooking stone.  It somehow retains the heat more than say a cooking sheet.  My guess is that extra heat helped cook the dough better.  Now that we have one of those bad boys, look for some more feedings featuring the stone.  It's going to be as indispensable as the skillet set we have.
How did it come out?  Well the alligator sausage was amazing.  But also the bbq hamburger.  I didn't expect to be super tasty but that's how it happened I guess.  The dough was just strong enough to hold down the toppings too.  The Boulevard Reboot White IPA was a mix of a Belgian style ale and American IPA.  It combined both the smoothness of the Belgian ale and the hoppiness of the IPA.  It was a perfect combination of refreshing bite to match the pizza.  Really, how can you go wrong with any style of beer and pizza?  There's some but the Reboot is not one of them.  It's recommended.
By the time the game was over, I could only get through about three pieces.  It was awesome.  Even better, now I have leftovers.  The Reboot White IPA rocked my world but not too harshly.  I think at least once a year a pizza needs to be made.  It's fun pulling the dough together and even more so stuffing the crust with cheese.  It's going to be alot harder next year topping this year's entry.