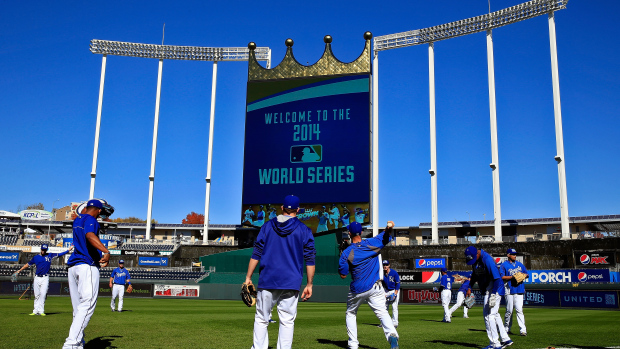 Yeah it was a baseball reference, but hey, the Kansas City Royals are in the World Series.  And Saturday may_may not_ be the last game they are in and I gotta take my props when it I can.  So I will most definitely be watching the World Series Saturday night.  I will also be watching some college football, however.  And what an interesting weekend it will be.
Top 25 wise it's kinda weak.  We have an Ole Miss team heading to a freshly ranked LSU, because SEC.  I don't care.  Ole Miss I guess?  Pac 12 we have USC headed to Utah.  A sneaky dangerous Utah.  So I'll pick them.   Why note?  It's at 9 pm and I'll be in the midst of Royals watching.
In Big 12 land, we have Texas Tech trying to upset TCU.  It won't happen.  West Virginia will head to Oklahoma State and I believe this one will come down to the wire.  Instead of last week's pick, I will go with West Virginia.  And that's it.  There's a bunch of teams off and I guess that means we get the best game first.
Texas heads to Manhattan to take on Kansas State for the early Saturday game.  Not only does it fit with the World Series schedule, but it also bodes pretty well for Kansas State.  Sure, there's the history of Texas, but they are on a down year with a new coach.  That said, Tyrone Swoopes is starting to come into his own.   Their defense is up and down.
Kansas State looks to continue the mojo they reclaimed last week against Oklahoma.  They gave up good yardage and they should've given up more points, yet they eeked out a game.  They also put up a decent amount of points against a fairly good unit.  What will they do this week?  Since Texas upset them last year in Austin, payback's coming.  It will come more on the run game though, I believe.
By the time the football game is over and I girded my loins for baseball, I will either be over the loss or still celebrating the win.  Saturday night I may also be celebrating a still alive Kansas City Royals or toasting them on an awesome, unexpected season.   Either way,  I'll have some delicious food and tasty beer with me the whole way.  Call me an boy of October.