Okay, after a road trip to Lawrence, we were back in the saddle of barspotting and what better place to do it at than none other than Coach's Bar & Grill.  Coach's advertises only the best in sports bars as well as being one of the oldest in Kansas City.  We spotted some sweet games there and also enjoyed the festivities, it was Halloween you know.  Some things surprised us and some things spooked us.  Read on for some chilling tales and pray that you survive the night, er, post.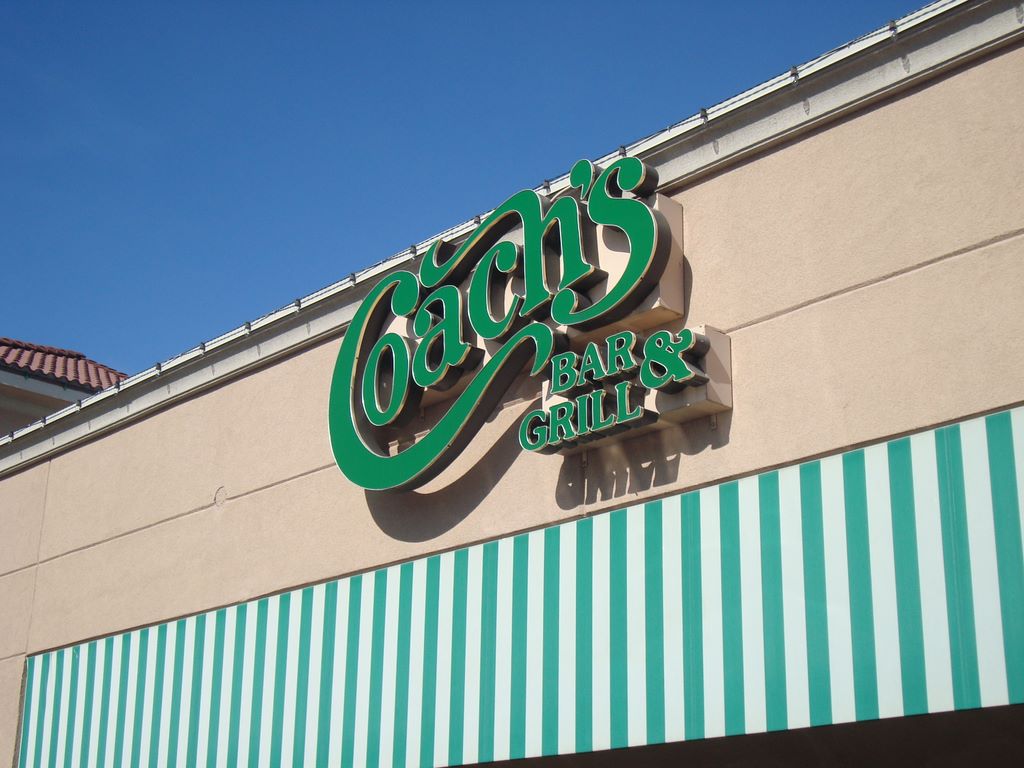 We stumbled in Coach's around noon time and right away we noticed how dark it was.  Maybe it was because of Halloween.  Flat screens splashed all over the place and we had every channel available to us.  If we needed help finding a a schedule, we could look it up over the wireless connections.  The big projector screens had the big games of the day on.  On big wooden bar wrapped a good quarter of place.  We found ourselves out in the patio but not after checking out the cool fireplace in the side room.  If we had a private watch party, we'd watch it there.
Between all of the fake cobwebs and half finished decorations, there were some games hidden from view.  The side room for Coach's had a couple of pool tables and video games, including Buck Hunter Pro, SilverStrike Bowling, and Golden Tee.  There's a tv hooked up to a camera the helps the rest of the bar spy on the game room.  Kinda creepy actually.  They also sported a nice big shuffleboard table. We crept our way to the Multi Touch game to rock out some Monkey Bash.  There's nothing like beating the monkey on Halloween.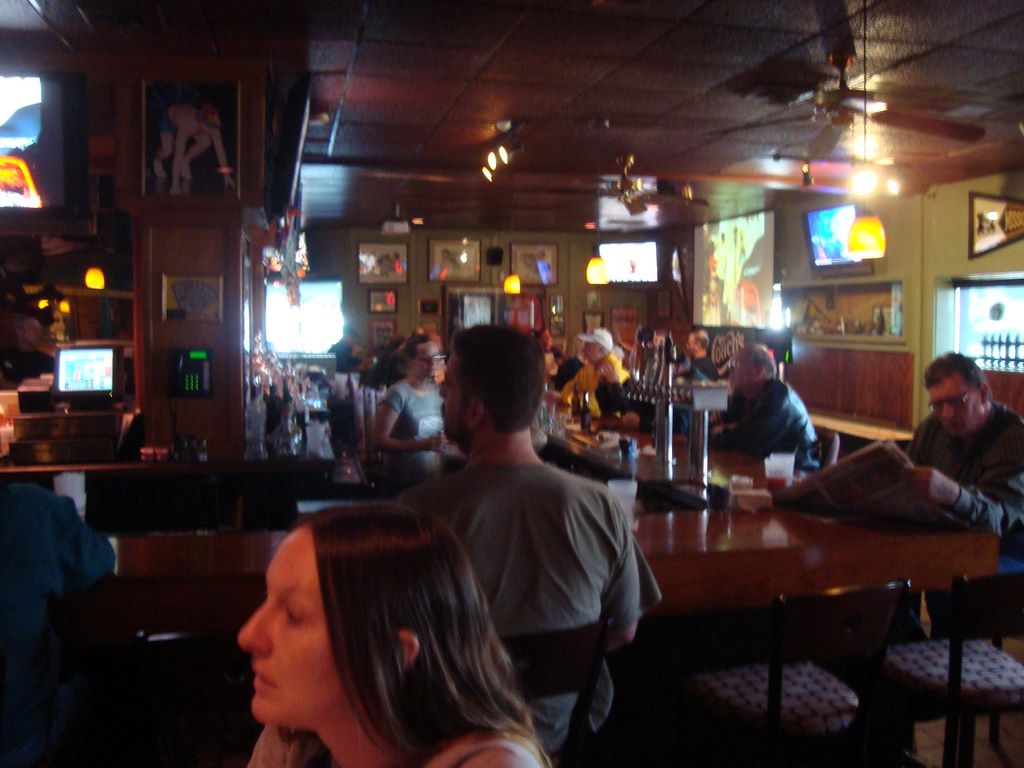 What really helps us beat the monkey were the waitresses at Coach's.  Most of the ladies there had a t-shirt and jean get up.  For some reason, they all looked pretty good in the outfit.  Coach's is the type of place that caters to the blue collar babe and they have many working there.  On the way out, we spotted the night shift ladies in their skimpy Halloween outfits and we wished we would've stayed there more.  Halloween is a great time of year for all women to get away dressing super slutty.  Our lady was  nice, but wasn't the best.
She did make up for it with the great service.  She was attentive just enough and didn't ignore us or nag us too much.  There were no beer specials for the day but they did have some Halloween menu items.  The lady that served us also did a great job changing television channels.  Whenever she ran into an issue, she would have the bar lady handle the television setup.  She brought use the beer and food pretty quick, too.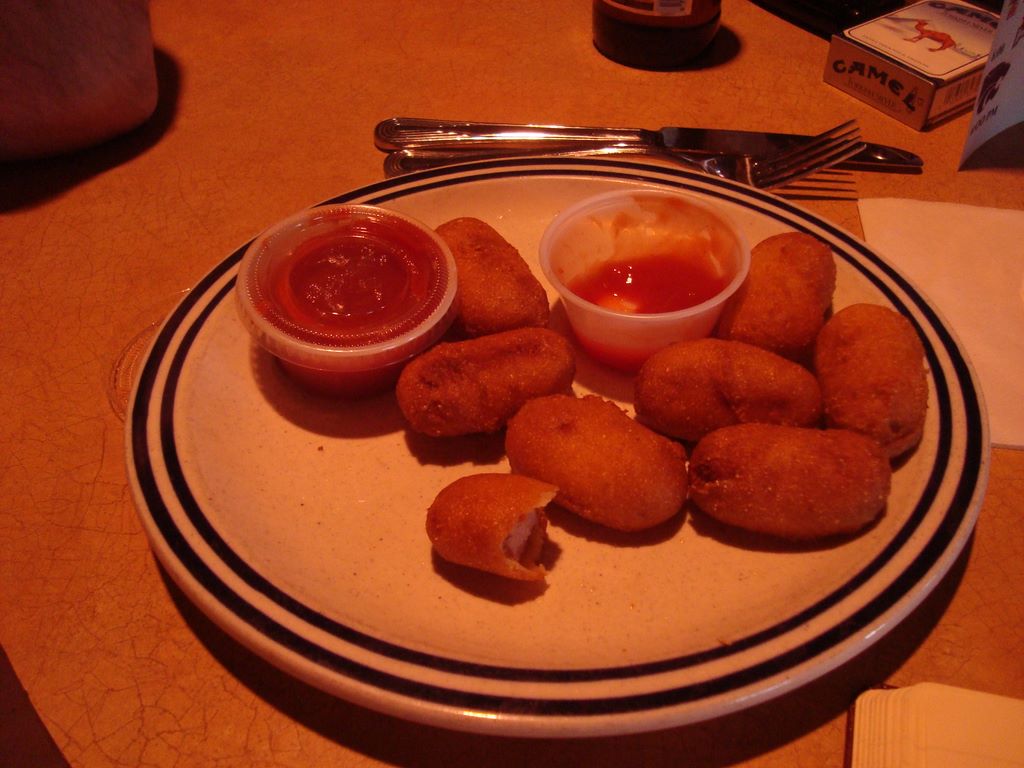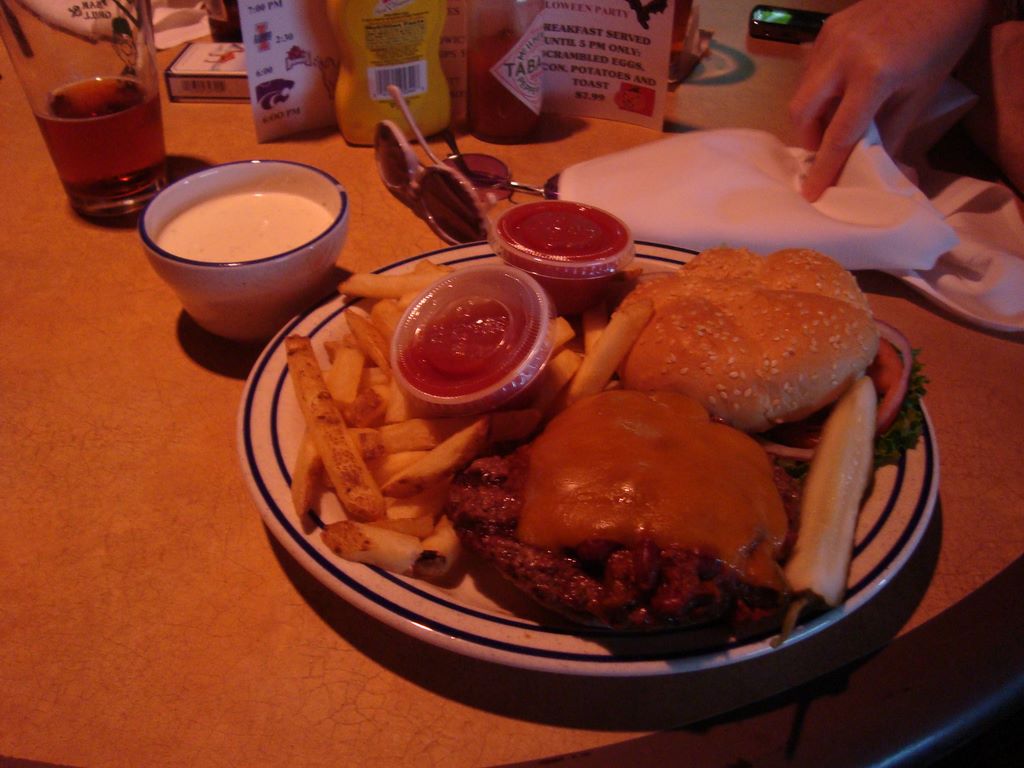 Speaking of food, we opted for some mini corn dogs to start out with.  They were tasty but we wish they had more dippings than the ketchup and mustard.  No horsey sauce?  To round out the day's eats, we scarfed down a chili cheddar burger.  We bit into the bun and half the chili fell out.  Fortunately, it hit the fries and made those taste even better.  When we asked for a big serving of ranch to dip in, they brought out what looked like a soup bowl full.  We're still burping the chili.
We're also still tasting the college football games.  When we want excitement, we turn to Iowa.  It used to be Notre Dame, but the curse of the Domer Hat ruined that.  So now every week we look the Hawkeyes to save us from boring blowouts.  Florida blew out Georgia in the World's Largest Cocktail Party.  We didn't see any other non Big 12 games for the day so when we walked in at halftime of the Iowa and Indiana game with Iowa losing, we knew it would be a blast.  A blast of wind directed the game as interceptions were tossed left and right.  The Hawkeyes blew by the Hoosiers in the end and kept their undefeated streak alive.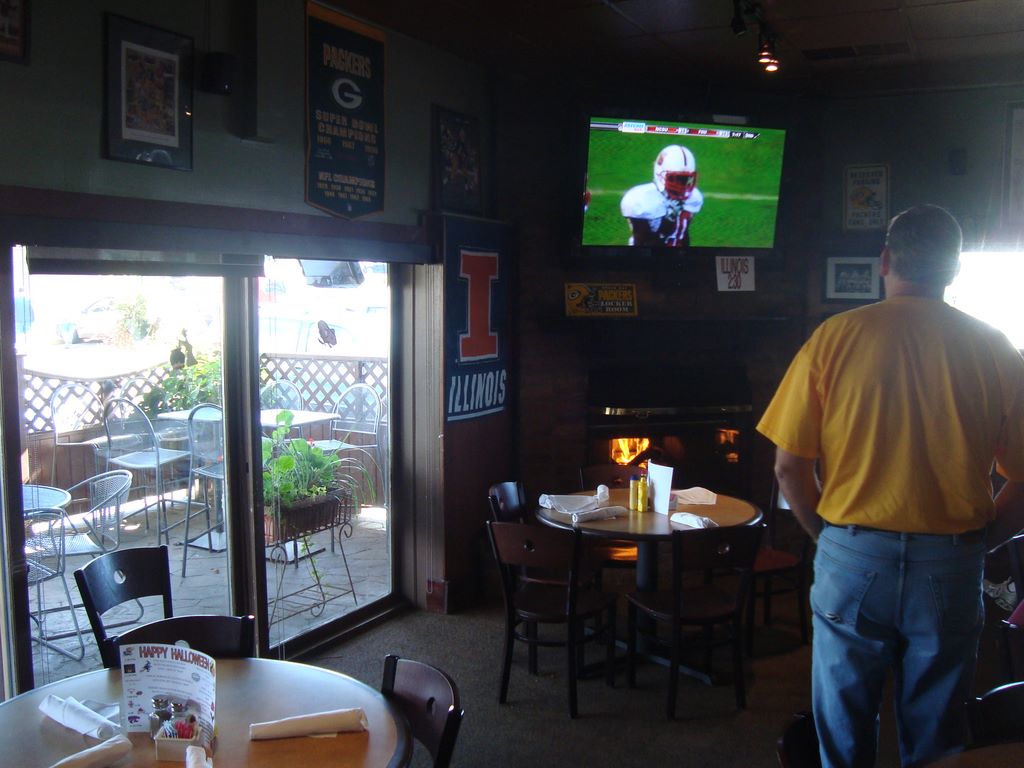 Big 12 wise we spied Nebraska taking on Baylor on the big screens.  Nebraska almost looked like last week toward the end as Baylor stormed back, but the Huskers held them off and got back on teh winning wagon.  Missouri bounced back even harder against Colorado and we think the snow melted in Boulder so fast because of Dan Hakwins coaching seat.  Texas Tech held of a fiesty Kansas late for our final game.  The Big 12 North is wide open and next weekend will help settle the dust a little.  We'll over look Kansas State paying hard against Oklahoma and Texas rolling Oklahoma State.
We won't settle for Coach's, however.  We recommend it.  Great staff and food, plenty of games and seating, and the special fireplace and shuffleboard make it a great destination for football watching on Saturday's.  Typically you'll get what you want there and if you want to hide away to play some pool, you can without being bothered too much.  If anything, it will get your eyes ready for the night, even for a night as dark as Halloween.