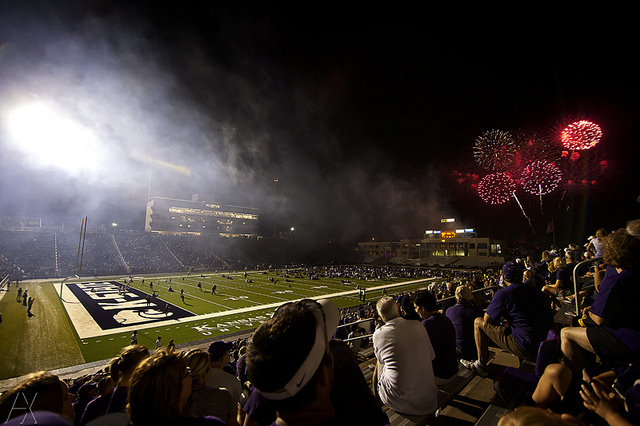 Yeah, it's early in the season but that's not the reason why tonight's game is so huge.  We are not going through a blah weekend like last weekend, which turned out to be surprisingly tasty.  Nope, it's the biggest because it's the most anticipated game since the end of last year.  It has the highly ranked Auburn Tigers going to Manhattan, Kansas to play the ranked Kansas State Wildcats.  Buckle up….
Okay so there are a couple of high profile games going on Saturday too.  Saturday night, specifically.  First up it's a Big 12 shootout with Oklahoma heading to testy West Virginia.  The touted Sooners defense will be put to the test against Clint Trickett.  Man I smell some sort of challenge here.  My guess is that the Mountaineers plays it close.  I don't have the courage to pick them, the Sooners win.
The other high profile dinger is Clemson heading to Florida State.  This is somewhat of a test for Florida State now that Jameis Winston has to sit the first half of the game.  Personally, I'd love to see the upset here but I'm saving that for the next game I'm looking at.  Plus, Clemson is looking about as overrated as South Carolina is.  Florida State all the way.
So let's talk Kansas State and Auburn.  The hype for this game started way back when Kansas State rolled Michigan and Auburn barely lost in their respective bowl games.  Even then, people knew it would be an exciting early season match up.  There's  alot on the line for both teams too.  This is Auburn's first chance to enter in the college football playoff conversation.  Kansas State can enter that conversation too with a win, but it will take alot more to get the phony sports media on their side.
Auburn lost alot of people.  But they still have Nick Marshall.  Believe or not, Bill Snyder tried to recruit Nick at the same time as Jake Waters.  At any rate, we have a high powered run offense masterminded by Gus Malzahn ( guy Snyder tried to hire ) and they will undoubtedly put up alot of points.  The defense might have some issues, especially with starting safety Jermaine Whitehead staying home for getting lippy.
Kansas State, on the other hand, kind of struggled against Iowa State but still put up over 30 points on the road.  Tyler Lockett made some awesome grabs but didn't really do too much damage.  It was Jake Waters who saved the day.  His rushing touchdowns and spirited leadership helped push the Wildcats to victory.   Defensively, they need to play sound and hope that Ryan Mueller and the line can do a good enough job to let the pressure off the rest of guys.
I'm leaning on Auburn on this one.  The atmosphere in Manhattan will be massive.  The fans will be crazy.  The Wildcats will be up for the game, although I think they will start out a little nervous.  Auburn will be in unfamiliar territory.  But the Tigers just have the edge on talent and the coaching scheme is just good enough enough to make use of it.  It would take a perfect night for the Wildcats to win.  It would take the Biggest Night.