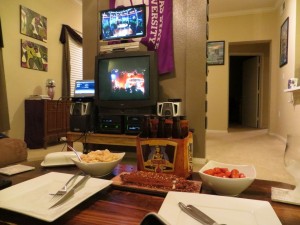 What a weekend it was.  A loooong weekend.  Yup my team played on a Thursday night so it's a long distance feeding.  But that didn't mean I didn't pay attention to the games and fun on Saturday.  So sit right back, crack open a coffee drink and let's go on a long trip of food and college football.

I wanted to do something different for this week of football feedings.  I went with no meat.  But I did do fish!  I got me some fancy pants wood plank and a big ole salmon fillet to grill.  Since I'm leaning heavy, I also went with some serviceable side dishes.  That would be lemon rice and glazed carrots.  Oh, I also had a six pack of Avery Karma to not go full on health.  Here's some recipes: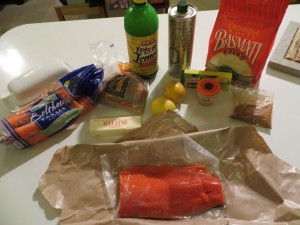 1 maple plank (6 by 14 inches)
1 salmon fillets

 

(1 1/2 pounds total)
Olive Oil
6 tablespoons Jamaican Jerk seasoning
Instructions
Soak maple plank in salted water for 2 hours, then drain. Place the plank cook side down on the grill for 5 minutes to dry it out. Lightly cover the cook side of the plank with olive oil. Remove any remaining bones on the salmon. Rinse the salmon under cold running water and pat dry with paper towels. Place the salmon on the plank.  Lightly cover it with olive.  Carefully spread the jerk seasoning over the top and sides.
Set grill for indirect grilling and heat to medium-high. Place the maple plank in the center of the hot grate, away from the heat. Cover the grill and cook until cooked through, around 20 to 30 minutes. The internal temperature should read 135 degrees F. Transfer the salmon and plank to a platter and serve right off the plank.
2 teaspoons canola oil
1 cup basmati rice, rinsed
1 (2 inch) piece fresh ginger, minced
1 lemon, juiced and zested
2 cups chicken broth
salt and ground black pepper to taste
Instructions
Heat the oil in a pot over medium heat. Cook the rice, ginger, and lemon zest together in the hot oil for about 1 minute; add the lemon juice and chicken broth. Bring the mixture to a boil; cover the pot and allow the mixture to simmer until the liquid is absorbed and the rice is tender, 18 to 20 minutes. Season with salt and pepper.
2 pounds carrots, peeled and cut into sticks
1/4 cup butter
1/4 cup packed brown sugar
1/4 teaspoon salt
1/8 teaspoon ground white pepper
Instructions
Place carrots into a large saucepan, pour in enough water to reach depth of 1 inch, and bring to a boil. Reduce heat to low, cover, and simmer carrots until tender, 8 to 10 minutes. Drain and transfer to a bowl.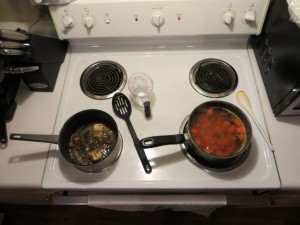 Melt butter in the same saucepan; stir brown sugar, salt, and white pepper into butter until brown sugar and salt have dissolved. Transfer carrots into brown sugar sauce; cook and stir until carrots are glazed with sauce, about 5 more minutes.
Let me just say that we really haven't missed a beat for Football Feedings this year.  We continue with the jerk salmon.  The carrots and rice interacted perfectly with the spicy and fishy tasty of the plank salmon.  I washed it down with some Avery Karma, a Belgian Pale Ale.  The roasted hints with some fruit leanings worked fantastically with the plank salmon.
This slideshow requires JavaScript.
Now on to football.  So Saturday's action was all over the place.  I skipped out on the morning action.  The afternoon action really only showed that Alabama is way better than Florida, Missouri choked against Indiana, and Kansas actually won a game.  I really don't remember anything else.
Saturday night, however, was heart-stoppingly entertaining.  There were no upsets, but lots of close action.  Well except for Oklahoma's eventual pull away from West Virginia.  I watched Florida State and a benched Jameis Winston barely make it past Clemson.  Plus there was the late night scare from Washington State against Oregon.
Thursday night was the big game for me.  Auburn beat Kansas State.  Period.  In a game where we were expected many points from both sides we really got a low scoring game for college football.  Both teams had either's number and the mistakes from both sides bled through.
The better team won and it was not Kansas State.  When you miss 3 field goals and doink a TD to a defender in the endzone, you're gonna lose no matter what.  Even if you were still in the game.  I'm over it now.  The food was the start of the night Thursday and Saturday provided enough entertainment for me to forget about the game.  Well the beer too.