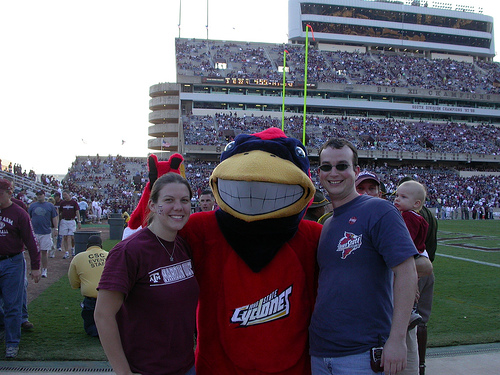 March Madness continues here as we just got finished here at the KCCGD headquarters reading up on who got in and who bubbled out in the NCAA Tournament.   In celebration of this anti-climatic event, we'll turn our focus this week to a school which lacked success both on the basketball court and the football for a long time now.  Cy the Cyclone from Iowa State has a major job in lifting the school spirit of a university who continues to fumble around its athletics.  We learn some about Cy's history and his recent success.  We also wonder how amalgamations work in mascotdom.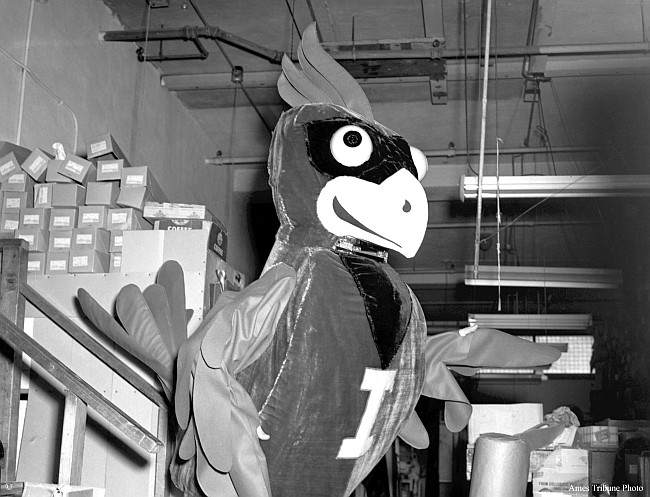 The name 'Cyclones' came from the whooping the school gave to Northwestern way back in 1895.  Up until 1954 the Iowa State Cyclones lacked any real costume mascot.  Right around that time, a group of students reached out to a local business to figure out how to produce a mascot.  They figured that since you can't walk around in a cyclone, a cardinal, both a bird and their school color, should be used instead.  The debuted the mascot and later held a contest to come up with the name of 'Cy.'  He's been bouncing around since then and just this January actually won the Capital One Mascot of the Year Award.
The costume itself consists of a big smiling cardinal head and they traditional fuzzy body and football uniform rig.  The way the costume looks seems a bit saggy.  The arms have some sort of fabric droopy feathers attached to them and the body isn't nearly muscular but more like a saggy out of shape football fan (or myself).  Even a "Clone" can't help him out.  They could use some work to spruce up his body.  Because there's no animal mascot to coincide with Cy, he should be beefed up and a little more fearsome.  Someone tell that guy to hit the gym.
Really the sagginess represents what Iowa State suffers from in terms of success in the last decade or so.  Their program used to have a decent basketball team and the football team really hasn't caught on much.  Some may say this is due to Iowa sucking up talent, but they could try to beat the disadvantage.  When I think of Iowa State, athletics don't jump out.  So when learning about Cy, I could only think of how much work this guy must go through to keep fans at the games interested.  No wonder he nabbed the award for mascot of the year.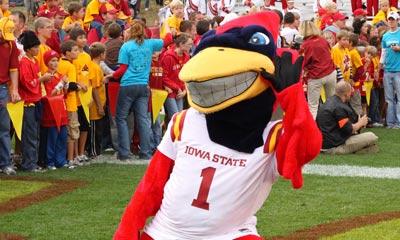 Cy could use some help, though.  A good little animal mascot would help lift some of the weight off his shoulders.  The only problem is the school nickname came from some intangible object.  You can't really reproduce cyclones except maybe in the bathtub or using a couple of soda bottles taped together.  By today's standards you could, but it's widely known that the 1950's lacked any imagination.  Maybe it's time to change things up?  Perhaps a new school name is at hand for the Iowa State Cyclones.  Heck it may even help start things fresh for the athletic program and turn things around.  At the very least plop a bird in a cage down on the field.
Iowa State's Cy is a pretty average mascot.  He costumes exhibits nothing creative and his teams continuosly lose.  In spite of all of that, Cy turns into the septic tank worker of mascots by cleaning up the spiritual crap left on the field every week.  He may lack some finesse when it comes to personality and flair, but this guy rolls up his sleeves and hits the stage every week.  He deserves the award for mascot of the year and he most certainly deserves a buddy out there to shield him for the playdung flying around.