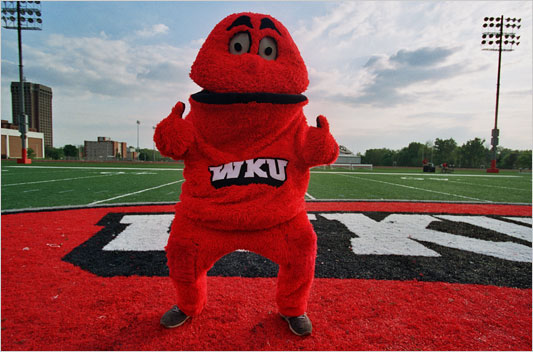 We're winding down to the end of the off season and the end of our first foray into Mascot Mondays.  We have a couple of more to go before we pack the suit away in the trunk and turn off the lights.   But before we go away, we have a couple of more guys, er gals, er blobs to feature.  So this week we will take a look at one of the influences to this here series.  We've always known mascots to be fun and lovable while at the same time be fearsome and intimidating to opponents.  But every time we see Western Kentucky's Big Red, we wonder just what the heck does this thing do?  We'll try to figure that out on top of answering why he's so dang popular.
The Western Kentucky Hilltoppers were void of a mascot until 1979.  That's pretty young for a school that's been around since 1906.  You can't blame them, however, because Hilltopper came from the fact the school sits on top of a big hill in Bowling Green, Kentucky.  Much like many other mascots, Big Red, was the brainchild of a student.  Ralph Carey created Big Red and he debuted on the basketball court and could be seen on all sidelines from then on.
Right away Big Red was a hit.  He's competed and won in many national mascot competitions.  Early on in his tenure, he picked up awards from the Universal Cheerleading Association.  Later on, Big Red would compete for the Capital One Mascot of the Year.  Because of his popularity, Big Red was featured on numerous ESPN commericals, even being featured for SportsCenter's 25,000th episode.  The love affair between college athletics and Big Red continues today.
But just what the heck is Big Red?  We mentioned him as a 'he' earlier, but we really don't know.  Big Red looks like a rolled up shag carpet Ralph Carey stapled together to bounce around in.  There's arms and legs there, but we still call this one a blob.  He's got the school logo on his stomach or in the form of a hat so we know at least where he comes from.   We just can't pinpoint what exactly he is.  Does it matter?  Nope.  That's part of the appeal.  So much in so that other organizations attempted to copy this style of mascot.  Shame indeed, Italia, shame indeed.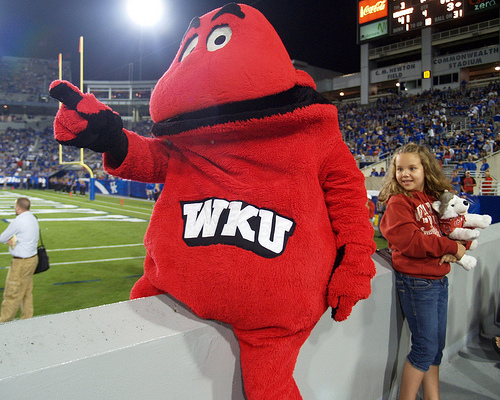 In the end it doesn't matter what or who this mascot is.  People love the guy.  That's the whole point for mascots.  Big Red makes no sense.  People cling on to the irony that some named character with no ties to the school shows up and cheers on their team.  Every game, especially college football, deserves the kind of celebration that compel people do get dressed up and bounce around the sidelines.  That spirit inspires the crowd to support their team even harder.  It's a rightful part of the fanfare and spectacle sporting events we hope never goes away.  It's what makes a Big Red blob  so special.