We were very skeptical when we strolled toward the Johnny's Tavern setup on the corner of the Power & Light District in Downtown Kansas City.  We've been to a couple of places around there before and the experiences were weak.  We had some hope, however, as Johnny's Tavern came through for us before.  After spending the afternoon there we can say it is the best bar in the district.  The food was great, the poker game was loads of fun, and the games on the screens were stellar.   If you own or work at a bar around that area, read on to see how to make it successful.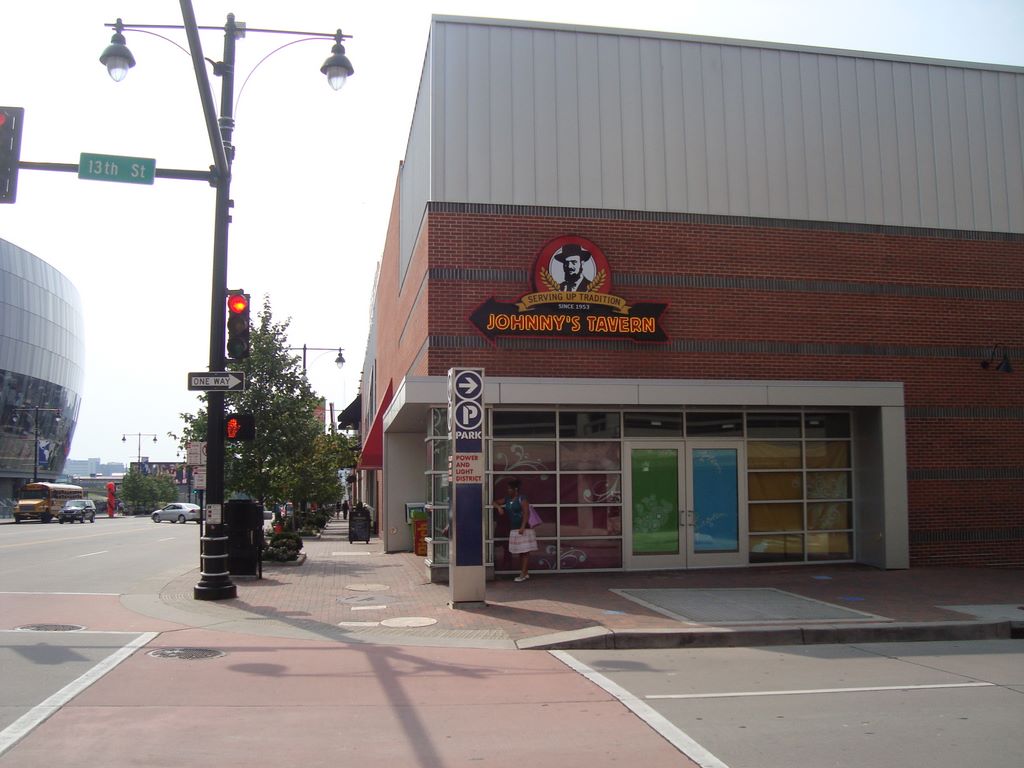 The outside entrance to Johnny's Tavern brings you into a ledge like area where you walk down to find a table or bar.  Looking around you can see a multitude of television screens, including high definition and a projector screen.  There were even screens in the booth.  The bar is long and stone with many taps ready to drink from.  The tables are high and were decked with high chairs.  The patio area spills right into the center court of the Power & Light area, but doesn't lose any tv viewing area.   The bar kept people like me connected with a wireless hotspot.  All in all, the most complete package you could ask.  They could use a pool table, however.

Johnny's Tavern did have a decent set of games play though.  The had Big Buck Safari, Power Putt, some multi touch game, and Big Tony's PokerKard.  I've yet to see a game like this so I plunked down some change and had a go at it.  If you have never played Texas Hold 'Em, it's a poker game that the big boys play.  You only get two cards and you bet against everyone to see who has the best hand, after shared cards are dealt.  So I decided to take Big Tony on.  Two dollars gets you 30 minutes and 1000 in chips.   I was up around 2000 and eventually lost it all with 15 minutes to go.  The game has an intuitive touch screen interface and crisp animations.  The next time I play, I may talk some others into going in with me.  We need to take Big Tony down.
There's nothing to take down for the service at Johnny's Tavern.  The waitresses there covered the whole spectrum of types.  We had big ones and small ones, hot ones and not hot ones, attentive ones and not so attentive ones.  The one we had did a great job of making sure we were okay.  She did, however, forget about us for about an hour.   Typically if you stay all day at a bar you will get that.  One thing we noticed while we were there was that the same waitress who stiffed us at the Quaff last year is working at Johnny's Tavern.  I still had nightmares about that experience and seeing her again brought back some nasty flashbacks.  Fortunately for us, she was not our server and only haunted me with her presence. Whew.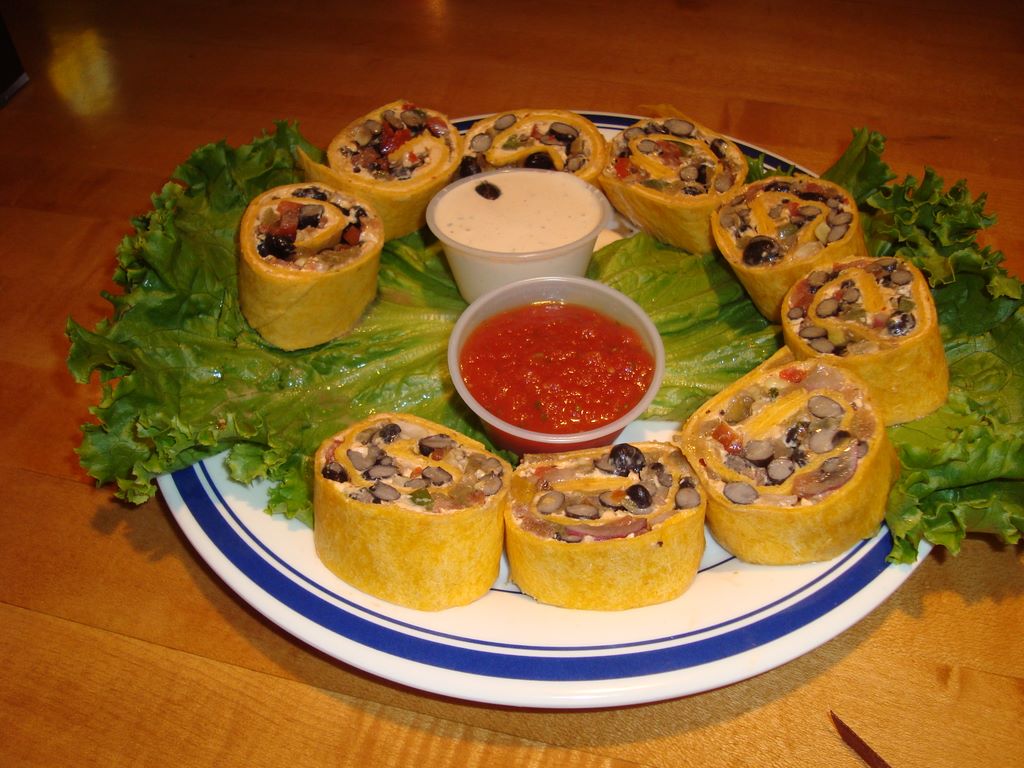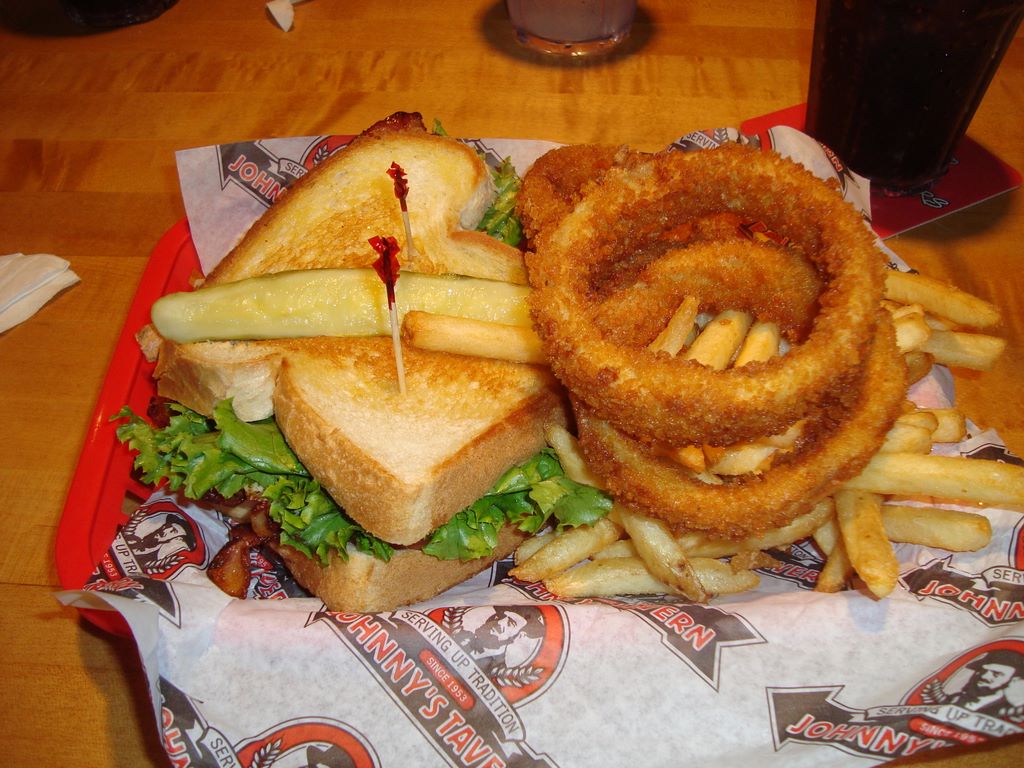 Being terrified works up an appetite so we double downed on food for the week.  First up was the Chiptole Roll Ups.  It's a cream cheese and black bean concoction rolled up in tortilla and served with some Chipotle sauce and salsa.  Anything with cream cheese and spice works well with me so this was an acceptable palette cleanser for the main course, the RugB-L-T.  The RugB-L-T is much more than a typical BLT.  What you get along with the bacon, lettuce, and tomato on this bad boy is some provolone cheese and a fried egg.  Mega greasy indeed!  The sandwich is perfect for those times you need a pick me up from a long night and grease is the only solution.  Topped with some french fries and onion rings, this sandwich deal with fill you up quick.
Our hunger for great play filled up quick as well in the form of a couple of hotly contested football games.   The national scene was all about the Notre Dame vs Michigan game, but let's talk about some of the other smaller games.  Florida rolled over Troy.  Penn State took care of Syracuse.  I forgot who won the Duke vs Army game because I was too angry that the Black Knights left their camouflaged uniforms at home.  Fresno State almost upset Wisconsin as it took overtime for the Badgers to win.   Connecticut almost had the upset against North Carolina but couldn't convert.  It took a last second goal line touchdown for Wake Forest to beat Stanford.  One of the best games of the day saw Central Michigan upset Michigan State after scoring last, getting the onside, and kicking a second field goal try after a penalty on the Spartans.  Michigan State completely gave the game away.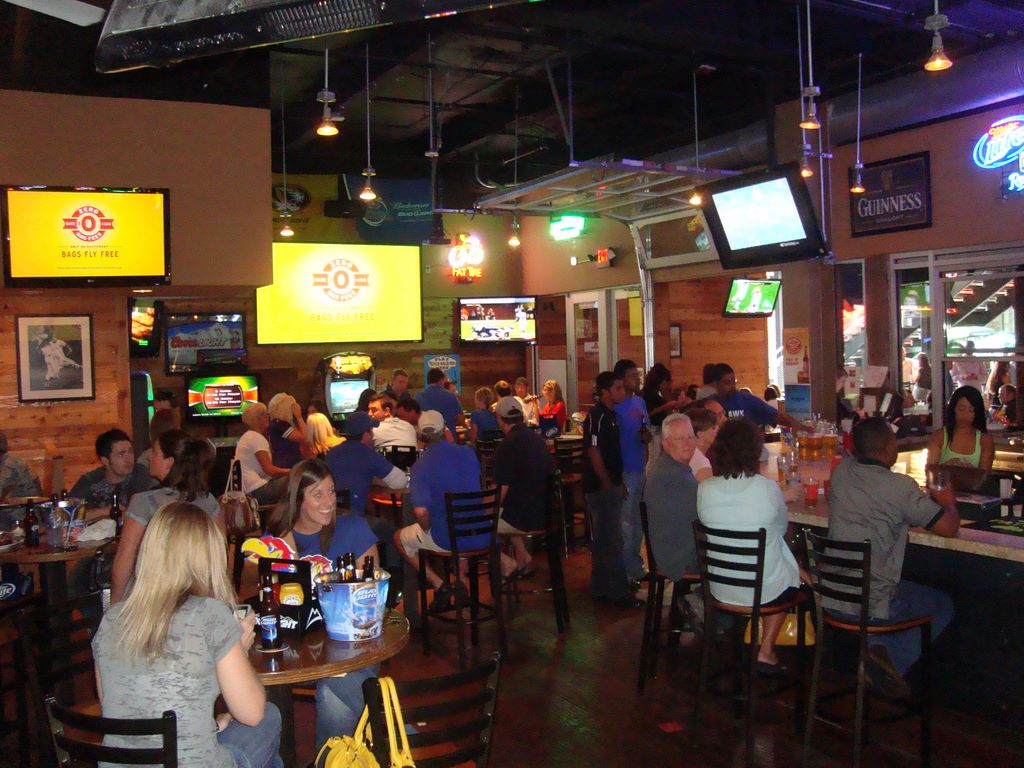 What Michigan and Notre Dame gave us, was a game for the ages.  The hype was big going in and it fully paid off in the end.  Michigan jumped out ahead with a Brandon Minor touchdown run and a Darryl Stonum kick return.  But Notre Dame fought back with some field goals and a couple of Jimmy Clausen touchdown passes.  Michigan answered back with a rushing and a passing touchdown from Tate Forcier.  Notre Dame came back again with a couple of touchdowns only to have Tate Forcier toss a last second touchdown for the win 38 – 34.  This game had it all and should stand the test of time.  What does it mean for the coaches?  Rich Rodriguez has the heat off of him and the heat is building up big for Charlie Weiss.
The Big 12 didn't bring as much heat as it did last week.  We hit Johnny's Tavern right when the Iowa vs Iowa State and the battle for the Cy-Hawk Trophy went to halftime.  It was an ugly affair and the Hawkeyes brought the trophy home easily.  The other Big 12 game we saw was Oklahoma State bangin helmets against the Houston Cougers.  In what everybody tapped as a let down game, the Cougars and their high powered offense upended the Cowboys and brought them back down to earth.  For the rest of the Big 12, it was a standard affair.  Winners include Nebraska, Texas, Oklahoma, Texas Tech, Kansas, and Missouri (in a close one against Bowling Green).  The losers include Colorado and Kansas State.  Dan Hawkins is in big trouble and Bill Snyder 2.0 has more work than he expected.
Johnny's Tavern was more than we expected.  The game time watching satisfied immensely.   The service and food felt nice and warm in our hearts and bellies.  We may be better off playing bingo than video poker.  The football was spectacular even though the Big 12 may have taken a step back.  All in all we are very pleased with what Johnny's Tavern brings into the Power & Light District.  Before we thought the area was just a douchebag and hoebag magnet, but with this little place cozied up in corner we can finally hang out somewhere and laugh at everybody else.