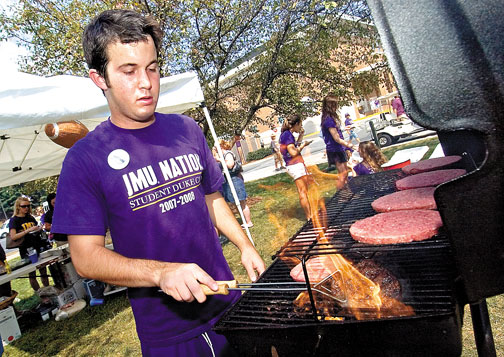 Today is the first road trip for the KCCGD crew and we'd thought it would be good to go over a few  pointers and needs for a pre game celebration.   In the interest of full disclosure, the tailgating this year will be provided from a corporate sponsor/donor for the Kansas Jayhawks so we're not bringing much.  That said we do have a few expectations riding up to the game.  It should be a good one with Oklahoma at Kansas and we'll hopefully be watching it with a full belly and a great smile.
Here's a quick rundown of what you need:
Food:  This of course is the big first thing you need.  Stadium prices are outrageous and let's face it, grilling food is way better anyway.  Be sure to have at least two meat groups represented.  Pork, beef, poultry, whatever.  Bacon is a nice touch too.   Once you have that taken care of, everything else falls into place.  Bread, sides, toppings, it will all compliment the main food.  The grill is the staple tool to heat the meat so make sure you have supplies covered.  If you're feeling gamey, bust out the deep fryer and cook up a turkey.  If you're around the midwest, it is a must that you bring your favorite brand of bbq sauce.  Side note:  breakfast tailgating is the same except with eggs too.
Booze:  And other drinks of course (some one has to drive).  We're riding so we won't care about that.  The two fold rule applies here as well.  Pick your favorite low end type beer/booze.  Then support it with a more scarce and tastier type of booze.  You want the good stuff to start out with and to hopefully celebrate after the game with.  The generic  stuff can be used for washing down the food.  Here's a tip, the generic stuff can also be used to give neighboring tailgaters or strangers with the hopes of either keeping the times good or doing some tradesies.
Games:  This is starting to feel like a sports bar.  At the very least bring some cards.  Either that or a football to toss around.  Some people set up televisions and watch games as well.  If you want to be the bell of the tailgate ball, bring a table for beer pong or some kind of toss game.  This will work will with tradesies too if you want to toss some fellow tailgaters a beer and challange them to a contest.
Clothing:  Captain Obvious says, wear your team colors, even if your team isn't playing.  The Purple Yeti is going to this Oklahoma at Kansas game sporting K-State gear.  After that, dress accordingly.  If it's going to be cold, wear a coat.  Some dudes like to paint their chests and go almost naked at cold games.  That's good for them, but be sure you don't do something you might regret.
People: Some people like to go out and have a good time.  Others do the same but destroy everything while they do it.  Bring the first type of people.  It's all about community when you go to a game and tailgate.  Bring the people who will keep the good times flowing.   And, yes, it's okay to bring the guy that passes out in the car because he will be harmless.
So that's the quick list.  Sure there's other items, like the actual tickets, but we wanted to knock out the important ones while you're getting ready to head out.  We'll be heading out on buses to Lawrence and gnawing on some big ole buffet food and booze.  We got our colors, we gots the good people, and we're ready to play and watch the games.