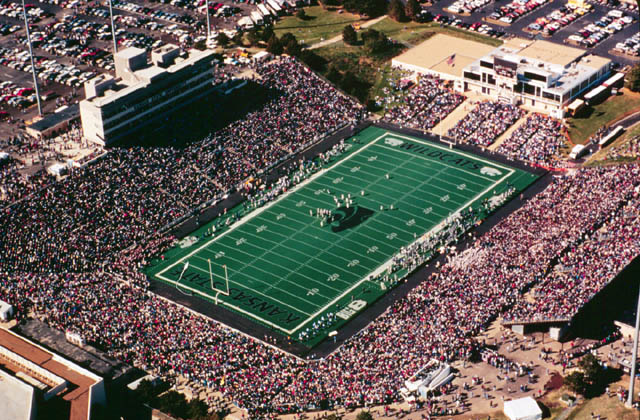 We make our return to the beautiful city of Manhattan, Kansas to watch Kansas head to Kansas State for 107th meeting of the Sunflower Showdown.  The KCCGD crew was down there a couple of years ago for the Missouri game and it's been awhile since we made our way back.  We'll head to Bill Snyder Family Stadium and watch the action on Wagner Field.  We already scoped out some tailgating spots and we'll be sure to nab some cheesecake on a stick.  We also hope this game won't be a stinker because it's a must win for Kansas and a driver's seat spot for Kansas State.  This will be big and we will be there.
When: Saturday, November 7, 2009
Time: 9:30 AM
Where: Bill Snyder Family Stadium, 1800 College Ave, Manhattan, KS
Games:
Notes:  The real big game here just happens to be the Saban Bowl.  That's right, we got LSU heading to Alabama to help determine if the SEC championship game will be a play in game for the BCS title.  Outside of that, the rest of the games are pretty weak.  Not so fast, my Big 12 friend.  There are some huge games going on in the Big 12 starting with the aforementioned Sunflower Showdown with Kansas heading to Kansas State.  The Oklahoma at Nebraska game just happens to be just as huge, for the North at least.  The rest just kind of trickle around.