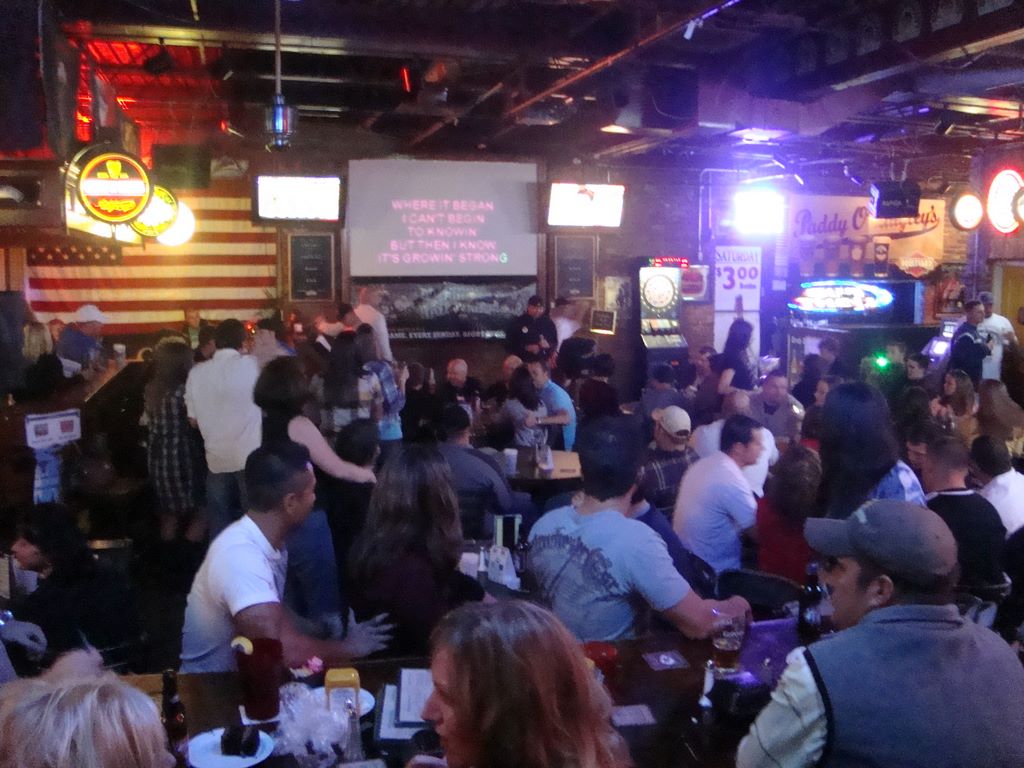 Okay, so the few of you out there that actually read the blog may be wondering, why so late today?  Welp doing some freelancing on the side left this guy knee deep in a bunch of cables and computer parts. No worries, however, as we are coming in close to the deadline to talk about our tiny little trip out to Paddy O'Quigley's to watch a little football, celebrate a 30th birthday, and jam out to some peeps belting out face melters on karaoke.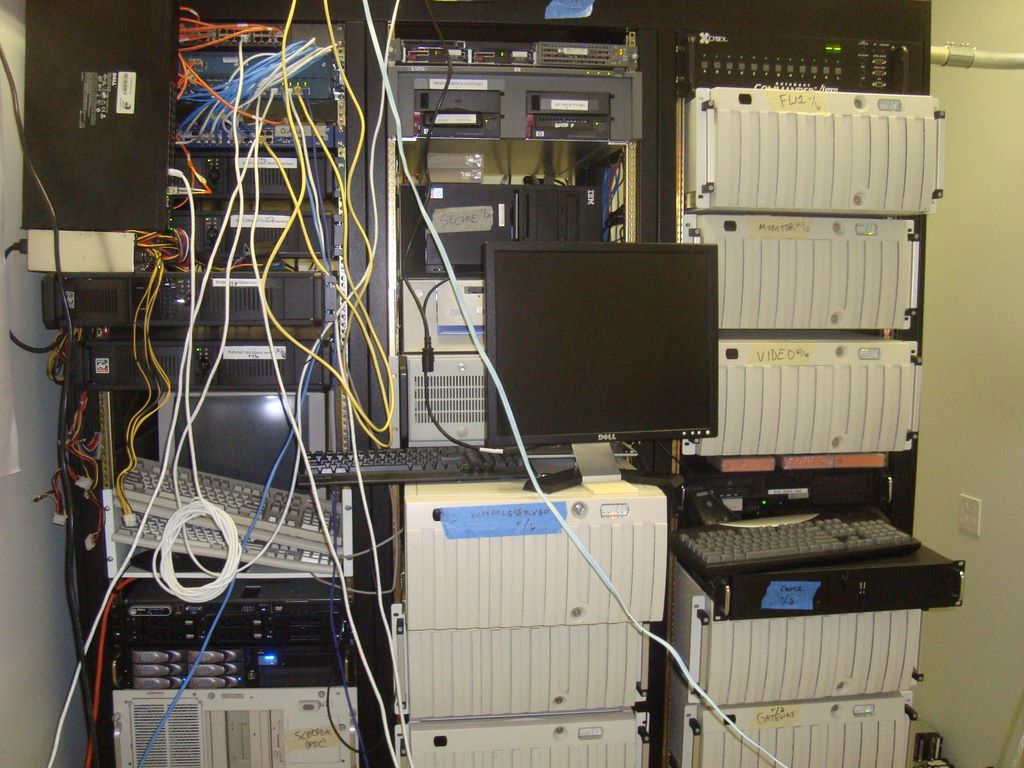 First off, here's what I had to deal with over the weekend.  Yes, it was nasty.  Yes, it was laborious.  Yes, it took the whole damn weekend to drudge through.  But we got it done and a lot of people's lives are alot easier because of it.  What did we do?  We ripped out almost all of the equipment you see there, migration email from one platform to another, and then rebuilt an entire company's network.  This was a whole weekend project and I'm glad we got done with no major bruises.  I'm also glad I got to do a mini-barspot.
So right around the 10:00pm mark, I meandered into Paddy O'Quigley's and looked out for Chuckie celebrating his 30th birthday.  In between the festivities there was a big ole screen dropped down and people singing their tone deaf hearts out on karaoke.  There's an art to karaoke and if you want one tip, here it is:  pick out crowd favorites because people will be too busy singing along to care if you stink or not.  It's a win, win situation.
Speaking of win-win situations, we did watch the last couple of minutes of the TCU Horned Frogs roll over the Utah Utes. TCU is in the driver seat for at the very least a BCS bowl bid right now.  They could use some help from the Big 12 and Oklahoma State losing another game.  There were other games on but seriously, it was all west coast and all blow outs.  We did get to see Pittsburgh put Charlie Weiss firmer in the hot seat for his job at Notre Dame, though.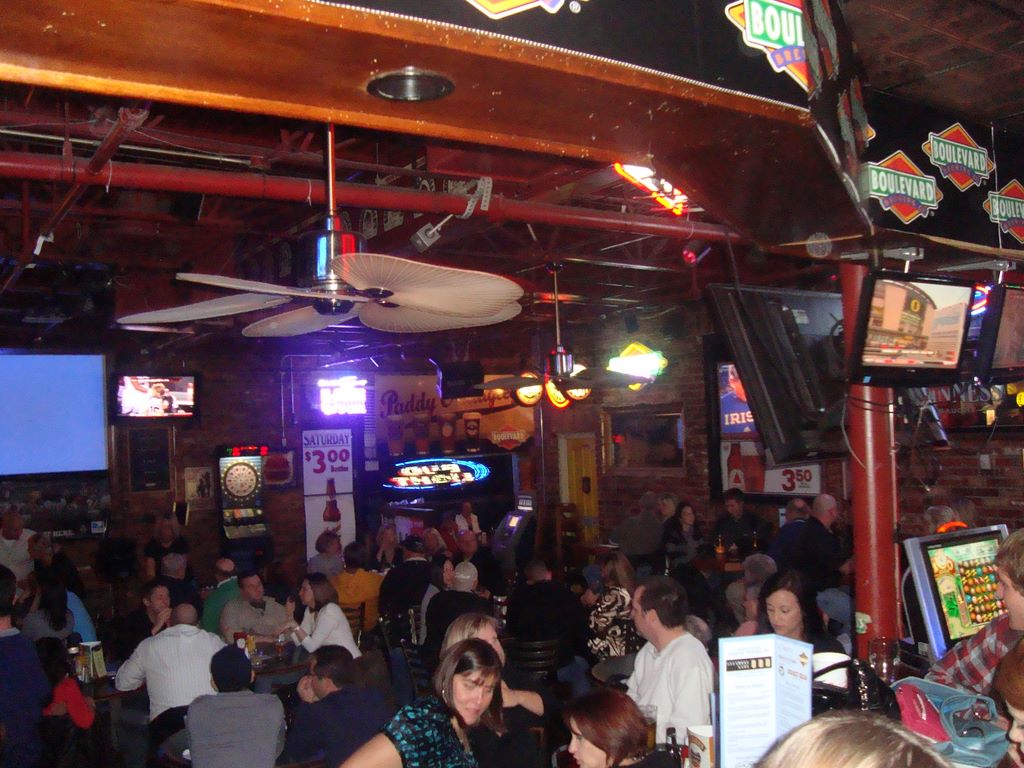 As for earlier in the day, we were to busy converting to actually watch anything.  Luckily, I had a Palm Pre and some wicked web updates to at least check up on the scores.  Too bad for Kansas State and congrats to Missouri.  The Tigers get a bowl bid and the Wildcats need to win Saturday for both a bowl bid and the Big 12 North title.  Their opponent this weekend, Nebraska, beat up on the Kansas Jayhawks.  It looks like even the football players there are ready for basketball season.  The only other thing that jumped up at us over the weekend was the beat down that Stanford dropped on USC.  Looks like the dynasty is over for now for the Trojans.
So we didn't get a chance to taste the food at Paddy O'Quigley's.  That's okay.  We didn't get a chance to watch tons of football.  That's okay, too.  We were lucky to get at least a few minutes worth of college football spectating.  Even if you are running on a busy schedule, getting a few minutes is better than nothing.  Next time you are out in Leawood, try squatting down on a stool at Paddy O'Quigley's.  It was super packed and everyone had a good time.  We're sure you will have a good time too.  Time to check up on some computer's.