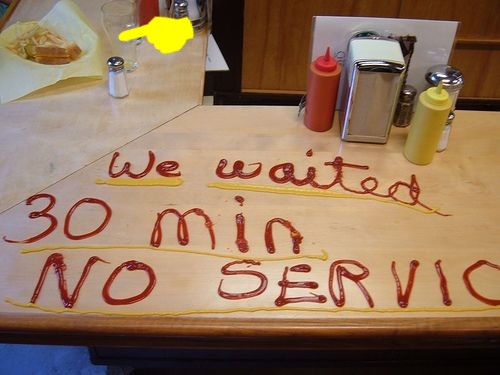 So I'm sitting here in the kitchen of my favorite KU fan down in Wichita with a wicked Donut Hole rush.  What better time for me to take a moment and talk to all the waitresses out there in sports bar land.  With the crew and all, we usually find ourselves plopped down in bar and stuck there for at least two games.  For some of you waitresses out there, that could mean a table taken for your whole shift.  Because of that, you may not give the best service.  Please don't.
Now, most of you out there will continue to chug along and serve and refill drinks and what not.  That's great.  We had somebody who did a great job last week at Johnny's Tavern doing just that.  We take notice.  We understand that we take up space and we usually tip accordingly.  But that means you should keep checking on us.  We shouldn't have to flag you down after two hours.  Especially during a football game.
There have been times when where we ran into some terrible service.  It really sucks when you're dying of thirst or ready to order your second meal and no one is there to take note and bring it to you.  It's pretty easy to see that if you don't follow through on the service, you will get the bad tip you expected when we first sat down.  So if you any of you that fall into this group are reading this, please understand that we feel bad taking up your space and will reward you for tolerating us.  It's the American Way.
Okay, enough of the bitch fest.  This sprung on me last week when my favorite lady said first thing, "the waitress is gonna hate us", after sitting down in the bar.  Yeah, maybe so but we always reward hard work.  I just wish every waitress out there knows that.  I don't think we'll run into down here in the Taw, but you never know. We're just stoked to check out the best bar in town.