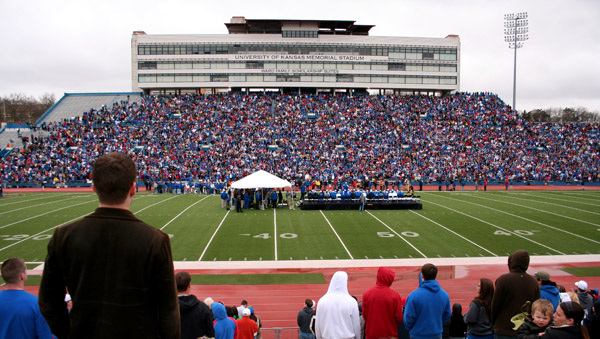 You'd figure I would be done with road trips, but thanks to the love of my life and her blue and red colored company, I'm heading out yet again for another round of Stadiumspotting. This time again it's in Lawrence and I will bear witness to another two teams looking to rebound from losses. Last week it was Kansas in that very stadium that took a beat down from Kansas State. They will host Texas A&M, who were pummelled to pieces by a tough Missouri team. More than likely the Aggies will beat up the deflated Jayhawks on their homecoming but the last time that was said the Jayhawks upset a ranked team. You just never know.
When: Saturday, October 23, 2010
Time: 4:30 PM
Where: Memorial Stadium, Lawrence, Kansas
Games:
Notes:  The biggest game of the year in the Big 12 takes place Saturday, and I'll be at the lamest one.  Wah Wahhhh.  Yup, Oklahoma heading to Missouri is way bigger than Texas going to Nebraska.  Well, it's a matter for top rankings actually. The Tigers have the stage set perfectly for them and that's usually when they choke.  You never just never know.  Meanwhile,  I will be spending most of my time at Memorial Stadium in a company tent listening to the real game.
In other ranked games, we have the Tiger Bowl where we see LSU and Auburn banging heads.  Les Miles might pull another rabbit out of his Mad Hat.  The Heartland Trophy is up for grabs as fresh spoilers Wisconsin heads to Iowa.  It's farm boys versus farm boys for that one.  I'm going with Wisconsin because there are more deep-fried cheese curds out there.