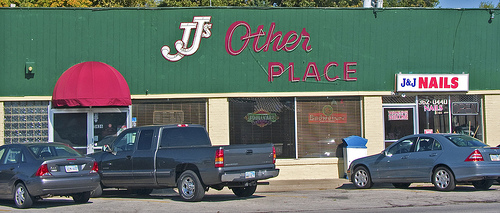 So as I'm sure most of you have gathered by now, I live mostly on the Kansas side of the state.  What could be even more insightful is the fact that I tool around the Shawnee Mission area.  So, out of the goodness of my heart and the laziness of my butt, I will be heading to my favorite hole in the wall sports bar, JJ's Other Place, for some Barspotting Saturday.  There's a big local throwdown as Kansas State heads to Missouri and I want to conjure some magic I shookdown from the joint for Kansas State's basketball tournament run.  It could be a blowout, or it could be close.  At any rate, I'll be down in JJ's town for all of the glory.
When: Saturday, November 13, 2010
Time: 11:00 AM
Where: JJ's Other Place, 5436 Johnson Dr, Mission, Kansas 66205 913-722-9777
Games:
Notes:  There's not that much on the docket this week.  Outside of the Big 12 there are a couple of match ups and rivalries firing off.  The biggest of which just happens to be Mississippi State at Alabama.  Some say the Georgia at Auburn game is big, but that's more Cam Newton hype than anything else.   Big 12 wise, we see the only Top 25 match up with Kansas State going to Missouri.  It may be a great game.  The only other game that floats my boat is the Battle for the Brazos.  Texas A&M has hit its stride while Baylor looks to rebound off a bad loss last week.  I can't wait to check these games out.