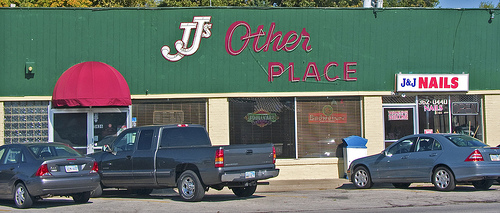 Okay, I'm giving JJ's Other Place one more shot.  They didn't have power for our game last week, even though they were open that evening.  So I'm going back to give them a college try for this Saturday.  The morning games all suck, but once the afternoon hits we get some Top 25 clashes.  Let's hope that they will have a enough juice for the week for use to enjoy at least one of those.  The backup plan, for the first time ever, is Lew's Grill and Bar.  What can I say, it's my new favorite place.
When: Saturday, November 20, 2010
Time: 12:00 PM
Where: JJ's Other Place, 5436 Johnson Dr, Mission, Kansas 66205 913-722-9777
Games:
Notes:  It's a week before Thanksgiving and the rivalry games are coming out of the woodwork.  That's awesome, because there are one or two great games that have meaning.  I'm, of course, talking about Ohio State heading to Iowa and Nebraska heading to Texas A&M.  For the first one, Ohio State needs to keep winning for a Big 10 title and Iowa needs the upset and some help to win the title.   Nebraska's heading to the Big 10 next year, but they must go through a mega hot Texas A&M that has a fighting chance to win the Big 12 South.  If that doesn't whet your whistle, check out the Big Game or the battle for the Telephone Trophy.  If THAT doesn't whet your whistle, then check out Illinois taking on Northwestern at Wrigley Fields or Army taking on Notre Dame at Yankees Stadium.  Nothing's better than watching a real sport being playing inside a baseball stadium.