Another week of Mascot Monday sees us head down to the Southeastern Conference and paying a visit to Vanderbilt's Mr. C.  Now their football team isn't much to talk about compared to some of the other titans of the SEC.  Today we'll find out with Mr. C why Vanderbilt deserves their stake in the best (it hurts to say) football conference in college.   Along the we'll see Mr. C's accolades as well as get a visit from an unlikely jokester.  Buckle in and get your old school military gear ready, it's Mr. C time!
Vanderbilt saw its inception when it was renamed from Central University to Vanderbilt University in honor of Commodore Cornelius Vanderbilt in 1873.  Fast forward to 1890 when Vanderbilt played its first football game against the University of Nashville.  In 1932, they were the a part of the Southeastern Conference and that's about the only success the football team endured in the conference.  They've only been to 4 bowls but won 2 of them.  They have no division titles and no conference titles.  But have no fear, Mr. C is here!
Unfortunately, what we know about Mr. C is his name.  Searches were fruitless to when Mr. C showed up, but we did find one interesting bit.  Mr. C was not the only mascot for Vanderbilt, they had a live mascot.  In 1964 Toby Wilt's dog, George, chased the Tennessee horse mascot off the field.  The fans kept him there until 1966 when George died.  George was replaced by a female dog named Samantha until 1970.  But let's get back to Mr. C.  Mr. C is named after the founder, er the first contributor, Commodore Cornelius Vanderbilt.  After that, it's all about the costume.
We have our typical setup in terms of mascot make-up.  Let's start at the feet.  Mr. C has a big ole pair of military sneakers.  Leading up Mr C.  has the football uniform of the Commodores.  The head is a giant human head that topped with a military capped and wrapped with frothy grey hair.  The one interesting thing to note about Mr. C is that the human skin part is fur.  Some human mascots do this and some mascots don't.  It's interesting to think just how that decision came down with each school on the human skin vs. human fur debate.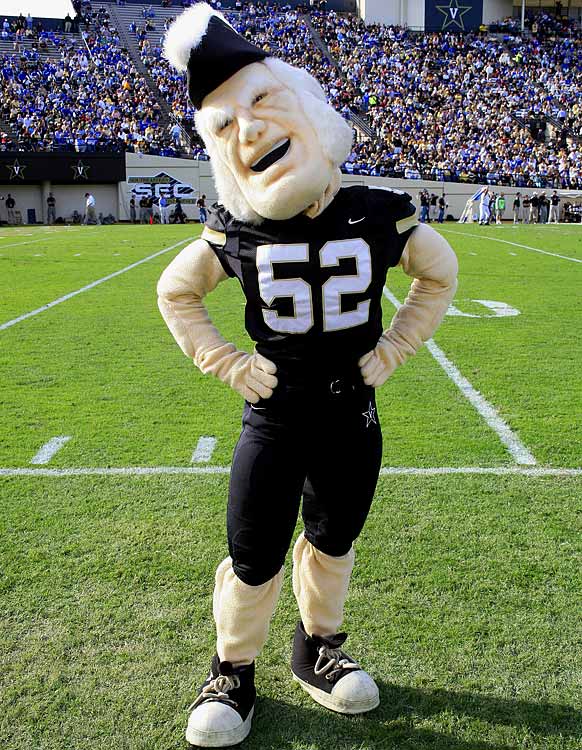 The theory that's going around here is that mascots under the huge head can be anyone from a cheerleader to a random tryout winner.  Everyone can agree that a team's mascot must be pretty strong.  If the person under the huge head is scrawny, then the whole setup won't work.  That's why for some mascots you see fur muscles instead of real ones.  That said, there is real skin under some mascots and that skin has real muscle.  For Mr. C, it's kind of a tragic irony that there's a scrawny person under the huge head to match the football team's success.
We can't dog Mr. C all the time.  He's a happy old codger.  Heck, that happy old codger got a nod to the Capital One Mascot of the Year last year so he's got some vigor left in him.  For us, we're not a fan of the body but the concept of a mascot for the Commodores works.  We certainly wouldn't compare Mr. C to an outdated computer, like The Daily Show's Jon Stewart did.  That would just be cruel.