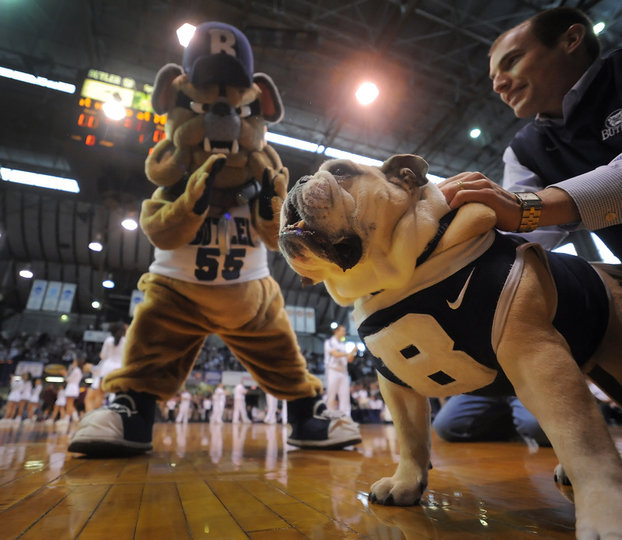 So it's not too late to talk some mascots, is it?  The NCAA College Basketball Championship played out already and I figured it would be hot time to talk about the mascots for the competitors of this oft ignored sport (at least here anyway).  So I've already done the UConn Huskies and that mean we focus on the Butler Bulldogs, who made their second straight championship game appearance tonight.  The end didn't fare too well for the Bulldogs, but I'm fairly certain that both Butler Blue II and Hink cheered them on along the way.
Butler University, established in 1855, didn't field a football team until 1884.  The team is credited as having the first ever football game played in the state of Indiana.  For most of school's history, basketball seems to be number one while football enjoyed a bowl win in 2009 against Central Connecticut State.  The name Bulldog came about because the previous name, "Christians", didn't fare so well.  As a matter of fact, the tepid 1919 football season outgrew the pious name and it was time to come up with a new name.  The Butler Collegian editor Alex Cavins, and cartoonist George Dickson, came up with the 'Bulldog' nickname due to a fraternity mascot by the name of Shimmy.
From Shimmy of yesteryear we now have two mascots for Butler.  The history is very limited with these guys so bear with me.  First up is Hink , who was named after the famed coach Paul D. "Tony" Hinkle.  He's been prancing around the sidelines for 20 years but Butler recently rechristened the costumed mascot with a contest and the Hink name.  Next up is Butler Blue II, who of course came after the first.  Butler Blue II's been in service since 2004.  Both mascots seem very young so they've yet to snatch up any mascot awards.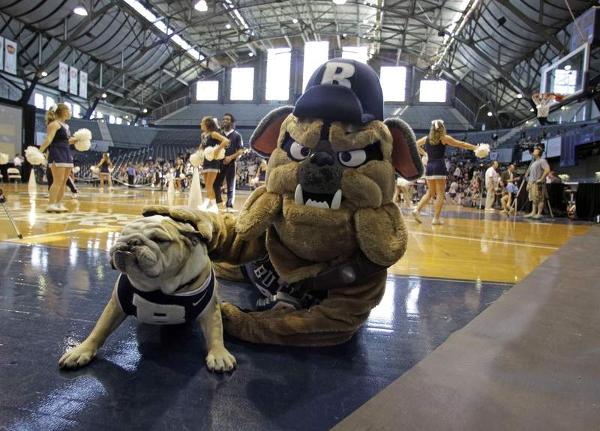 Hink is your typical costumed mascot.  What I like about him that differs than most mascots is that Butler went all out on the head part and made sure that Hink was a bulldog.  The hat kind of throws people off, but then again most mascots have a shirt and shoes to go with the outfit, like Hink.  Butler Blue II is a live bulldog and has the shoulder beef stance to prove it.  Well that and the ginormous head.  The owners of Butler Blue II went the extra mile and dressed him up in a form-fitting jersey to wear on the field and in the stands.  Normally, I'm not of fan of bordered animal cruelty like that, but in the case of mascots, Butler gets a pass.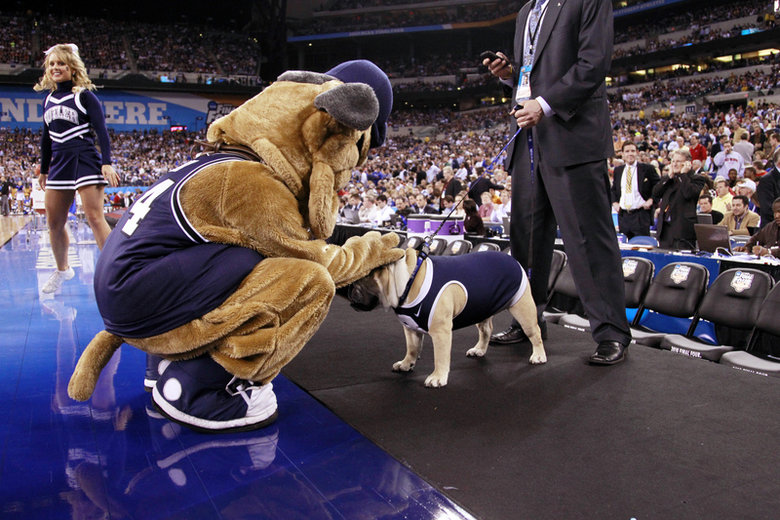 That's all I got tonight on Butler.  Nothing really stands out for Hink and Butler Blue II as they've yet to claim some awards.  It seems like their mascot program is in infancy and watching mature is the most exciting part.  That's not unlike how the basketball program looks to me.  Sure, I would love to see the football program grow by leaps and bounds, but for a basketball team at a school with the size of Butler, it's amazing to see them in the championship game for the second year in  a row.  I have a funny feeling that both the basketball team and mascot squad will win some awards real soon.