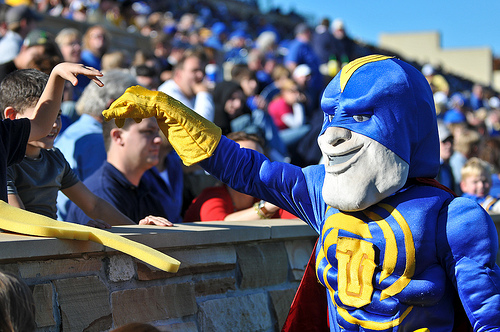 We're back again this week with the countup of mascots from Phil Steele's preseason Top 50 for 2011.  WIth the kind of week the Big 12 has been through, they could use a hero.  A hero who has been through some recent changes as well.  So with that in mind, we'll look at $35 and the Tulsa Golden Hurricanes' Captain Cane.  This week, we will look at the reason there are hurricanes in Oklahoma, as well as check out how one of the lamest mascots got a makeover and somewhat of an upgrade.  Board up the windows, here comes the latest edition of Mascot Monday
I think this is the first mascot I reviewed whose school started out as an all girls school.  Tulsa started as The Presbyterian School for Girls started out in 1894.  It was later renamed to Henry Kendall College and then Tulsa University after they moved there from Muskogee in 1907 and merging with Kendall College in 1920.  During the 1907 move, the school decided to have a football team.  Early on, they had some good success, even going undefeated in 1916.  Outside of that season, they have a respectable .560 overall winning percentage and a 7-9 bowl record.  They joined Conference USA in 2005 after bouncing around 3 other conferences in 20 years, so they know a thing or two about conference alignment.
So why the heck are they the Golden Hurricanes?  Well in 1922, the new head football coach, Howard Archer, wanted to blow away all of the old nicknames for the team and come up with a new one.  So after one particular practice, Archer heard a comment about the team "roaring through opponents" and wanted to adopt the Golden Tornadoes moniker.  The only problem was Georgia Tech had that name at that time.  So he fell on the similar weather pattern and got his squad to vote for the Golden Hurricanes.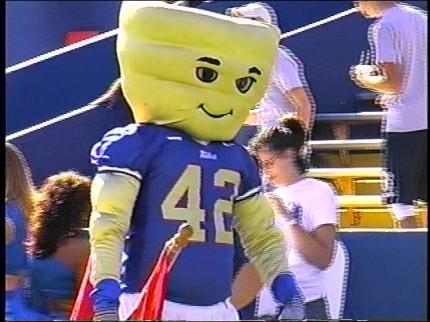 The ride to Captain Cane was a bumpy one as well.  The first mascot in Tulsa was named "Hurc" and showed up in 1977 and was later renamed to "Huffy."  In the early 1990s the school decided that Huffy became stale and reintroduced a new mascot named Captain Cane.  He was not received very well.  Just look at him.  It's like a vanilla frost on a human body.  So once again, it was deemed necessary to redo the mascot look.  The new Captain Cane debutted in 2009 and went from laughable to somewhat decent.  I would even say he looks dapper.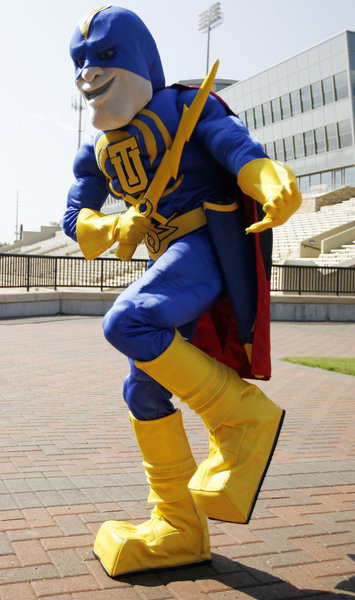 Whether the football team will look dapper this season is for us to watch and find out.  Captain Cane went through numerous transformations before finally getting it right and settling on a decent look.  Even the school had to bounce around conferences before settling for Conference USA and now they are in the Top 50 preseason poll from Phil Steele.  The lesson for the rest of the schools out there is to take a chill pill and decide to change when it best suits you.  You may not like your current situation but take your time because change will always come.  Just make sure you change for the best.