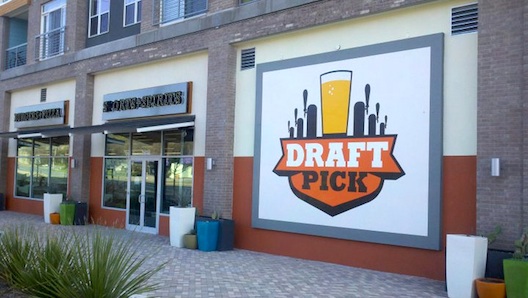 Last week was such a treat, let's see if we can keep  it going.  It's funny how the business side happens early in the week and the games get played later in the week.  Now that everything has calmed down over conference realignment, it's high time I thought about the pros and made a Draft Pick.  They're all business when it comes to football watching and I'll be ready to do it.  There's a good block of games going on at the same time and I fully intend on watching all of them at the same time.  Fortunately, they have a decent draft selection for me to sample from.
When: Saturday, September 24, 2011
Time: 2:00 PM
Where: Draft Pick, AMLI South Shore 1620 E. Riverside Drive  #1618, Austin, TX 78741 512-444-PICK
Games:
Notes:  There are some great matchups this week but they are all clumped together.  Everything happens at 2:30 PM this weekend with Arkansas taking on Alabama, Oklahoma State heading to Texas A&M, and Florida State taking on Clemson.  Sure we have #1 Oklahoma against Missouri later on with LSU taking on West Virginia, but last time I checked, 3 is greater than 2.  Well that and Kansas State also happens to play at 2:30 PM too.  Nevertheless, the great games won't be as spread out so it's up to the Draft Pick to give me all at once.  It should be a great time.