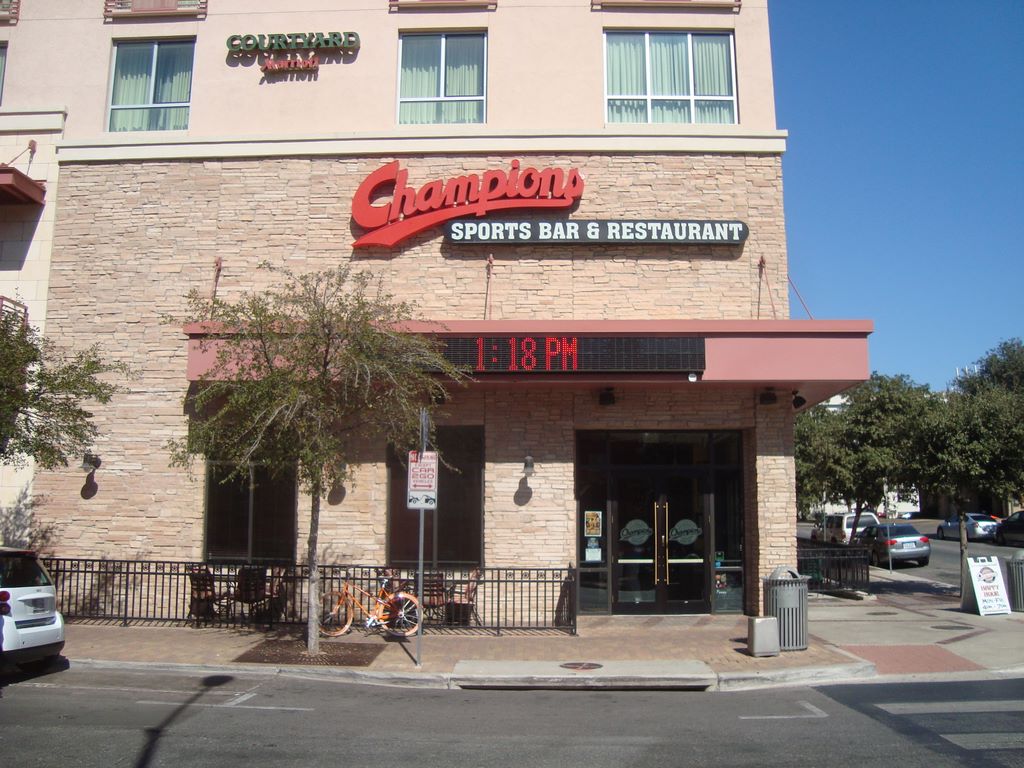 The weekend was very much filled with ups and downs as I had a great friend in town and was juggling college football, concerts, and quality time.  That's why some of you who were expecting a GameDay post Saturday came up empty.  Never fear, my funky friends, I now get to talk about Champions Bar and Grill in downtown Austin.  My bud and my lady took over the bar for a the brief amount of time and then we bolted on out for the rest of our adventure.  That ended up being the best plan, too, because my team fell back down to earth and I missed the crash.
Walking in from the street corner exit, we could tell that Champions was a classy place.  Memorabilia hangs from all over the place, while there are a decent set of televisions framing them.  They are HD, of course, but there is a huge projector screen in the pit of the bar we sat in.  When I say pit, I mean that Champions has about three levels too watch sports on.  I didn't realize just how big the place was until I had to use the restroom.  It was also very quiet in the bar, probably because there were no games.  You can hear your neck creak while you look up to some of the highly placed televisions.
The service was alright.  The lady we had was average in terms of looks and in attention.  That's fine, because I got my food and my beer without them being cold and warm, respectively.  During the time we were there, some manager/host guy was setting up for the Texas game later on.  He was nice enough to talk about my friend's Iowa love and offered to play the K-State fight song the next time they scored.  Also, the hostess crew did a pretty good job of finding a place for us, because Champions schedules and locks in games on certain screens.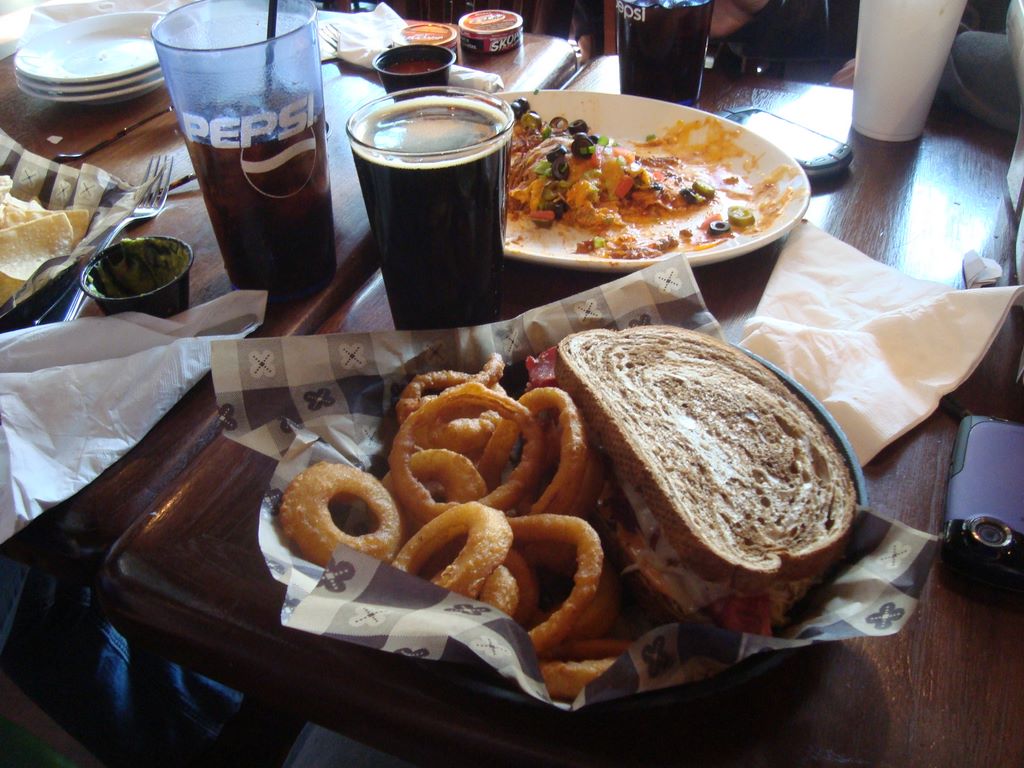 The best part of my Champions experience was the food.  We opened up with some tasty fried calamari.  The cocktail sauce with lemon wedges really put it over the top.  My friend ordered nachos, but with the twist of adding both chili and bbq brisket on top of the pile.  Those were at least in the top three of my best nachos list, easily.  I didn't scarf all of that down and had enough room for the week's pairing.  I went with the 512 Pecan Porter to wash down their Reuben sandwich.  I'm a fan of Reubens and Champion's version had everything going for it except the hard crusty rye bread.  The porter layered a stout kick to match the tangy flavor of juicy sandwich.  The plethora of plates from Champions filled me up for the rest of the day.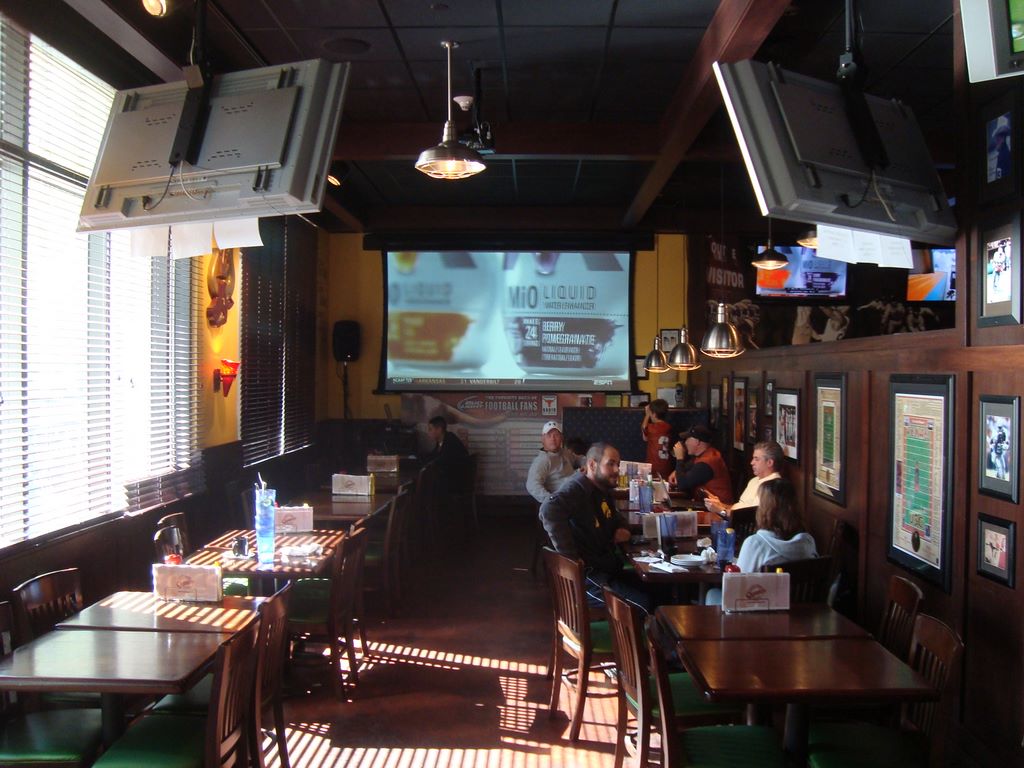 Our day was to be had watching college football.  My buddy had a fever for the Iowa vs Minnesota game and we got to watch it on one of their higher television screens.  From the looks of things, Iowa choked the game away.  We heard a bunch of Arkansas lady alums cheering on the hogs over a great comeback win over Vanderbilt.  For the first time this season, a couple of teams battled in snow.  We watched a low scoring battle between Illinois and Penn State as Joe Paterno got the win late and became the all time winningest Division I head football coach.  Oh, we also saw the end of Missouri amazing win over soon to be SEC brother Texas A&M (that's right they are no longer in the Big 12 section).
Speaking of the Big 12, we hit Champions when Baylor faced Oklahoma State and Kansas State hosted Oklahoma.  What we were hoping to be shootouts became a couple of shoot ups.  First off, Baylor was on the road again and Oklahoma State played on an entirely different level than the Bears.  This could very well be the Cowboys year.  On the flip side, Oklahoma stormed back strong and poured it on heavy in the second half of the game, beating Kansas State eleventy billion to 17.  The Wildcats were out matched in most areas of the game and we finally see who they really are.  A bowl bound, good team. Hey, I picked them to go 7-5 this year and they have a great chance of exceeding my expectations.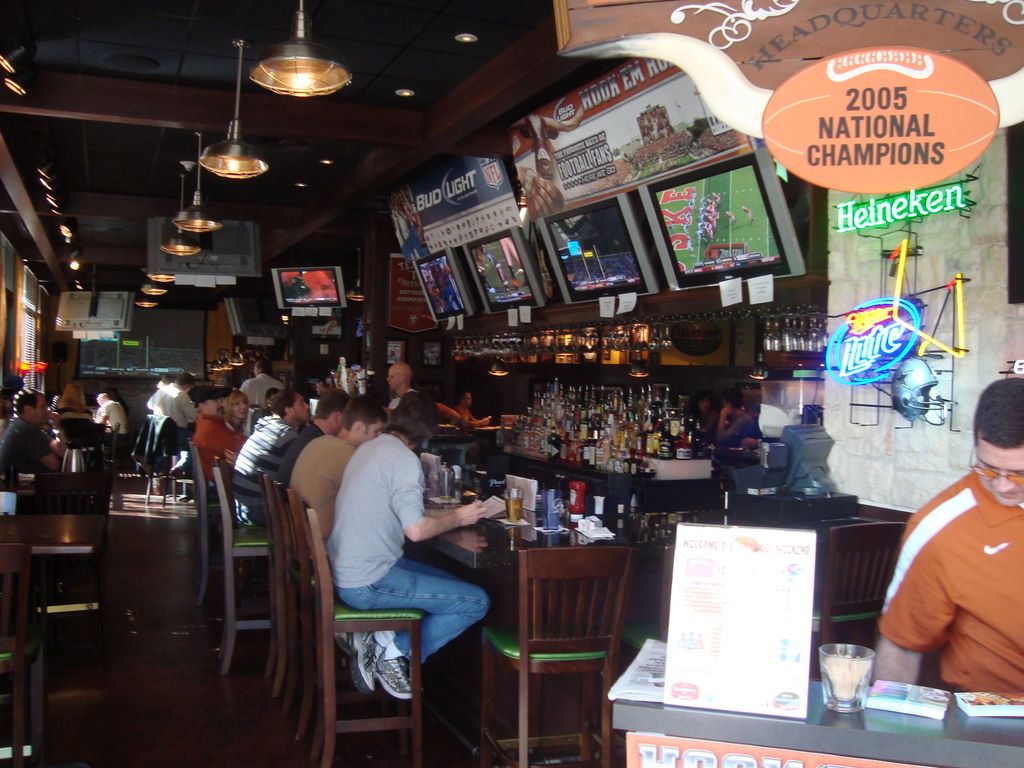 Now, we didn't get to stay for the whole game.  My friend and his lady were in town for a wedding and my lady and I were just happy we could spend time with them watching football.  Weird, right?  Not in my land.  So Kansas State got a beat down and is not in the running for the BCS National Championship.  They have a chance for the Big 12 Championship.  You should take a chance on Champions.  The televisions are decent and the prices are high, but the food is worth the trip.  Just make sure you don't trip while you scale the levels for a bathroom break.