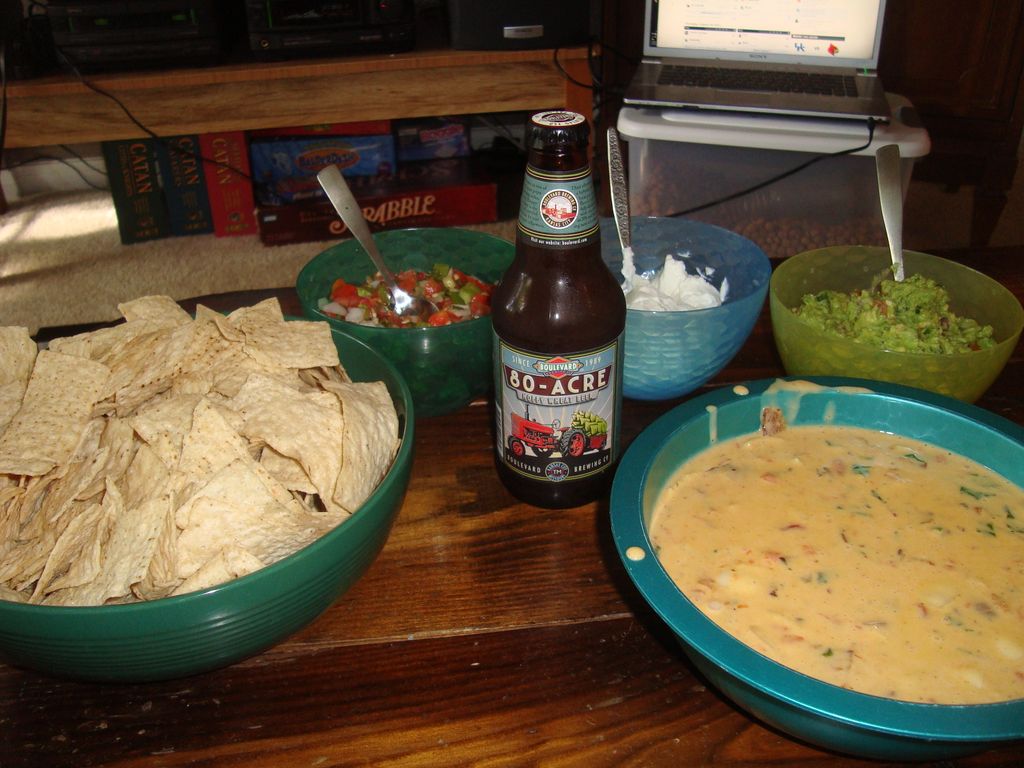 I'm kicking off a new feature this year because I've found that staying at home is the best college football watching experience.  What you say?  Check out some of my Purple Yet Roars to find ou why.  In short, with streaming live games coming of age these days, I can watch 4 games of my choosing at the same time without missing a beat.  So, for filling the void in the bar food department left by this decision, I'm going to start making some tasty home food creations and pairing them with a different beer each week.  Think of it as the beer/food pairing spot from the barspotting posts of old.  Let's get this thing started.
So as it is Labor Day Weekend and I'm watching college football on a Sunday, it's time to make something with the least amount of effort possible.  That means it's queso dip time!  I'm putting my favorite spin on it, however, and you should try this too.  I'm doing what I'm calling the Jalapeno Baco Queso Magnifico.  Think of a traditional queso cheese dip spiked with not only some spicy jalapeno and hot sauce flavor, but the also with the ultimate garnish:  Bacon.  So here's the recipe:
Jalapeno Baco Queso Magnifico
Ingredients
6 Strips HEB Jalapeno Bacon (or some bacon cooked with jalapenos)
1 Block Velveeta Cheese
1 Can Hot Ro-tel
1/4 Cup Chipped Cilantro
1/8 Cup Diced Onion
3 Shakes Hot Line Garlicky Greengo Hot Sauce (or your favorite Jalapeno & Garlic Hot Sauce)
1 Package of Strong Tortilla Chips
Toppings
Greek Style Yogurt (Sour Cream Substitute)
Guacamole
Pico De Gallo
Tools
Crock Pot
Cutting Board
Knives
Bowls
Spoons
Frying Pan
Bowls
Prep
Pre heat crock pot on low for 10 minutes
Cook the 6 strips o bacon
Refrigerate the bacon for crisp
Combine Velveeta, Ro-Tel, Onions, and Cilantro in the crock pot
Add the Sauce after queso melts a bit
Chop up bacon and add to crock pot
Stir occasionally until it combines and the Onions are soft, usually about 30 minutes
Setup Guacamole, Greek Style Yogurt, and Pico De Gallo into separate bowls and serve
Setup Tortilla chips in big bowl and serve
Pour Queso into big bowl and serve
So my beer of the week to go with this is Boulevard's 80-Acre Hoppy Wheat Beer.  It's not just another wheat style beer, but with the crisp hopness of an IPA.  Boulevard is known of it's very popular Wheat beer, but they decided to mix things up with an IPA type after bite.  I'm a big fan of all things Boulevard and it's this first time I'm trying this new brew from my home town Kansas City brewery.  So how did things go?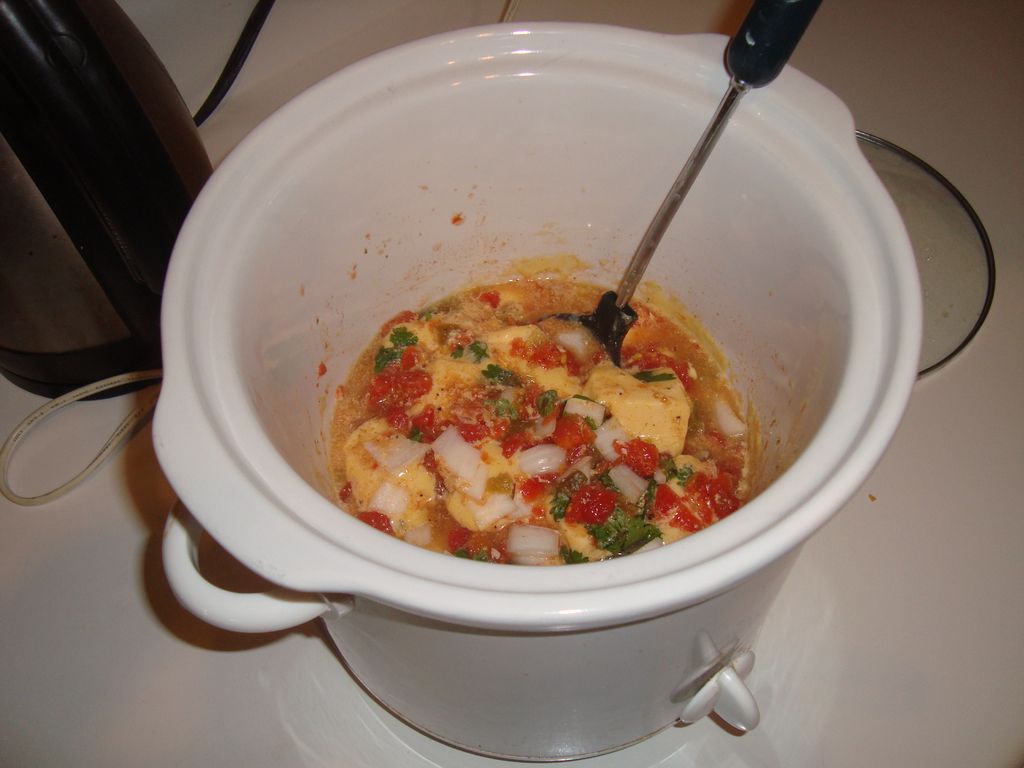 First off, the bacon was the first thing I noticed while munching this dip.  The last thing I noticed was the slow burn from the hot sauce and jalapeno seasoning.  I've had plenty of Velveeta based queso dips before and I can honestly say that this is the first one that made my nose run.  Maybe it's being down here in the south, but I'm beginning to be a fan of all things spicy.  The 80-Acre Hoppy Wheat complimented the dip very nicely.  It had the nice summer feel, as we are in the last unofficial weekend of the summer, but also had that hoppy bite that fought off the spice of queso just well enough.
You'll see me each week not only try out a new and mostly home concocted recipe, but you will also see me give my two cents on whether it's worth it or not.  So for me and my tastes this week, I say give the Jalapeno Baco Queso Magnifico a go.  You can decide just how much cheese you want to use (I only used about 3/4 the block), be ginger with spices, and go with a real sour cream.  Do it all to taste because really, why put too much effort into cooking this Labor Day Weekend?