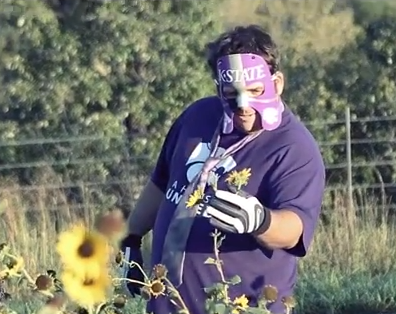 It's Sunflower Showdown weekend! While it's nice that Charlie Weiss is trying to get his Kansas kids up for the game and refocus rivalry juice toward Manhattan, Bill Snyder has been doing that exact thing for much of his tenure. But we can get into that later. There's a wealth of great games this weekend both inside and outside the Big 12. We'll know much more where teams will be seeded in the national championship race after this weekend. Time to Pick It and Stick It.
Let's start out with some tasty Top 25 match ups. The one that jumps off the page is LSU at Florida. Is Florida for real? Is LSU about to jump off a cliff? One thing is certain: Florida over LSU is the sexy pick for week 6. I can't help but follow the sexiness. LSU has been inching ever close to a loss and it feels like the Swamp might just suck them down, although the best work by Florida has been on the road this year.
The next doozy stays inside the SEC with Georgia heading to South Carolina. Man, this is the time of year where we flesh out the pretenders and contenders. Both of these teams are walking that line. For me, this week, I'm going with coaching. The defense is stout for Georgia but I don't feel as strong about their offense. South Carolina on the other hand, has a decent offense and the Ole Ball Coach. Call me a sucker for Steve Spurrier, but it's Gamecocks at home for this one.
Two other Top 25 games aren't that exciting. The Big 10's big brass are facing off this week when Nebraska heads to Ohio State. I'm all in on Ohio State running the table in the Big 10 only because they are ineligible for post season play. America: The Land That Loves Irony. Meanwhile, the Pac 12's lead horse Oregon hosts as shifty Washington Huskies team. That's what I call a biggity blow out.
Now on to the Big 12. I think TCU is in big trouble now that Casey Pachall just got hooked with a DWI and is suspended for this weekend's game against Iowa State. I hope the Cyclones get that upset win over quick so Kansas State won't have to fall into it. The second most sexiest pick for the week seems to be Texas Tech over Oklahoma but I'm sorry, the Sooners get real angry after a loss and usually take it out on the next team. This is like a flip from last year where Texas Tech upset Oklahoma in Norman and then Oklahoma went on the road to Manhattan to blow out Kansas State.
Ho boy, Austin has been buzzing all week for this next match up. West Virginia heads down here to play the Texas Longhorns. It is the pivotal game of the season for both programs. Everyone states that Texas is back and rebuilt after their win over the Big 12 champion Oklahoma State Cowboys. But what won them the game was David Ash's arm and not the heavy hyped defense. Granted a couple of starters were out, but they will need to play much better to handle Geno Smith and that vaunted Mountaineer offense. A good thing for the Longhorns is that West Virginia plays no defense. Who do I have? Man, I can't go against Texas at home right now. Only Kansas State can do that.
So speaking of Kansas State, the Wildcats host the Jayhawks in this year's edition of the Sunflower Showdown. For Kansas to win the game, the defense needs to keep nipping away and produce the ungodly amount of turnovers they've been building on this year. That means Collin Klein and company will have to make some mistakes, something that hasn't followed them this year so far. Also, the offense needs to not fold after the 3 quarters and give leads away. I don't see Kansas getting a lead at all but if they do, they give it really easy.
For Kansas State to win, they need to play Bill Snyder football. The thing that worries me is that they are game planning plays for two weeks from now and not this weekend. They've been playing down to their competition this year because the coach likes to set plays up for weeks ahead. The good thing for the Wildcats, however, is that they usually kick it into high gear in the 4th quarter, which just happens to be Kansas' worst quarter. All they really need to do is keep running that ball with Collin Klein and John Hubert.  Kansas State should win this one outright.  I could call this one a trap game, but I think that's next week against Iowa State. Still, you just never know until they play the game.