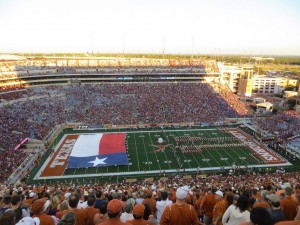 Time to dust to cobwebs again.  This time, I was actually at a football stadium to watch live college football!  So I don't travel as much anymore which means that it was again at Darrell K Royal – Texas Memorial Stadium.  And yes, it was again Kansas State taking on the Texas Longhorns.  While the outcome was different, the tailgating was not and it still made for a fantastic experience.
And let me say, the world was against me to begin with.  The printer went on the fritz while I was trying to snag the tickets.  I got a friggin' flat tire while trucking out of Spec's after the ice run (no worries there, I swapped my car and spare with my wife's car).   The party I hosted for the weekend were new to the tailgating experience so we inadvertently parked near a parking garage.  I got that one fixed real quick.
Yup, we found a spot right near the famous university tower.  Now, I had a tasty canopy ready to be popped but the condo blocked the sun out.  Also, we couldn't jam out to music too loud.  Never fear, a fold out table and a Coleman camp grill was all we needed.  It took some time for setup but once we got it going, the grill was aflame and the beer was a flowing.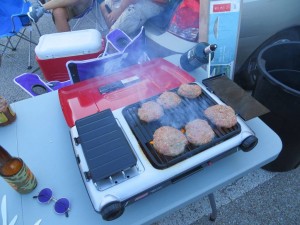 If you are wondering what we had to eat and drink, it was the awesome Billy Burgers from last year's Football Feedings.  Man, they are even better straight off the grill.  I used some scorpion pepper hot sauce to spice mine up a bit.  Since it was a small tailgate, I decided to just dump some chips and a couple of tasty dips.  I have to say the Aribba brand garlic and cillantro salsa and the Texas Brew honey roasted chipotle salsa really set the palate up for the burgers.  Now beer wise there was no pairing.  All I had was some Jester King Commercial Suicide.  So delicious.
Now on to the game.  Yeah Kansas State made a bunch of mistakes.  Jake Waters is not quite the runner that Kansas State wants, or is forcing, him to be.  That guy can really throw the ball, especially to Tyler Lockett.  But he's not used to running and trying to force it also forced some turnovers.  That's all that Texas needed.
Texas jumped out to a big lead and held on from a late surge by the Wildcats.  I think David Ash left the game at half and Case McCoy came in to clean up.  It was just enough.  Kansas State was run all over by Jonathan Gray so it didn't really matter.  Kansas State had three turnovers to zero from Texas.  That's all you need to know.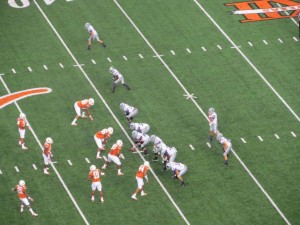 So what's up with the Wildcats?  For some reason they don't want Daniel Sams to throw. Sure, he produced some decent yardage, but it was a total telegraph situation during the game.  Sams came in to run and Waters came in to throw.  Pretty dang predictable.  They tried to mix it up here and there but Waters dropped the ball and then dropped the ball three times.  They need to pick a style and commit to it.
Texas, on the other hand, had their backs against the wall and came up strong.  Congratulations to the Longhorns.  They lost Jordan Hicks in the process and there is a concussion issue with David Ash.  But they got the victory and cooled off Mack Brown's seat.  They still have a shot at the Big 12 Championship and if they pull it together, they can keep the Mack around for a couple of more years.
That's what I hope to happen.  A part of me secretly wishes that Bill Snyder cooked this up to save his buddy and keep him around for his rebuilding Wildcats.  Sure, it's a pipe dream, but this type of indecision on the field is unusually for Snyder and they only explanation I have is some sort of long play.  Or perhaps, the Wildcats lots a bunch of starters and have a harder time rebuilding than most teams.  Naw, I want to wear the tin foil hat.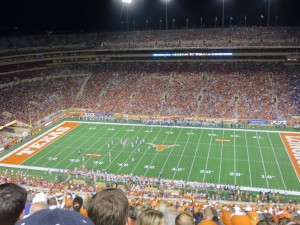 But hey, just because Kansas State doesn't mean that I had bad time.  In fact, it was a fantastic time.  I got to run a tailgate, which I hadn't done ever.  We ate some awesome food.  I drank with some great friends.  And the pageantry surrounding the was stellar to say the least.  If you have the opportunity to hang out in Austin and watch a football game, then do it.  The stadium will not be full so you should be able to find a seat.