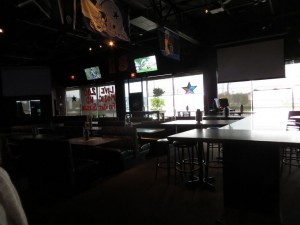 Well, lookie here!  It's a barspotting post!  Yup, unannounced too.  I was up in Dallas, Texas (North Dallas specifically) and had some time to kill before I went and saw the Doctor Who 50th Anniversary show.  So what with it being college football Saturday, what better chance would there be to hit up a good local bar in Dallas?  That's exactly what I did when I went to the Redrock Bar and Grill.  Was it good?  Was it bad?  I'm not really sure.  It's been a long time so let me crack my knuckles and take a crack at this on more time.
I've never really stayed in Dallas before but we had an opportunity to do so last weekend.  We drove on up from Austin and made some surprisingly excellent time.  Because of that, we had some time to kill in the mid afternoon.  Most sports bars are cursed around this time so I'm going a little easy on Redrock today.  You'll find out here in a second.  And that's how long it took for me to find this place on the ole Google Maps and Dallas driving.
So, walking in, the first thing I noticed was open the place was.  It seemed country bar open.  Like you can just two step anywhere and not hit the ceiling with the top of your hat.  The second thing I noticed was how it smelled like bleach.  I don't know what kind of party they had the night before but whoah boy did they try to hide it.  Hey at least they are trying to keep up appearances.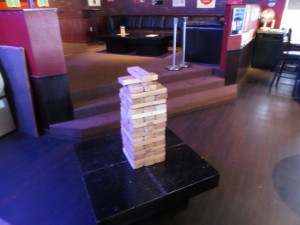 The gaming selection was top notch.  Between the Dirty Harry pinball machine and Golden Tee, they had video games covered.  But they also had some pool tables, shuffleboard, darts, and a giant Jenga block.  Yeah, so this is a new thing since I last barspotted:  Jenga. It's all the rage, or at least last year, to have a giant Jenga block out that people can play with.  It's a real treat to see those, kinda like seeing the cornholes or horseshoes out at bars.sd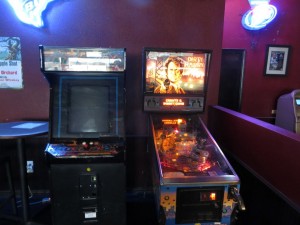 The place was dead, short of a couple of regulars.  They were really nice and this one lady was super outgoing.  She was talking trash and having a grand ole time.  So you can make some quick friends there.  The service behind the bar was kinda weak.  The lady tried but when we ordered our food, she told us the cook would be about 20 minutes.  How does that happen?  Oh way, Saturday morning.  Okay fine, I get it.  You get a pass, Redrock.  Just like you gave me a membership receipt.  That's new too.  I guess it's either a private club thing or a city law of some sort.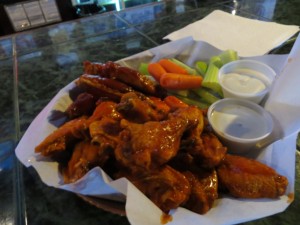 On to the food.  I had the 15 piece "World Famous" chicken wing plate.  The sides were standard affair: ranch dip, carrot sticks, and celery sticks.  I chose three different flavors: Mesquite BBQ, Buffalo, and Angry Birds.  Angry Birds you say?  Yeah, it's their really hot wings.  It sure was too.  It wasn't nuclear like at Pluckers or anything, but it was hot and tasty nonetheless.  The other flavors were pretty much standard variety wings.  I washed it down with a Samuel Adams, which kept things on an even keel.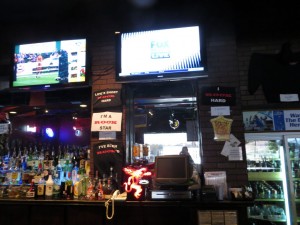 So I only got to watch about a quarter and a half of Kansas State at Oklahoma.  The other game on was a Big 10 game, I guess, but it was sandwiched between horse racing and an infomercial.  The website also advertised a giant big screen television, the largest in North Dallas.  It wasn't on.  Yup, Saturday morning.  I wised I coulda seen that thing in action but alas it was not meant to be.  So the bar TVs were it.  I'm giving them a pass, but they need to step it up a bit, unless it's more of a crowd controlled type request for the screen.
It's been a long time since I barspotting. The Redrock Bar and Grill came up on my search and just fit the bill.  Was the place perfect?  Not even close.  But I was happy to be there in a bar watching games with real friendly people, albeit a small number of people.  If you are around the area and want a decent place to eat, watch, and play check them out.  Will I ever hit up another bar again?  Tune in eventually, I guess.