I grew up in Kansas, but I'm no farmer.  Shocking right?  Well not really, but I have grown to love the rivalry that started all Great Plains rivalries.  Yup, I'm talking about Farmageddon.  It's yearly tradition where Kansas State takes on Iowa State.  It's also very early in the year.  It's like getting up at the crack of dawn for the college football year's day.  There's other games, too so let's get started.
So surveying the college football schedule, I only really so one other game that's big on my radar.  No, it's not USC at Stanford and no it's not Michigan State at Oregon.  Both of the home teams will win their respective games going away.  I'm talking about Michigan at Notre Dame.
It will be a very long time before these two teams meet again.  It's for the all time winning percentage in college football history.  It's also for the right to go 2-0 with a marquee win.  It's at night and lights in South Bend will be ablaze.  I can't think of any other game (besides Farmageddon) to watch.  Especially this Saturday.
We have Everett Golson making his academic return to the lineup after sitting out a year.  He showed off against Rice last week.  Devin Gardner and is fat man number wearing quarterback that couldn't get past Kansas State in the bowl game last year.  He torched Appalachian State for the Wolverines in their season opener.
Notre Dame has this.  Wait, hold on.  Let put on my fitted Fighting Irish hat.  Now.  Notre Dame has this.  I just think Brian Kelly will have his kids up more for this game.  Sure Brady Hoke will have his, too, but the offensive edge goes to the Irish.  Seeing as I can't remember anybody on either defensive side of the ball, offense wins.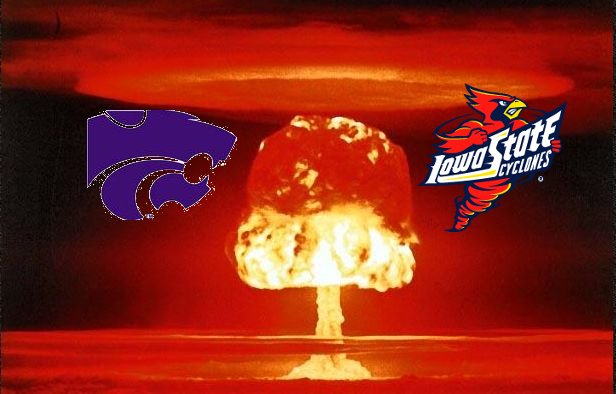 Now on to Farmageddon.  I'm not sure there's much to say.  Last week Iowa State lost to North Dakota State in horrible fashion.  They were up 14 with what was supposed to be offensive coordinator Mark Mangino's coming out party but they all crapped the bed.  On top of that, they lost their leading wide receiver from last year, Quenton Bundrage, for the year to injury.
Kansas State on the other hand, rolled over Stephen F. Austin 55-16.  Tyler Lockett only played in the first quarter and caught only one touchdown.  He didn't leave because he was injured.  It's just Bill Snyder being the grand 'ole Wizard.  I guess we'll see him at the Auburn game.  Never fear, Jake Waters scored a pair of touchdowns running and a pair of touchdowns passing.
So what will happen for this year's Farmageddon?  Wait, hold on.  Let me put on my favorite Kansas State shirt.  The Wildcats will win.  Usually Farmageddon is close but it sure wasn't last year.  Maybe Sndyer will dust off some film from Mangino's Kansas days.  Who knows.  But it won't matter much.  If the Cyclones were holding back against the Bison for Kansas State, then it looks like it was a mistake.  Ya never know though.