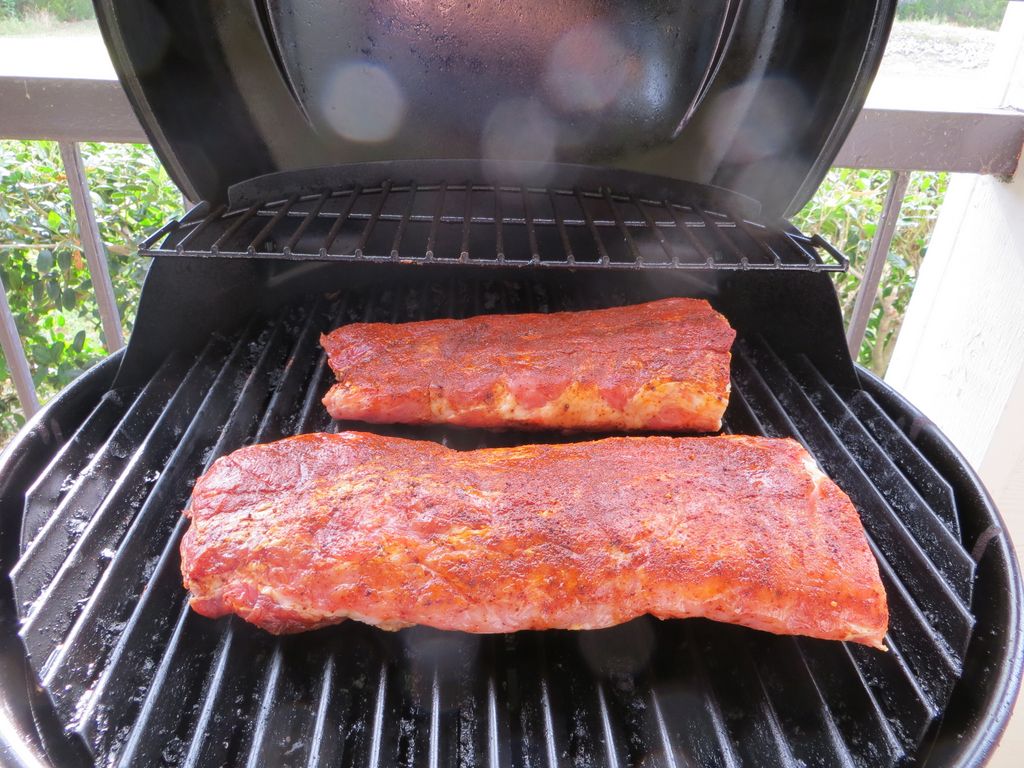 Hey you know, why not?  I thought about not doing one of these this year but I'll be damned if I didn't get an electric grill for my birthday.  So now I have plenty of new recipies to try out this fall.   With that said, I'm back and the grill is hot!  This week we'll do something I've been itching to do for a long time, both main and side dish wise.
For the first week of the electric football feedings, I decided to grill some ribs.  i got a tasty rub from a local hot sauce shop and I was itching to sprankle it on.  Along with that, I'm taking a cue from a new favorite local bbq truck and making some pepper cheese grits.  They had jalapeno, I have hatch.  Look out!
Armadilla Pork Ribs
Tear open the rib package and slap it on the counter.  Trim that bad boy up.  We need to square up the edges, trim any excess skirt, and remove that membrane.  Use some sharp tools to get that rack ready.  Spray on some olive oil and coat the whole rack with it.  Sprankle on the Armadillo Rub evenly on all sides of the ribs.  You want it covered well but not too much.  Cover that rack with aluminum foil and slap it in the fridge for at least six hours.
Preheat your grill to a low to medium type heat.  This means either dump the coals to one side and get the other ready or just turn the gas grill down to low-medium.  Once it's ready dump the ribs on there for about an hour.  After that, layer that bad boy up with your favorite bbq sauce, I chose Arthur Byrant's Original BBQ sauce.  Let it sit for about 5 minutes on each side and you're done.
Since it was the first Saturday, I had many a different beers.  For the ribs, however, I had South Austin Brewing's Luckenbock.  I wanted something just thick enough to handle heavy meat taste of the ribs.  And boy did it work.  The ribs came fine and the mixture of rub and sauce caked on a juice sealing layer.
— kccgd (@kccgd) August 30, 2014
So the games.  I got up in time to catch the Penn State vs UCF game and that last second field for Penn State was sweet.  The Steveweisers by Stone Cold Steve Austin on College GameDay brought back some awesome memories.  The morning games were forgetable, thanks Big 10.  The afternoon was a little different.
The afternoon games were kind of a dud.  I thought that West Virginia would make things close and they did, but Alabama came out on top.  The rest of the match just saw a close first half with the better teams pulling away.  Congrats to Georgia, Notre Dame, and Auburn.
There were only two evening games on at KCCGD HQ: Oklahoma State vs Florida State and Kansas State vs Stephen F. Austin.  The Cowboys vs Indians (Seminoles) game lived up to its namesake.  Oklahoma State had many shots to come out on top.  Mistakes were had on both sides of the ball, but the mistakes the 'Pokes had were bigger.  There's a target on Florida State's back and it grew after last night's game.
The only problem I had with Kansas State's game vs Stephen F. Austin wasn't actually in the game itself.  The streaming audio issues were killer for me when watching the game.  Fortunately, this is the only time I have to suffer through that this year.  Nobody really suffered on the Kansas State side of the ball as Jake Waters put up Heisman numbers with a 55-16 victory.  Farmageddon is next and after Iowa State's game yesterday, we may see that kind of game from the Wildcats again.
This slideshow requires JavaScript.
Welp, the first week is in the books.  We had some tasty eats and some football feats to kick off this year of college football.  Will we see any upsets?  Hopefully things will get a little more exciting in the next couple of weeks.  For this week there was no surprises, except maybe with how tasty the Armadilla Pork Ribs were.