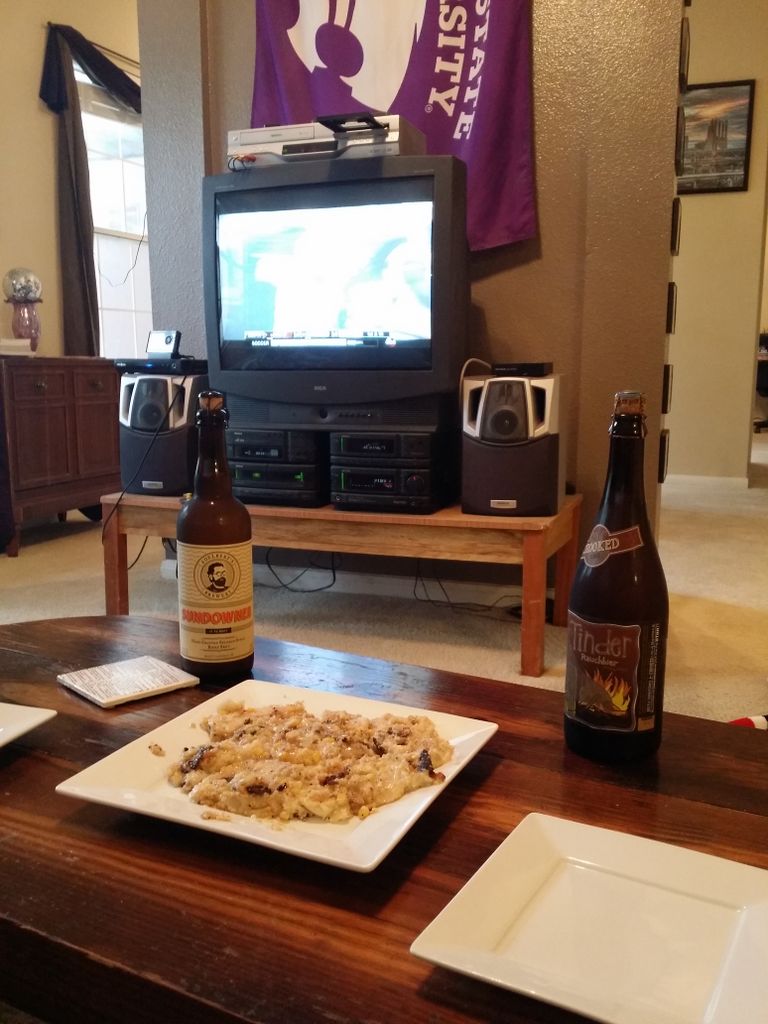 This week of football was Kansas State-less so I decided to try some tasty giblets or another land.  The results were not what I expected but the taste was beyond what I thought it would be.  On the field, it was about as all over the place performance wise so it matched the madness that I created with grit cakes.  Yes, I did a South dish in the Midwest.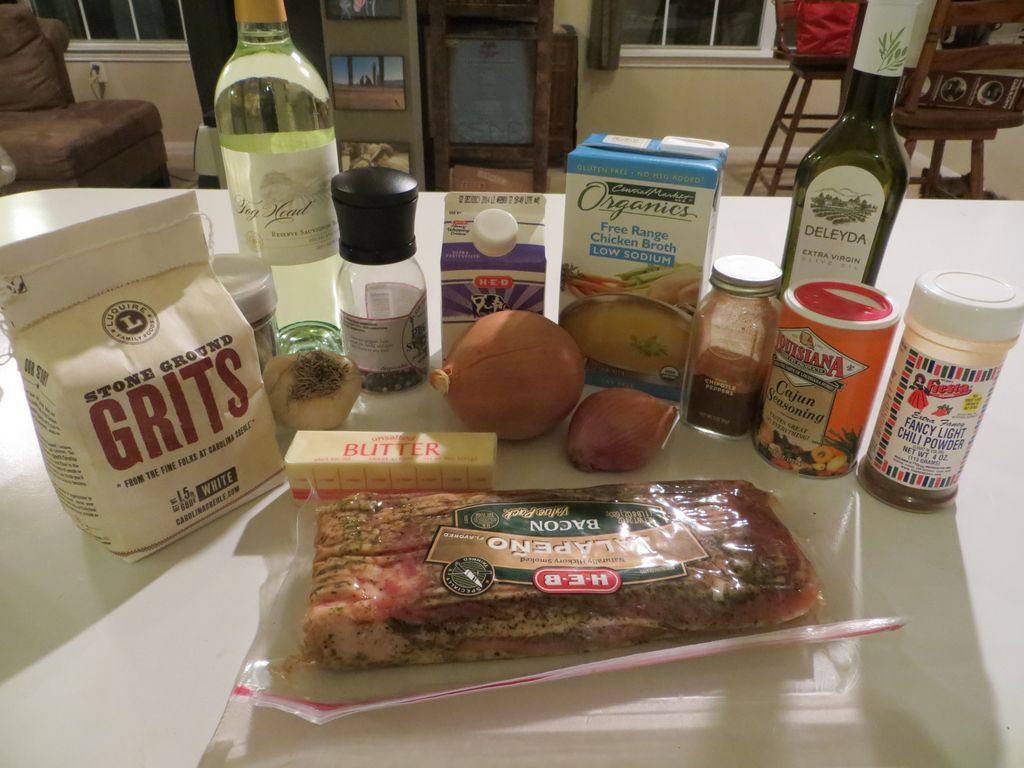 So this week, the big game for me, unfortunately, was Mississippi State at Alabama.  In honor of the Southern game, I decided to make some grits.  But not just any grits, grit cakes.  I used the recipe from Alabama Tailgate.  The instructions were kinda dumb but that's what I expect from that region of the country.
Ingredients
1 cup stone ground grits (I use McEwen & Sons)
1 cup heavy cream
1.5 cups chicken stock
1.5 cups water
1 onion, diced
1 ear of grilled corn, husk removed and grilled – then removed from cob.
1 clove garlic, diced
1 shallot, diced
3 pieces of good slab bacon, diced
3 oz white wine
Cajun spice, Salt and pepper to taste
Butter to taste
Olive oil for grilling

Instructions
Brown bacon over medium heat, remove bacon and reserve grease
Bring bacon grease to med-high, sauté onion and corn for 8 min. Add shallot and garlic, cook for 1 -2 minute. Deglaze pan with white wine and cook till nearly gone.
Add all other liquids and bring to a boil. Stir in grits, reduce to a simmer. Stir and add butter and spices along the way. Cook for 25 min at a simmer. You want them to be a little thick.
Remove from heat and pour in a greased casserole dish (don't forget to grease the dish, I use olive oil). Allow to cool to room temperature. Once cool, place wax paper over the dish and weight it down with another casserole dish (I use the same size dish and cans of tomatoes). Store in the refrigerator 4 hours to overnight.
When ready to serve, remove from refrigerator and turn upside down on a cutting board. Cut into 3×3" squared. Brush both sides with olive oil and place on a hot grill. Cook till heated through and you have nice grill marks.

Man alive it was real tough to cook.  It was actually cold down here in Austin and the ole electric grill (apartment rules, y'all) just couldn't keep up with the gushiness.  I think the recipe was close but not exactly on in terms of cake making.  That set, the mush that came out was mouth waveringly good. Tinder, from Uinta Brewing Company, helped make it a worthy feeding.  The smoked flavor worked wonders with the bacon in the grits.  All in all, well worth the mistake.
Speaking of mistakes, let's talk football games.  I watched most of the Alabama and Mississippi State game and the new kids on the block finally got booted out.  It's easier to win big games when you've been there before.  Alabama did that and threw the playoff race even more on its head.  Kudos to the Tide and I hope Auburn rolls your ass to make way for either Baylor or TCU.
Speaking of TCU, they had a scare at Kansas of all places but they pulled a Florida State and came back to win.  They'll drop a bit in the committee's eyes but they'll be there at the end.  Florida State also played a Florida State and had to come from behind against Miami to win.  They are the only Power Five conference team that is undefeated now and they deserve to be number one.
This slideshow requires JavaScript.
The Gushy Grit Cakes were not number one but they were a contender.  They are in the playoff for feedings of the year (that's a good idea actually).  The football over the weekend helped weed out some other contenders.  Will we see it next week?  Will we see both a successful execution of a feeding along with a successful tasting?  I guess it's in the feeding committee's hands now.