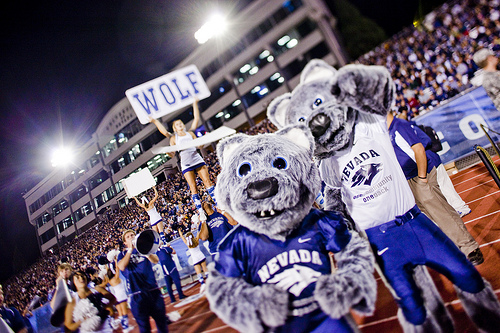 Yes we're back with the 2011 Edition of Mascot Monday!  I gave long and serious thought to quitting this here weekly ditty, but a quick check to the logs revealed that Mascot Monday is one of my more popular items.  So here I am forging ahead.  I was gonna kick off the year with a BCS bang, but then I realized I already profiled the mascots for all of the BCS Bowl teams.  So the next best bang was the one given to Boise State at the hands of the Nevada Wolfpack.  We're going to over the history of the Pack as well as their fluffy mascots. Also, we'll point out agin why baseball is not covered here.
Nevada showed up athletically around the 1890s and were referred to as the Sagebrushers or Sage Hens.  That sounded limp so they were called the 'Sage Warriors' in the local newspapers.  As with alot of the cool mascot names, a local newspaper described the team with what was to become the actual team name and mascot.  In 1921, a writer called the team as a 'pack of wolves.'  Football wise, they had a program around the 1890s but there doesn't seem to be much hoopla around it, except for the Cal game that ended in a 0-0 tie.  Well, that and last year's rise to a national ranking.
As for the costumed critter, Wolfie showed up in the 1970s.  Since then, there's been changes left and right with the mascot get-up at Nevada.  A Wolfette pranced around in 1986 and Wolfie sported a big old 'N' top hat sometime after.  Then of course was more familial changes.  This site describes it best.  Wolfie's cousin Alphie replaced him in 1999.  Wolfie Jr, popped back into the scene in 2007.  So we have cousins and sons and I guess a true 'Pack' of wolves.  It's still confusing.  Was Wolfette Wolfie's wife or relavtive?  How did a Wolfie Jr come about?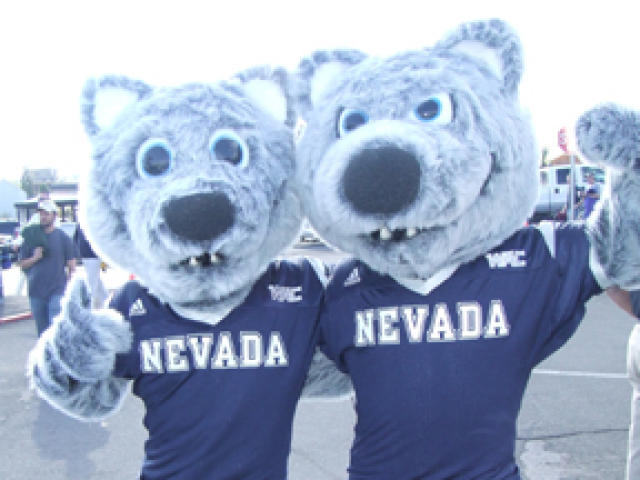 Let's take a look at the alpha of the pack, Alphie. The standard head to toe fur covers Alphie while he sports a football jersey to cover up his naughty bits, Disney style.  Back in the day, they changed his look from a fierce one to a more kid friendly one.  Fair enough.  Woflie Jr. is a spitting image 0f Alphie.  There's not much difference except for clothing style.  You know, if Nevada tries hard to keep a family tree together for the Pack, they need to make sure that each member is a little more distinguished.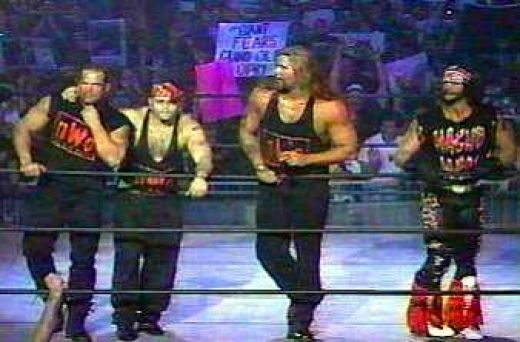 That's what it comes down to me for Alphie and Wolfie Jr.  I like how they look, but they look too much the same.  They need to take lessons from WCW's version of the Wolfpack.  That's right, we're talking NWO Wolfpack.  Even though they wore the same colors, each member had their own style.  Macho Man Randy Savage had his fringy attire while Konnan went the ethnic hispanic route.  Heck even Scott Hall and Kevin Nash made sure that one wore the regular shirt while the other wore a tank top.  Seriously, Nevada, take a lesson from these guys.  They're just. Too. SWEET!
I can't take away the big victory from Nevada last year, however.  They were the ones that finally toppled the mini giant in the Boise State Broncos.  Sure it took a major choke job from the Broncos kicker, but the Wolf Pack stopped the Broncos in their track and garnished a tasty victory in the Kraft Fight Hunger Bowl over Boston College.  So even though Alphie and Wolfie Jr could use a serious makeover, we should celebrate them.  Just make sure they don't dance too hard and fall over themselves again.