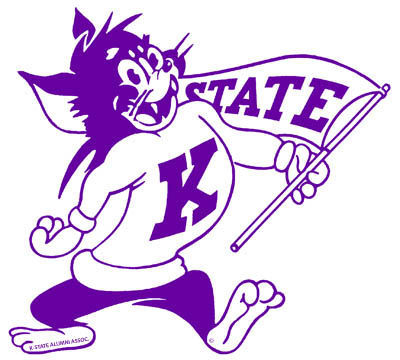 Ah, yes the Sunflower Showdown.  I was at the game last year and it was a blowout.  I'm heading to the game this year and it's a homecoming in a way.  I make no bones about being a K-Stater and while I do my best to be objective, the Purple Pride eeks out ahead.  So when I go to the game today, I will be reliving the days of past when I was a student.  I will also be going back to the source and inspiration for this website.
The main reason I went to K-State was the reasonable price and top notch engineering school.  The turnaround of the football program helped as well (and the distance from my family).  I started school there in 1997 and didn't find my way back to Kansas City until the spring of 2001.  In that time, Bill Sndyer took the Wildcats from Mildcats to national title contender.  They got close too.  Granted they were even closer after I left, but the maturation of the program hit right when I was at school.
I can still remember when K-State ended up ranked #1 in the country for the first time ever.  I can remember the ESPN College GameDay crew showing up and Lee Corso putting on Willie the Wildcat's head.  I can remember painting my chest purple with a white 'O' to spell Lynch Mob (they called me the jiggle-O after that).   I can remember going to the stadium at 2 o'clock in the morning and seeing an old timer K-State fan being the first one there.  The campus a buzz, the blowout wins, the great play, and the great tailgating are all a part of my happy memories.
Granted the last couple of years have not been memorable, but that will not affect the excitement I have in going to the game and seeing old friends and places.  The great thing about Manhattan is that it's just small enough that you can walk everywhere you need to go.  Some would call it a Dunk town because it's too poor to be a Podunk town.   But everything is close enough that you get a real sense of family just being in the town.  Maybe that's why Bill Snyder wanted the stadium to be called Bill Snyder Family Stadium.  Manhattan, Kansas is a family.
That's something the previous coach forgot.  Stories of former players being shunned away and not welcomed on the field spilled through message boards and blogs (including this one).  There was a sense of disconnect.  Losing didn't help either.  It seemed like the dynasty that Bill Snyder built was falling apart.  Welp, after some administrative changes and some quiet pleading Bill Snyder came back to coach Kansas State.  He never really left.
So now we have Bill Snyder 2.0 and almost as miraculously as his first run, now he has Kansas State sitting on top of the Big 12 North.  Now, it wasn't all his team and its talent.  Let's face it, the Big 12 and the Big 12 North kinda suck this year.  But Snyder 2.0 is taking advantage of that and is coaching up a group of kids that the previous coach/hack couldn't figure out what to do with.  Today I get to go see and old friend in Manhattan and and old friend in Bill Sndyer (not like real friends but like fan to coach).
I am super pumped for the game too.  The history (both when I was there and the recent coaching debacle) are coming to a head and I'm tingling with anticipation.   Kansas rolled Kansas State the last three contests.  It used to be the other way around when I was there.  Bill Snyder made it a point to win the state first to get the recruiting.  Well, now we get to see if this latest rag tag group of kids will believe.  They seeem to buy into this philosophy to this point.
Even if they don't win, I hope to see some great competition out there.  Yes, I am picking Kansas State.  Kansas and Todd Reesing are falling apart right now, but since Mangino came from the Snyder tree, we can expect them to regroup and be ready.  The game is in Manhattan and the students (including former ones like myself) have something to cheer for.  Nobody expected Kansas State to be where they are and the pressure is off.  Grant Gregory, Daniel Thomas, and Brandon Banks will have great games against a shaky Kansas Defense.  Purple Get Ready to Roll!