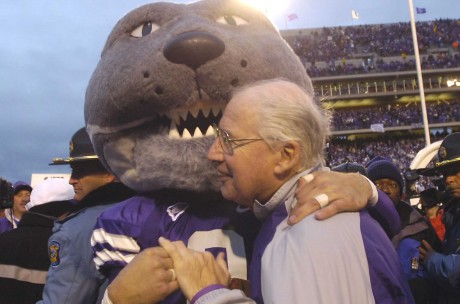 The Kansas State Wildcats enjoyed somewhat of resurgence last year.  They even almost went to the Big 12 Championship Game.  Yet, they failed to make a bowl.  The offseason was the most quiet I've ever heard and now we find ourselves looking straight down the barrel of a new football season.  The weirdness of last year's season should continue for this year.  It's all good for Bill Snyder 2.0, as they will be getting better.  Day by day. Little by little.
I remember sitting in the 810 Zone last year thinking to myself, "How crazy is it that the Wildcats are one game away from playing for the Big 12 North Championship?"  This rag-tag that was blown apart by the Ron Prince Stomp came together and fought tooth and nail (with a little help from other teams falling of the wagon) to play for a big time title game.  Everyone wrote off Bill Snyder 2.0 and the Wildcats at the beginning of last year, including myself.  But with the emergence of Daniel Thomas and the change to Grant Gregory as starting quarterback, the Wildcats won just the right amount of games to matter.
Of course, the ghost of Ron Prince haunted the Wildcats as they had two I-AA teams on the schedule and one of the wins against did not count for  bowl eligibility.  They finished 6-6 but did not make a bowl game.  I pegged them at 5-7 but I also said they would miss a bowl.  I couldn't have guessed that I would be wrong and right at the same time.  So the Wildcats were left with the extreme high or low for the end of the season and walked away with a low.  But there was optimism in their eyes for this year.
The offseason flew on by for the Wildcats.  The type of drama we experienced in Manhattan last offseason was still being felt this offseason, only because there was no major news coming out of camp this year.  Most of the drama this year landed on conference expansion, where the Big 12 was about 2 steps from going off the cliff.  Thankfully it was a Texas two-step that saved the conference, and BCS contendership, for Kansas State.  Now, there was some news from Manhattan this year.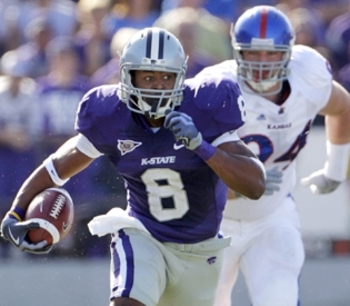 Daniel Thomas looks to be the #1 running back in the Big 12 this year.  Much of the offensive hype will be on him.  Carson Coffman looks to be the main guy again but he has people like Samuel Lamur breathing down his neck if he chokes again.  It's a good thing for Coffman and transfers like Chris Harper will help beef up the wide receiver core.   True, they are inexperienced, but they are tall enough and fast enough to make it just a little easier for Coffman to be just a little off target.  The other big transfer that came in was Bryce Brown, the former #1 rated running back who came back from a bad experience at Tennessee.  He won't play this year but we know the running back position is good for a couple of more years.
So this year is right around the corner and fortunately for the Wildcats, they have an injury riddled UCLA coming to Manhattan.  They would've won the game last year and it looks like they will have the advantage this year.  Being at home verus on the road is a huge deal.  That's part of what pushed Kansas State up higher than expected last year.  This year, it's a problem.  They only have 3 conference games at home this year: Nebraska, Texas, and Oklahoma State.  Everywhere else they are on the road.  They do not play two I-AA teams but the Bill Snyder 2.0 philosophy remains true as they maneuvered scheduling to be more favorable.  That said, it's going to be a harder year for the Wildcats.
Which is why I think they will finish 6-6, just like last year.  Another Bill Snyder 2.0 tenant is to get better everyday, even if it's just a little bit.  The Wildcats will be a better and stronger team, but the road will be tougher as well.  Kansas State has 2 of the toughest teams in the conference at home this year.  We're talking Top 10 in the country.  Everywhere else, they have to win on the road.  They won't get the advantage they had last year with the home field crowed.  Carson Coffman will hold together just long enough for the better talent to come in.  Daniel Thomas may rush for 1,000 yards.  All of that will see the Kansas State Wildcats barely make a bowl.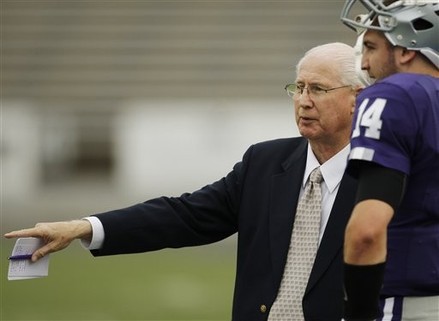 Rest assured, they'll do better than Kansas.  I'm picking them to even beat Nebraska.  Hey, it's the last time ever they will play and it's at Manhattan on a Thursday night.  But unfortunately, they will stop owning Texas and chalk up a loss against them.  Bill Snyder 2.0 will continue to make the team and I can see him coaching one more year before finding a better replacement.  The Wildcats just need an assistant coach that actually wants to stay there first.  Just long enough for me to make a couple of more games to see the Kansas State Wildcats get better, little by little by little by little.